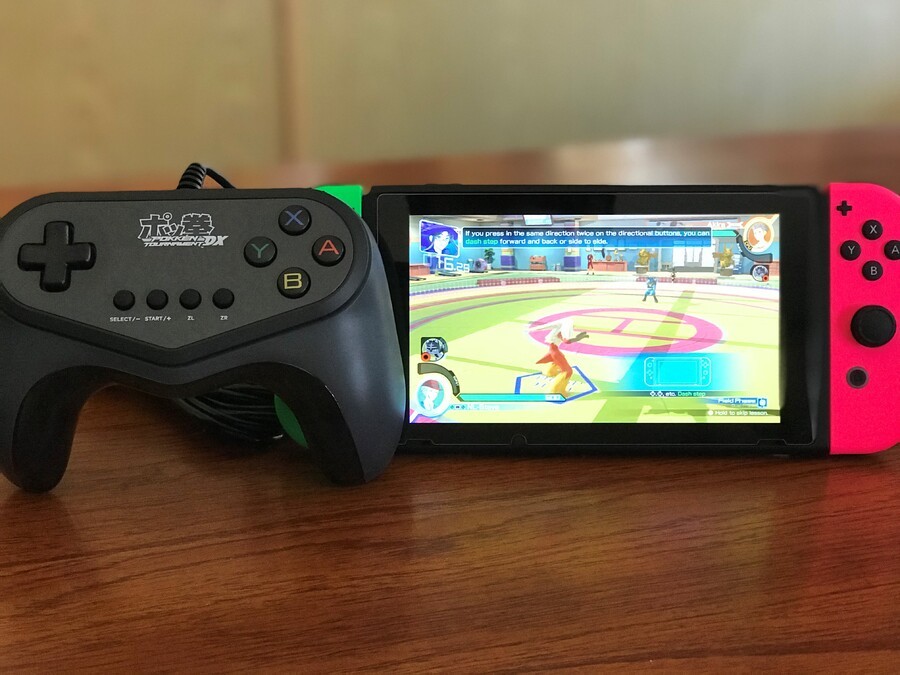 Pokkén Tournament DX is one of the more recent retail big-hitters on Switch, and with it Hori has released a new version of its Pokken Tournament Pro Pad, fittingly dubbed the Pokken Tournament DX Pro Pad.
We're fans of the original, and the same things we liked are still present. The same design that's based on the arcade controller which is also made by Hori. The pad features a cross-shaped d-pad in a concave section on the left of the controller, which makes it easy to roll your thumb around the pad without it catching or creating unnecessary friction.
The bottom of the controller is lined with the Select/- Start/+, ZL and ZR buttons. There are four large face buttons in a cross shape mirroring the layout Nintendo has been using since the SNES era, and there are two oversized triggers on the back where one's index finders would naturally come to rest. We would have loved to see a home button added to the controller's layout, as there's no way to power on the console using the pad right now.
The controller plugs into the Switch dock via USB; it uses a type A connector, meaning it unfortunately can't be used in tabletop mode, which is a shame considering Hori also makes a Switch stand that would pair perfectly with this controller. You can remedy the issue with a USB type c to USB type a converter, which we would have loved to see in the box, but ultimately isn't a dealbreaker. The built-in cable is also plenty long, meaning it should reach from your dock to your couch in most typical setups.
We spent many hours playing around with this controller and it was a joy to use throughout our testing. The pad feels very comfortable and the buttons have just the right amount of travel to them. The shoulder buttons aren't overly sensitive, so even with your fingers resting on them you aren't going to find yourself pushing them by mistake.
The build quality of the Pokken Tournament DX Pro Pad is superb. After extended sessions and exposure to domestic life in the form of children and pets, the pad still has its attractive black and grey finish intact, and the glossy backing on the face of the controller shows no signs of wear.
Most impressively, however, the new iteration of the pad works with any Switch game you throw at it, as long as they can be controlled completely with the pad's limited amount of input as it lacks analogue sticks. We played through Sonic Mania on the pad and actually preferred it to the Switch Pro Controller for this particular application.
In summary, for $24.99 you can't go too far wrong with Hori's Pokkén Pad. If you're a fan of fighting games and especially if you're a fan of Pokkén, it's well worth considering, especially with that modest price tag. Its build quality is every bit as good as Nintendo's own first-party offerings, albeit its functionality is more limited and focused on a particular style of gaming. Yes, we would have loved to have seen the share and home buttons make an appearance, but we can respect the singular focus on making the fighting experience as pure as possible. For every suggestion we have, there are more things we love about this controller.