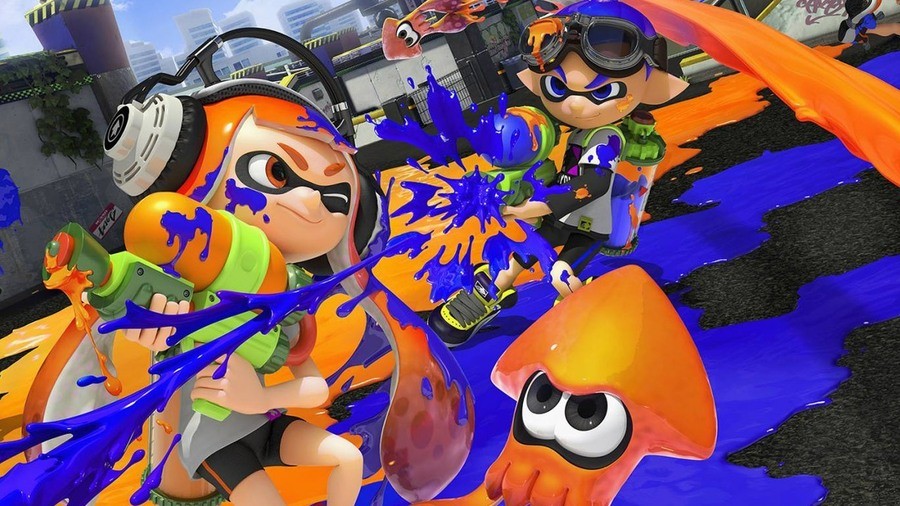 The Game Awards 2015 took place in Los Angeles last night, and while Nintendo didn't choose to show off any new games or make any groundbreaking announcements, the company did come away with three (and not two, as we previously reported) awards.
Super Mario Maker was awarded Best Family Game, while Splatoon bagged Best Multiplayer and Best Shooter - quite an achievement when you consider how that particular genre is dominated by titles like Call of Duty, Rocket League, Destiny and Star Wars Battlefront.
Sadly, Nintendo missed out on the Developer of the Year award, which instead went to Witcher 3 studio CD Projekt Red.
The other big Nintendo-related segment was an emotional tribute to the late Satoru Iwata, who passed away earlier this year. Nintendo of America president Reggie Fils-Aime took to the stage to deliver a passionate and moving speech about his former colleague and friend.
Here's the full list of winners:
GAME OF THE YEAR
Bloodborne (From Software/Sony Computer Entertainment)
Fallout 4 (Bethesda Game Studios/Bethesda Softworks)
Metal Gear Solid 5: The Phantom Pain (Kojima Productions/Konami)
Super Mario Maker (Nintendo EAD Group No. 4/Nintendo)
The Witcher 3: Wild Hunt (CD Projekt Red/Warner Bros. Interactive Entertainment)
DEVELOPER OF THE YEAR
Bethesda Game Studios
CD Projekt Red
From Software
Kojima Productions
Nintendo
BEST INDEPENDENT GAME
Axiom Verge (Tom Happ)
Her Story (Sam Barlow)
Ori and the Blind Forest (Moon Studios/Microsoft Studios)
Rocket League (Psyonix)
Undertale (tobyfox)
BEST MOBILE/HANDHELD GAME
Downwell (Moppin/Devolver Digital)
Fallout Shelter (Bethesda Game Studios|Behaviour Interactive/Bethesda Softworks)
Lara Croft Go (Square Enix Montreal/Square Enix)
Monster Hunter 4 Ultimate (Capcom)
Pac-Man 256 (Hipster Whale/Bandai Namco Entertainment)
BEST NARRATIVE
Her Story (Sam Barlow)
Life is Strange (Dontnod Entertainment/Square Enix)
Tales From the Borderlands (Telltale Games)
The Witcher 3: Wild Hunt (CD Projekt Red/Warner Bros. Interactive Entertainment)
Until Dawn (Supermassive Games/Sony Computer Entertainment)
BEST ART DIRECTION
Batman: Arkham Knight (Rocksteady Studios/Warner Bros. Interactive Entertainment)
Bloodborne (From Software/Sony Computer Entertainment)
Metal Gear Solid 5: The Phantom Pain (Kojima Productions/Konami)
Ori and the Blind Forest (Moon Studios/Microsoft Studios)
The Witcher 3: Wild Hunt (CD Projekt Red/Warner Bros. Interactive Entertainment)
BEST SCORE/SOUNDTRACK
Fallout 4 (Inon Zur/Bethesda Game Studios)
Halo 5: Guardians (Kazuma Jinnouchi/343 Industries)
Metal Gear Solid 5: The Phantom Pain (Ludvig Forssell, Justin Burnett, Daniel James/Kojima Productions)
Ori and the Blind Forest (Gareth Coker/Moon Studios)
The Witcher 3: Wild Hunt (Marcin Przybyłowicz, Mikolai Stroinski, Percival/CD Projekt Red)
BEST PERFORMANCE
Ashly Burch as Chloe Price (Life is Strange)
Camilla Luddington as Lara Croft (Rise of the Tomb Raider)
Doug Cockle as Geralt (The Witcher 3: Wild Hunt)
Mark Hamill as The Joker (Batman: Arkham Knight)
Viva Seifert (Her Story)
GAMES FOR CHANGE
Cibele (Nina Freeman)
Her Story (Sam Barlow)
Life is Strange (Dontnod Entertainment/Square Enix)
Sunset (Tale of Tales)
Undertale (tobyfox)
BEST SHOOTER
Call of Duty: Black Ops 3 (Treyarch/Activision)
Destiny: The Taken King (Bungie/Activision)
Halo 5: Guardians (343 Industries/Microsoft Studios)
Splatoon (Nintendo EAD Group No. 2/Nintendo)
Star Wars Battlefront (EA DICE/Electronic Arts)
BEST ACTION/ADVENTURE GAME
Assassin's Creed Syndicate (Ubisoft Quebec/Ubisoft)
Batman: Arkham Knight (Rocksteady Studios/Warner Bros. Interactive Entertainment)
Metal Gear Solid 5: The Phantom Pain (Kojima Productions/Konami)
Ori and the Blind Forest (Moon Studios/Microsoft Studios)
Rise of the Tomb Raider (Crystal Dynamics/Microsoft Studios)
BEST ROLE-PLAYING GAME
Bloodborne (From Software/Sony Computer Entertainment)
Fallout 4 (Bethesda Game Studios/Bethesda Softworks)
Pillars of Eternity (Obsidian Entertainment/Paradox Interactive)
The Witcher 3: Wild Hunt (CD Projekt Red/Warner Bros. Interactive Entertainment)
Undertale (tobyfox)
BEST FIGHTING GAME
Guilty Gear Xrd -Sign- (Arc System Works/Aksys Games)
Mortal Kombat X (NetherRealm Studios/Warner Bros. Interactive Entertainment)
Rise of Incarnates (Bandai Namco Entertainment)
Rising Thunder (Radiant Entertainment)
BEST FAMILY GAME
Disney Infinity 3.0 (Avalanche Software/Disney Interactive)
Lego Dimensions (TT Games/Warner Bros. Interactive Entertainment)
Skylanders SuperChargers (Vicarious Visions|Beenox/Activision)
Splatoon (Nintendo EAD Group No. 2/Nintendo)
Super Mario Maker (Nintendo EAD Group No. 4/Nintendo)
BEST SPORTS/RACING GAME
FIFA 16 (EA Canada/Electronic Arts)
Forza Motorsport 6 (Turn 10 Studios/Microsoft Studios)
NBA 2K16 (Visual Concepts/2K Sports)
Pro Evolution Soccer 2016 (PES Productions/Konami)
Rocket League (Psyonix)
BEST MULTIPLAYER
Call of Duty: Black Ops 3 (Treyarch/Activision)
Destiny: The Taken King (Bungie/Activision)
Halo 5: Guardians (343 Industries/Microsoft Studios)
Rocket League (Psyonix)
Splatoon (Nintendo EAD Group No. 2/Nintendo)
MOST ANTICIPATED GAME
Horizon Zero Dawn (Guerrilla Games/Sony Computer Entertaiment)
No Man's Sky (Hello Games)
Quantum Break (Remedy Entertainment/Microsoft Studios)
The Last Guardian (GenDesign/Sony Computer Entertainment)
Uncharted 4: A Thief's End (Naughty Dog/Sony Computer Entertainment)
ESPORTS PLAYER OF THE YEAR
Kenny "KennyS" Schrub (Counter-Strike: Global Offensive/Team EnVyUs)
Lee "Faker" Sang-hyeok (League of Legends/SK Telecom T1)
Olof "olofmeister" Kajbjer (Counter-Strike: Global Offensive/Fnatic)
Peter "ppd" Dager (Dota 2/Evil Geniuses)
Syed Sumail "Suma1L" Hassan (Dota 2/Evil Geniuses)
ESPORTS TEAM OF THE YEAR
Evil Geniuses
Fnatic
Optic Gaming
SK Telecom T1
Team SoloMid
ESPORTS GAME OF THE YEAR
Call of Duty: Advanced Warfare (Sledgehammer Games/Activision)
Counter-Strike: Global Offensive (Valve)
Dota 2 (Valve)
Hearthstone: Heroes of Warcraft (Blizzard Entertainment)
League of Legends (Riot Games)
TRENDING GAMER
Total Biscuit
Christopher "MonteCristo" Mykles
Greg Miller
Markiplier
PewDiePie
BEST FAN CREATION
GTA 5 – Targets (Hoodoo Operator)
Real GTA (Corridor Digital)
Portal Stories: Mel (Prism Studios)
Super Mario Maker e-Reader Levels (Baddboy78 / theycallmeshaky)
Twitch Plays Dark Souls (Twitch Community)