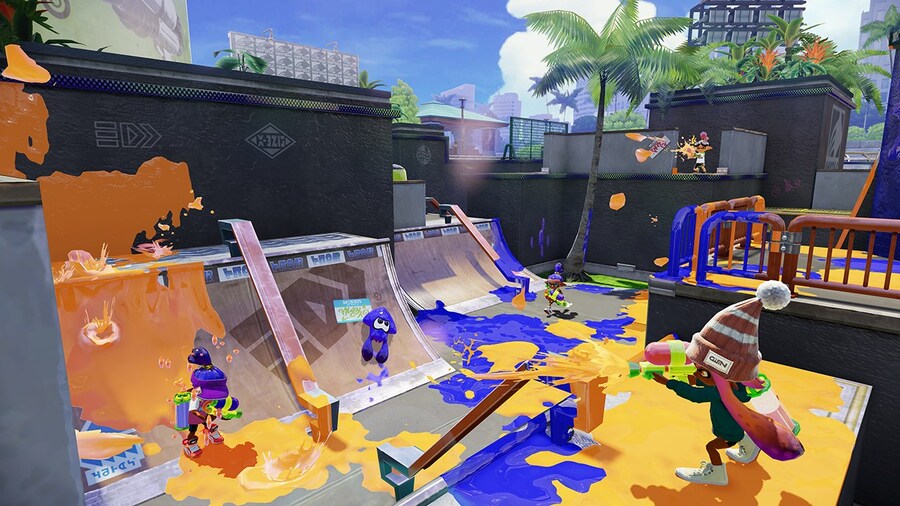 Splatoon is just a few months away, a new IP that aims to take the Wii U by storm. It's fair to say that there's nothing else quite like it on the system, with motion-controlled third-person shooting and a territorial battle to cover arenas in ink.
A number of the finer details are still a little mysterious, but a Famitsu feature has revealed some core information that's certainly interesting. Translated by those eager beavers over at NeoGaf, below are a few details that we're sure, in the passing of time, will be fleshed out further in Japan and the West.
The single player Hero Mode is described as "predominantly a 3D platformer" with a focus on squid transformations.
Online matches attempt to place you with those of a similar ability, and promisingly the translations assure us that the servers will be worldwide - as they are in Mario Kart 8, for example.
There's no online communication during a match, as it didn't make the grade when trialled.
Online matches will be all human players, no CPU, potentially meaning some waiting for lobbies to fill up. 4 vs 4 is also the only option online, to avoid the player base being split up.
As previously revealed, online matches will award you with currency to buy items, and you can't earn money in this way in the single player Hero Mode.
Experienced composer Tooru Minegishi is working on a lot of music for the game.
Some of that information - we're pretty confident is accurate - brings a mixed bag; we're hopeful that there'll at least be some online communication between matches, for example; yet it wouldn't surprise us if there isn't. We also hope the online community will be robust, otherwise the no CPU rule could certainly backfire.
At this stage we're still rather hopeful for Splatoon, but we'd love to know what you think of these details in the comments below.
[source neogaf.com]