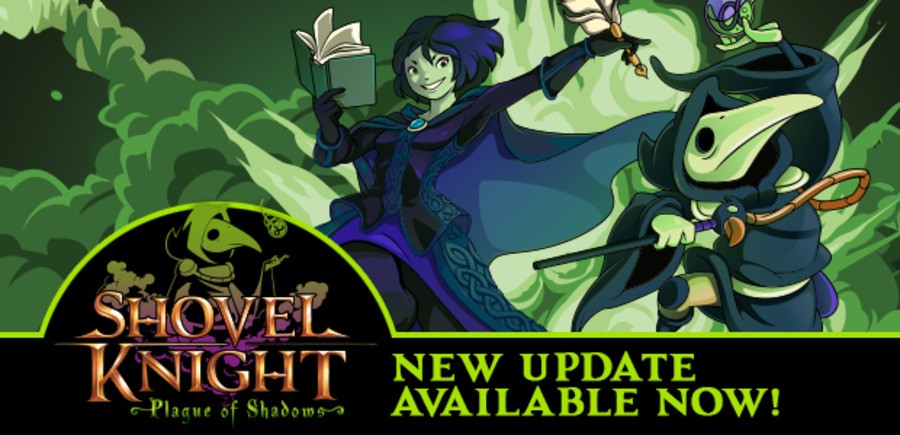 When the Shovel Knight Kickstarter campaign propelled Yacht Club Games to early success a number of stretch goals were hit, and therefore committed the developer to key updates. The studio has stuck to its task of bringing out the Plague of Shadows content as a free update, and it's now available to download on Wii U and 3DS.
Activating the update should happen automatically when you boot up the game, and it brings a host of new options. In addition to the Plague of Shadows campaign - a heavily tweaked version of the core Shovel Knight game - there are a load of tough stages available in the Challenge Mode. Below is an excerpt of details from an email sent to Kickstarter backers.
---
Plague of Shadows Campaign:
See your favorite game from a new point of view.
Play through Shovel Knight's quest, but as the explosive trickster Plague Knight with new gameplay and story.
Explode onto the scene as Plague Knight!
Use explosives, bomb jumps, and alchemy to blast your way through the game in a whole new way!
Combine casing, fuses, powders to create your favorite bomb. Customize your jump and arcana and discover all 9,720 attack combinations!
Find new armors, secrets, collectibles, easter eggs, and more!
Master Plague Knight's mobility to defeat new bosses!
Discover brand new areas and new paths through the classic levels! Use your arcana in challenging new side areas!
Learn more of the background story behind the beloved characters in the village and the villainous Order of No Quarter.
Is your science up to snuff? Take on Plague Knight specific challenges with new Feats!
Challenge Mode
10 Shovel Knight Courses: timed challenges, puzzles, enemy survival, and intense platforming!
5 Plague Knight Challenges: Prove you're the master of Plague Knight's new bag of tricks!
32 Boss Challenges: Revisit the boss fights as Plague Knight and Shovel Knight under new conditions – low health, limited weapons, time limits, and higher stakes!
---
Both new modes certainly offer plenty of challenge, which should keep players with fast reactions busy for a while.
If you have Shovel Knight check out the update and let us know what you think.