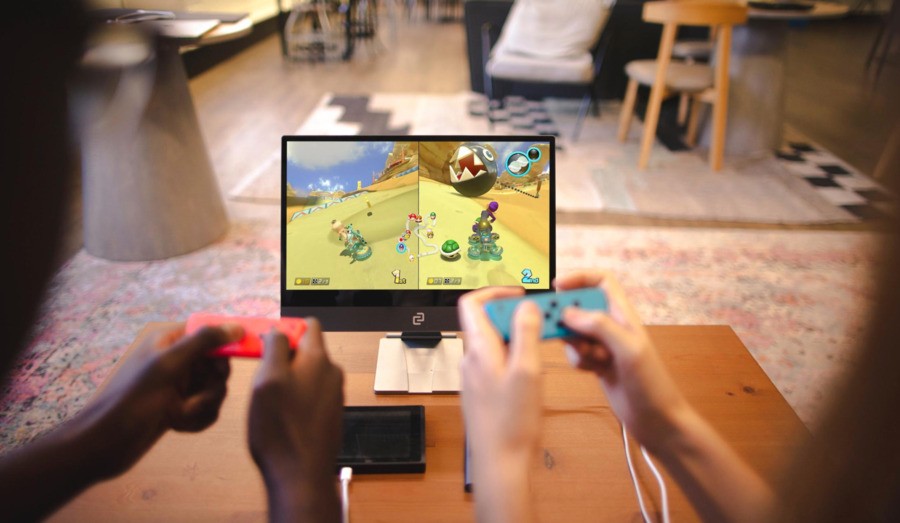 The highly portable nature of the Switch makes it a great system for those who are on the road a lot – not just because you can use the console's built-in 720p display for mobile gaming, but because it's also easy to carry around a second, external screen which bridges the gap between the Switch's display and your large flatscreen television at home.
The Switch's arrival on the market has fortuitously come at the same time as an explosion in external monitors; these thin and portable panels have a wide range of uses – they connect to almost anything that has HDMI-out, but also accept USB-C connections too, so you can use them with your laptop or even your smartphone – but many of them are being marketed as the ultimate Switch travel accessory; a screen thin and light enough to be carried in your rucksack, but one which offers a crisp 1080p image and can be powered using high-capacity USB battery packs. Oh, and shmup fans should note that TATE mode is great on these things.
With so many options on the market, we thought it might be a good idea to look at a few examples so you can get an impression of which one is right for you.
Editor's note: All of the screens shown below support USB-C connectivity with the Switch to share both image and picture data, as well as power, and in many of the manufacturer-supplied images used below, the Switch is shown being used without the dock. However, due uncertainty regarding the power standard required to run the Switch safely, we used the original dock during our testing.
The Budget Option: C-Force CF011X
One of the cheapest options on the market right now is the C-Force CF011X, which costs "just" $180 (these screens aren't low-cost quite yet, put it that way). It's a 15.6-inch IPS screen with a resolution of 1080p – perfect for the Switch, which can't output higher than that in docked mode. The screen isn't quite as good as the one on the more expensive C-Force CF016XT, however, but you get what you pay for.
It's got two USB-C ports and a full-size HDMI port, rather than the more fiddly (and less common) Mini-HDMI connection. There's no touchscreen support – something that all of the other screens we tested offer – but that's not going to be an issue if you're planning on primarily using this screen with your Switch.
The design isn't as eye-catching as its rivals, but it's fairly rugged and will withstand some punishment on the road. If you like the idea of a "bridge" screen for your travels but don't want to pay over the odds, this is a good choice.
Cost: $180 USD
Pros: Low cost, rugged design
Cons: No touch support, display quality could be better
The Mid-Ranger: C-Force CF016XT
C-Force's other option is one that we've featured previously on the site. The CF016XT is a lot more expensive than its sibling, costing $289.99, but it offers 10-point capacitive touch capability – handy if you plan to use it with your laptop or smartphone, as well as your Switch.
The 1080p panel offers 100% sRGB and a 144Hz refresh rate, as well as features such as HDR and Free-sync. The speakers on this surprisingly thin unit are pretty decent, too. Our review unit came with a handy folding plastic stand, but the magnetic protective cover also doubles as a stand (albeit one that's quite flimsy). Like the other screens tested here (with the exception of the Espresso) there's a slight bump on the back of the screen which houses all of the tech which powers it, as well as the various ports.
The quality of the screen is fantastic, but we did notice that there are some lighter areas at the bottom of the display, a sign that internal parts are pushing against the panel. The Mini-HDMI port is also a bit fiddly and means you'll need to keep the bundled HDMI-to-Mini-HDMI cable safe.
Cost: $290 USD
Pros: Amazing screen quality, touch support, good speakers
Cons: Expensive, quality-control issues
The Premium Choice: Espresso
Out of all of the screens we tested here, the Espresso – which comes in 13.3-inch and 15.6-inch variants – is the one which feels the most premium. It comes in Apple-style packaging (the other displays arrived in largely plain boxes) and boasts a brushed-aluminium finish on its casing. Simply put, it looks gorgeous, even when it's switched off.
Optional extras include a cool 'MountGo' adjustable metal stand – which uses magnets to hold the Espresso in place, making it appear very much like a traditional monitor – as well as a stylus which can be used with the Espresso's touchscreen functionality.
Pitched as the world's thinnest portable monitor, the Espresso is super-svelte yet offers a decent picture; the only drawback is that, because the case is so thin (there isn't even a 'bump' on the back, as is the case with the other screens tested here), the stereo speakers are quite weak when compared to the other screens we tested. It has Mini-HDMI connectivity (we'd prefer full-size HDMI if we're honest) as well as USB-C, and power passthrough is also supported via the latter connection.
While it's easily the most premium screen we've seen, that comes at a cost; the 13-inch model retails for around $299 USD, while the larger 15.6-inch version is $349 USD. Both of these are available at a discount via the product's Indiegogo page for a limited time, however.
Cost: $299 USD (13.3-inch), $349 USD (15.6-inch)
Pros: Gorgeous design, quality screen, excellent optional accessories
Cons: Weak sound, quite expensive compared to the competition
The Big Boy: Ananta
The Ananta is the big boy of the bunch, measuring a whopping 17.3-inches. This touch-capable 1080p display comes with 2 USB-C ports, 1 USB-A, a full-size HDMI port and even a 3.5mm audio jack.
It's pretty light considering its size, but we found that the flip-over cover stand it ships with often isn't up to the task of holding it in position, as the screen feel over a few times during our testing period. The design is also a little dull, especially when compared to the Espresso. We also found that its large size means that it's harder to carry around with you; it wouldn't fit inside the laptop sleeve we used to carry around the C-Force CF016XT and Espresso screens.
On the positive side, the stereo speakers are powerful and the quality of the image is striking; colours really pop on this display. It also comes with an optional stylus (which is going to be of more interest to computer users looking for a second screen) and remote control which allows you to toggle options more easily.
A Kickstarter campaign is currently running which allows you to secure one for $359, at that's with an early-bird discount applied.
Cost: $359 USD
Pros: Amazing quality screen, Big size, touch support
Cons: Might be too large for some users, design is rather boring
---
We were supplied with review samples of the screens featured in this round-up by the companies who manufacture them.