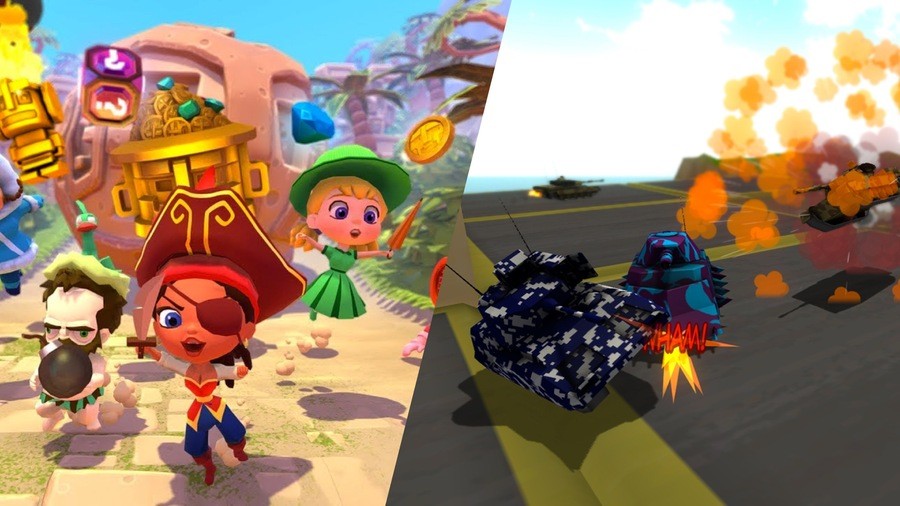 Dutch studio M2H has announced that two of its games - Marooners and Crash Drive 2 - are both set to launch on Nintendo Switch on 7th February.
We've got our hands on trailers and official descriptions for both games below; both of these have now appeared on the eShop ready to prepurchase should you like what you see.
Marooners
The most chaotic multiplayer party game on the planet! Party game madness! Pick your Marooner!

Play a wild mix of fun party games as the action regularly switches back and forth between games. Can you handle the switcheroo chaos? Join your friends both on the couch and online while sadistically laughing at their misfortune, or come back to haunt them if you die. Run, jump and slap your way to victory!Party Game madness: experience switcheroo chaos as the action jumps between multiple intense minigames when you least expect it, or take the challenge of completing a full play through of each minigame once. Face different game types and surprise bonus stages.
Crash Drive 2
Multiplayer gameplay 30 unique vehicles to unlock Special car-leveling system

Whether you're driving a bus, a classic muscle car, or a monster truck—you go your own way in this multiplayer stunting game. Speed across a huge map equipped with plenty of bizarre terrain to make the race intense. Collect coins, upgrade your ride, and WIN the offroad race!

- Multiplayer gameplay
- 6 random competitive events: Coin Collect, King of the Crown, Race, Tag, Stunt, Find the Ring
- 4 huge levels to explore…can you find all the secret areas?
- 30 unique vehicles to unlock
- Special car-leveling system
Marooners is available for $14.99, with Crash Drive 2 launching for $8.99. Our friends over at Push Square reviewed Marooners for PS4 back in 2018, saying that it "can be fun with the right people but ultimately it lacks a lot of polish".