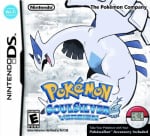 Publisher:
Nintendo
/
Developer:
Game Freak
Release Date:
14th Mar 2010 (USA)
/
26th Mar 2010 (UK/EU)
In first place we have, of course, Pokémon HeartGold & SoulSilver, the Nintendo DS remake of the former best Pokémon Gold and Silver. It never really got any better than this, did it?
HeartGold and SoulSilver was designed to be faithful to Gold and Silver, while including a bunch of improvements that had been introduced to the franchise since. These include Yellow's ability to have a partner Pokémon follow you around, and the new features included in Pokémon Crystal, the previous ultimate version of this title.
Where does your favourite Pokémon sit in this list? Where do you think the upcoming Pokémon Sword and Shield will place? Not long to wait now, but until then let us know your Poké-feelings in the comments below.