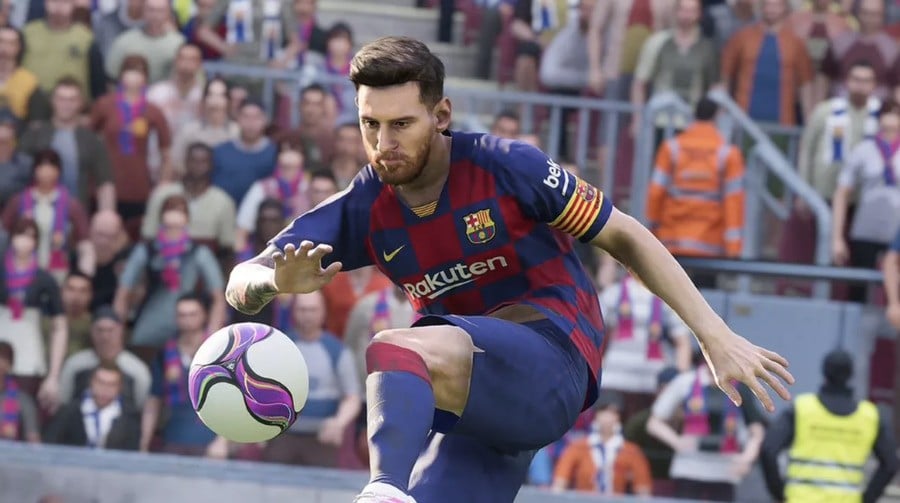 In the world of virtual football, two brands rule the roost – EA's FIFA and Konami's PES. Each year, these two long-standing rivals battle it out for soccer supremacy, but there's one battleground where this contest hasn't yet played out, and that's on the Switch.
EA has supported Nintendo's console with FIFA 18, FIFA 19 and the upcoming FIFA 20 (although it's worth noting that the latter is going to a "legacy edition" rather than a full-blown update), but Konami has yet to bring PES to the hybrid platform.
It doesn't look like that's happening any time soon, either. PES brand manager, Lennart Bonzein, has been speaking to Real Sport, and offered the following statement when quizzed about the chances of a Switch version:
I can't really talk about the Switch, all I can say is that I love the Switch. I think it's an amazing console and I really enjoy playing on it. As a company, Konami is aware of the Switch – we released Bomberman last year, we are releasing Contra on the Switch. For PES right now, just the current factors that the game is coming out on the three platforms – PS4, Xbox One and PC means there is no Switch version planned right now.
It's one of those odd situations where a company heaps praise on a console but then admits that it doesn't plan to bring one of its most famous properties to it. Sure, there's an argument that sports titles don't sell to the Nintendo audience, but surely a series as popular as PES would sell enough on the machine to make development worthwhile – especially as it is rumoured that Konami will be shifting from Fox Engine to Unreal Engine in the near future?
Would you pay good money for PES on your Switch? Let us know with a comment.
[source gonintendo.com, via realsport101.com]