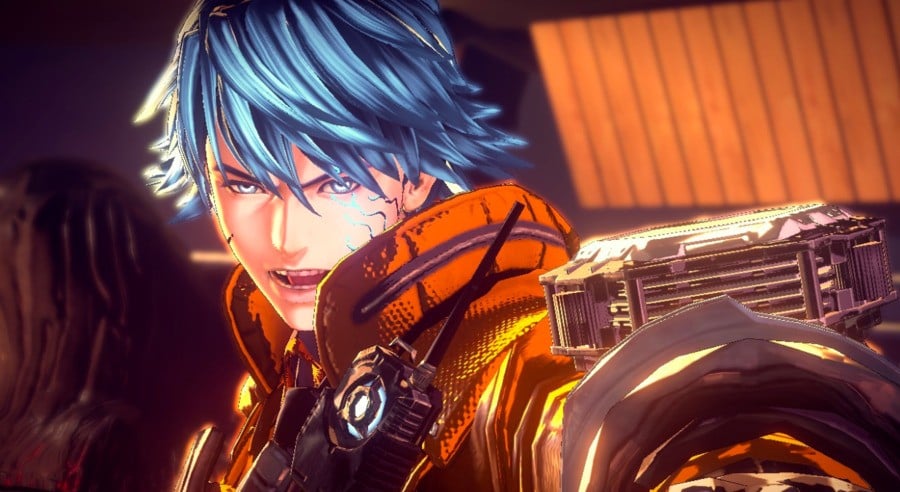 Today sees the launch of PlatinumGames' latest epic, the action-packed Astral Chain. Showcasing the company's trademark combat-focused gameplay and eye-catching visuals, this Switch exclusive also features sections where you investigate crime scenes and compile clues. It's a fantastic mix of genres and is effortlessly one of the best games we've played this year – as you'll know if you've already consulted our exhaustive Astral Chain review.
"With its amazing visuals, fantastic presentation, varied gameplay and deep, rewarding combat, Astral Chain could well be PlatinumGames' most accomplished game yet," we hooted. "Astral Chain isn't just one of the Switch's stand-out hits – it's one of 2019's best video games."
That's all very well, you might say, but what are other outlets saying about Astral Chain?
...Astral Chain's action is some of the very finest I've come across, all delivered with a seamless quality that often leaves you breathless. Platinum never loses its lustre, goes the motto that sits proudly in the entry lobby of the studio's Osaka headquarters, though some might have thought the studio has dulled in recent years. Astral Chain is having absolutely none of that, and it shines brighter than anything in the studio's past. It's an absolute dream of a game.
Astral Chain is another excellent game from Platinum, and one of the best action games of this generation. Period. Fighting off alien invaders with a Legion robot by your side proves to be even more fun than it looks, which is saying a lot. Even outside of combat, the world and its characters brim with life – other than the main protagonist, that is. Excellent pacing artfully balances tense action with enticing exploration to create a deeply satisfying and charmingly quirky ride.
I came into Astral Chain expecting a nice action game with a pleasant anime aesthetic, a scoop of ice cream with a cherry on top. Platinum Games gave me a giant sundae piled high with whipped cream and sliced fruit and chocolate sauce. And nuts. Pecans. Love those pecans. What I wanted is there, and it's good. There's just so much more, and I love it all.
Astral Chain's shortcomings don't overshadow what it does best. It's an incredible execution of a fresh take on Platinum Games' foundation, standing among the stylish-action greats. And its own anime-inspired swagger makes fights all the more exhilarating. You'll come to appreciate the calmer moments in between that add variety and offer a second to relax before jumping back into the superb combat. After 40 hours with Astral Chain, I'm still eager to take on the tougher challenges, and I'll be grinning from ear to ear as I hit all the right moves, one after the other, while watching it all unfold.
What you're ultimately left with here is a bland story told a thousand times, mixed together with uninspiring combat. While it's truly great to see Nintendo do new things that's so different from much previous by them, the execution leaves a lot to be desired in terms of its core gameplay mechanics.
I had a blast playing Astral Chain and didn't want it to end. Platinum has created a wonderful new universe for players to dive into that I could see extending into anime, movies, and hopefully sequels. The dual-character gameplay is also brilliantly devised, and although not as difficult as PlatinumGames' other titles, creates a duet that makes you feel like a powerful, unstoppable force. The story may be the weakest part of the experience, given just how much it changes trajectory, but it has some legitimately great moments, and a big twist I didn't see coming. All told, this is one hell of a game.
What begins as a dark meditation on collecting pocket monsters gradually becomes a blunt, but effective, soap opera about life in shitty times. Astral Chain is about the urge to inspire good, not just by hurting the enemy, but through helping those around you. It's also wonderfully welcoming, an action game for everybody that provides an escape to a world on fire where good people can do right.
It's not that there are no original ideas in Astral Chain, no bright spots or brief respites from the boring loop. It's that for nearly 30 hours, the ones that show up are either underdeveloped or else go uncultivated in favor of something fundamentally rehashed and reheated.
Part melodramatic anime, part overly complicated Tamagotchi, it's an eminently playable action role-playing game that delivers the pleasure of good teamwork in a way few singleplayer games accomplish. Building on action design ideas seeded in Nier, Astral Chain encourages you to bond with your beloved pet cybermonster both on and off the battlefield. Then, it teaches you how to fight as one.
There's a good chance that you'll already have the game in your hands by the time you read this, so be sure to let us know what you think by posting a comment.