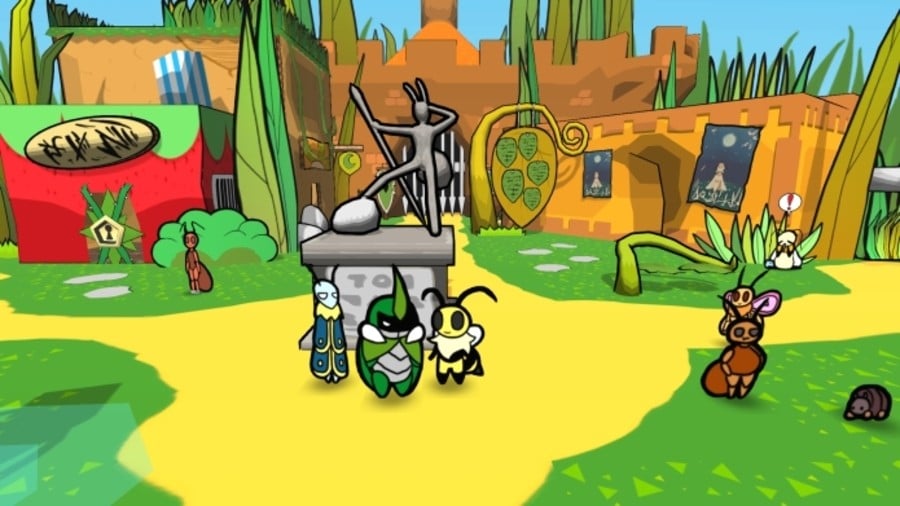 Developer Moonsprout Games and publisher Dangen Entertainment will be releasing the charming adventure RPG Bug Fables on the Nintendo Switch and multiple other platforms later this year. The Paper Mario style game follows the three heroes Vi, Kabbu and Leif (no, not that one), as they embark on an epic quest within the continent of Bugaria in search of treasure and an everlasting sapling which grants immortality.
The game includes a total of six chapters and features plenty of unique bug-themed areas to explore. The turn-based combat breaks up the exploration and there's a cooking system in place, allowing you to transform various ingredients into helpful items. Below are some more details about what you can expect and some additional screenshots:
Many unique areas, including: The Ant Kingdom, the treacherous Snakemouth Den, the picturesque Golden Hills, The Lost Sands, and Bee's home, the Bee Kingdom!
A vast overworld that transitions into turn-based combat! Use Bee's Beemerang, Moth's ice magic, or Beetle's horn to defend yourself from foes!
Action commands which can make attacks more effective, or block enemy attacks!
A cooking system to turn ingredients into items that can help you in battle!
A tattle system that lets you hear your party interact with each other as they discover all the secrets Bugaria has in store!
Bug Fables originally started out on the crowd-funding platform IndieGoGo in 2018. There's even a downloadable PC demo you can try out right now. Take a look at the BitSummit trailer below confirming the arrival of this game on the Nintendo Switch:
Is this the follow-up to the Paper Mario series you've been waiting for? Tell us below.
[source indiegogo.com]