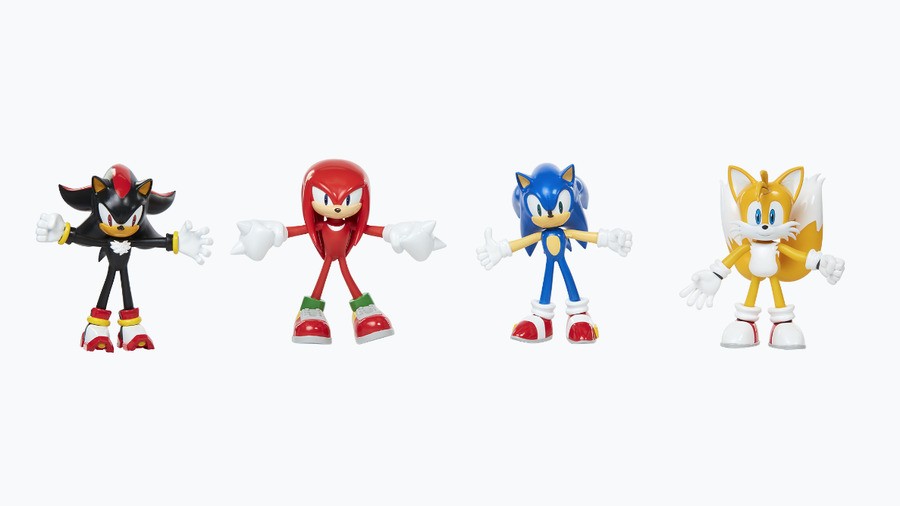 US toymaker Jakks Pacific has announced a multi-year, global toy licensing deal with SEGA of America, allowing the company to manufacture, market, and distribute merchandise for the Sonic the Hedgehog brand.
The company will be showcasing its entire line at the International Toy Fair in New York from 16th - 19th February, but we have a first glimpse at some of the figures for you up above. The toys look great to us, but those figures aren't the only thing you can expect to pick up in the future; Jakks promises to introduce action figures, playsets, plush, collectables, and novelty items, too.
One highlight mentioned in a press release talks about a Pinball Track Set. We don't have any pictures to share with you just yet unfortunately, but this customisable track allows fans to "simply pull the pinball launcher and shoot the Sonic Spheres through the loops and turns. The set comes with an exclusive Sonic Sphere and removable figure".
Craig Drobis, SVP Marketing at JAKKS Pacific, has shared the following:
"We are incredibly excited to work with SEGA of America to bring this iconic property and character to life. The JAKKS line of toys, role-play, and dress-up extends the 'Sonic' experience from screen-time to play-time."
Anoulay Tsai, Licensing Director, SEGA of America added, "this is a great step forward for Sonic the Hedgehog as we endeavour to break barriers at the speed of sound in toys!"
The global launch (except Asia, apparently) of this Sonic the Hedgehog toy lineup will be available at retail this autumn. Prices are set to start at $4.99.
What types of Sonic merch would you like to see from this partnership? Do you like collecting toys of your favourite gaming characters? Tell us below.