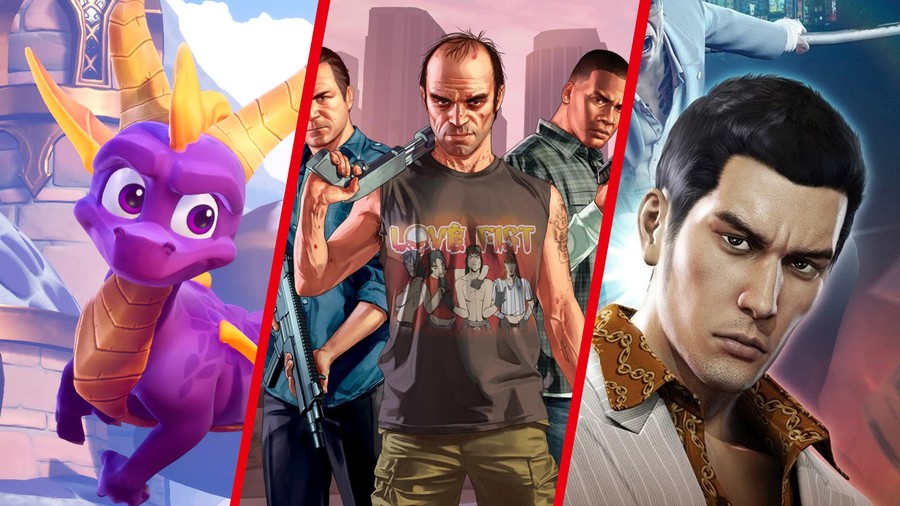 In a spectacular turnaround from last generation, Nintendo's newest console has hosted a wide variety of third-party titles since launch, many of them ports and several of them genuinely surprising; could anybody have predicted Wolfenstein II would come to a Nintendo console, and a handheld one at that? We've seen big success stories across the board – from 'ultimate' editions of indie favourites to surprise remasters of older classics – and it's wonderful that Nintendo gamers have access to many of these for the first time.
In fact, you may be thinking that everything has already got the port treatment – well, this sizeable wish list we've compiled suggests there's plenty more for publishers to greenlight. After seeing the results, we're confident Panic Button could port practically anything to the handheld given the appropriate resources (albeit with expectations suitably adjusted), but – alas – time and money are not infinite. With that in mind, we've evaluated the chances of these ports becoming a reality.
Can this gold rush continue indefinitely? Almost certainly not, but we'd love to see some of these arrive before the port bubble bursts. So, grab a cup of your favourite hot beverage and find a comfy chair – this might take a while…
1. Grand Theft Auto V (Rockstar Games)
First up, it's the fifth mainline entry in the GTA franchise. It introduced several new things to the series, the most significant being not gating the city from the beginning. Clunky in some ways, stunningly ambitious in others, the sheer scope of Rockstar's environments is astonishing, and exploring Los Santos on Switch would be a fine thing.
What are the chances?
Not impossible from a technical standpoint (PS3 and Xbox 360 handled it admirably enough), but the game's biggest innovation makes a Switch port less likely; GTA Online is still a colossal money-spinner for Rockstar, so a port of a five-year-old game probably isn't an in-house priority, especially to a console with a patchy online reputation. That said, Rockstar studios must be full of Switches and they've certainly got the cash to make it happen. It's also easy to forget that Rockstar has form with Nintendo handhelds – Chinatown Wars did an excellent job of scaling GTA down on Nintendo DS. So, maybe.
2. Fallout 4 (Bethesda Game Studios)
Being able to explore the retro futuristic wasteland of Fallout 4 on Switch would be an undeniably treat, and a great handheld port might help wash away the bad taste that Fallout 76 recently left in gamers' mouths. We've had mobile-focused management game Fallout Shelter already and we're ready to crack open a bottle of Nuka-Cola and settle down with the real deal.
What are the chances?
Fallout 4 used an updated version of Skyrim's engine, and that port turned out pretty well, so why not? With Bethesda themselves a little tied up patching Fallout 76 to infinity and beyond, we'd get Iron Galaxy back on the job (the company responsible for the Switch versions of Skyrim and Diablo III).
3. Burnout Paradise Remastered (Electronic Arts)
We were disappointed that the remaster of this celebrated open-world racer skipped Switch last year. We can only imagine it was down to an administrative oversight – the crash-happy mayhem of Burnout coupled with the open structure of this entry's Paradise City are perfectly suited to Switch and its sleep function.
What are the chances?
Good! Switch is lacking in decent driving games and over a decade on, this is still one of the best ever. Failing that, we've got a soft spot for 2012's Need For Speed: Most Wanted, another Criterion joint.
4. Mass Effect Trilogy (BioWare)
Mass Effect enabled Knights of the Old Republic developer Bioware to build a space-faring action RPG free from the restrictions of Star Wars lore. What it lost with lightsabers it made up for with juicy interpersonal relationships and galactic intrigue. The original trilogy contains at least two-and-a-half-games worth of excellence and it would find a welcome home on Switch.
What are the chances?
50/50. Following the general negativity surrounding Mass Effect Andromeda, the franchise needed a break and publisher EA may still be smarting. A rerelease could drum up enthusiasm for any potential Mass Effect project in the works, but BioWare itself has bigger things to worry about right now – rumours suggest that the studio's fate rests on the success of upcoming game, Anthem, which almost certainly won't come to Switch.
5. Overwatch (Blizzard Entertainment)
The massive streaming and esports popularity of Blizzard's first-person team-based shooter means you've probably heard the name even if you've got no idea what it is. Its colourful roster of caricatured heroes and multiplayer-focus feel like a good fit for Switch and Blizzard are said to be 'open-minded' about the possibility.
What are the chances?
After the success of Diablo III, we'd say 'high'. It would be a considerable technical challenge, but we've seen what the console is capable of in the right hands. Yes, please.
6. Call of Duty: WWII (Activision)
Sledgehammer Games went back to the Second World War nearly a decade after Call of Duty: World at War and had massive success with Call of Duty: WWII. With the franchise on a steady rotation between studios, it can be tough to keep up-to-date – Call of Duty: Black Ops 4 is the most recent entry, although that eschews a solo campaign entirely in favour of Battle Royale-style multiplayer.
What are the chances?
Frosty. Activision has certainly got the resources, but put simply, the Venn diagram of Switch owners and the COD crowd probably doesn't show enough overlap. Mind you, that was true of Wii owners, too, and that received several Call of Duty ports. If not this, then how about BLOPS 4? Or Modern Warfare Remastered? Ooh, now we're talking – get Captain Price on the job! Not sure Switch could handle that 'stache tech, though.
7. BioShock Infinite (2K Games)
The art-deco architecture of Rapture, BioShock's decaying underwater metropolis, was impressive enough to make us pick up an Xbox 360 back in the day, and the second sequel's floating city of Columbia was almost as remarkable. While Irrational Games' original is hailed as a classic, we reckon 2013's BioShock Infinite deserves a second look.
What are the chances?
2K Games recently published the excellent Civilization VI and must be reviewing its portfolio for potential Switch material; Infinite is a good vintage for the handheld, so how about it, 2K? Or better yet, would you kindly bring the entire remastered trilogy over with a port of Blind Squirrel Games' BioShock: The Collection? Thanking you.
8. Final Fantasy XV (Square Enix)
A cavalcade of announcements in September's Nintendo Direct revealed Final Fantasy 7, 9, 10 and 12 are all Switch-bound, but fans of 15 would have to make do with the 'demake' Pocket Edition. While we found it to be a passable facsimile of the original, it's hardly the full-blooded FF experience we're after.
What are the chances?
Not great; the original was over a decade in the making and not without its own problems. Square Enix was planning four more DLC story episodes before the game's director quit in November and three were canned. The company has an enormous number of FF plates spinning and probably lacks the bandwidth to make this happen anyway. The much-anticipated Final Fantasy VII Remake – not to be confused with the Switch-bound version – seems to be something of an albatross; latest projections slate it for Q4 2031.
9. Spyro Reignited Trilogy
This seemed like a shoe-in for Switch, especially after the success of Crash Bandicoot N. Sane Trilogy on your favourite 'homeheld' console, but Spyro inexplicably disappeared off release schedules and Activision stonewalled any questions with the standard "We do not have any other platforms to announce at this time" cobblers. Weird.
So, was it cancelled?
We doubt it – its disappearance is likely the result of a release schedule rejig, or perhaps the Switch version simply needed a little more time in the oven. That's fine; we've got plenty to be getting on with in the meantime, but we expect to see Spyro somewhen in 2019.
10. PlayerUnknown's Battlegrounds (PUBG Corporation)
After an exclusivity deal with Microsoft expired, the game which kickstarted the battle royale craze popped up on PS4 less than a month ago. In a brazen, ungentlemanly move, Epic Games 'borrowed' much of PUBG's formula for their little arthouse title called…, hold on a sec… *checks notes* Fort Night, is it? PlayerUnknown's initial take of the 100-person-deathmatch offers a more contemplative, tactical experience which is still unbelievably popular, though.
A 100-to-1 shot?
With Switch skewing towards a younger audience still captivated by Fortnite's F2P model, it's tough to know if PUBG makes sense on Nintendo's console. However, the mobile version proves it can scale to lower-spec hardware, and we'd love the opportunity to play in bed with some proper controls. Ultimately, if PUBG Corp. are serious about competing with Epic, they need to be everywhere.