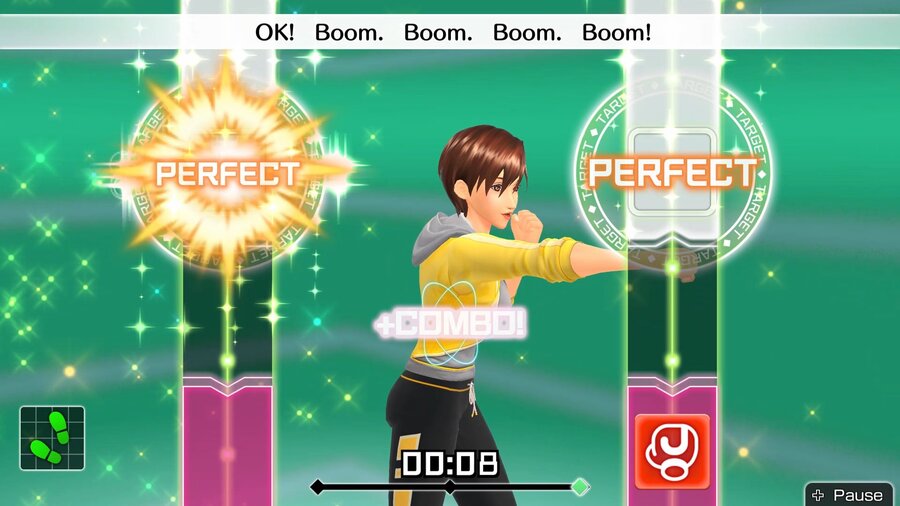 Nintendo has finally lifted the lid on the mystery surrounding Fitness Boxing, a Switch exclusive title that was teased a little while back.
We first heard about this one several months ago, although details were extremely few and far between back then. Now, though, Nintendo tells us that the game will have players taking part in boxing-based workouts, all while bopping along to instrumental versions popular music hits. Holding one Joy-Con in each hand, you'll be punching, weaving, and squatting your way to calorie-burning victory, making use of the console's motion control functionalities.
A daily training feature in Fitness Boxing offers both low and high-intensity options, with customisable trainers available to personalise your experience. The game estimates your approximate body mass index and daily calories burned so you can track your progress and, as you move toward reaching your goals, you can earn more songs and will also have the opportunity to engage with more challenging training circuits. There's also a two-player mode where you can team up with a friend or family member to play in tandem or face off in a virtual boxing ring.
The full soundtrack hasn't been revealed just yet, but we do know that instrumental versions of "Party Rock Anthem" by LMFAO, "Call Me Maybe" by Carly Rae Jepsen, "Shut Up and Dance" by Walk The Moon, and "Sugar" by Maroon 5 will appear, alongside songs from Lady Gaga, Pitbull and Kesha. You can find some more details in the feature list below.
FEATURES:
- Work up a sweat with boxing-based motion-controlled moves set to rhythm-based workouts
- Bop along to the instrumental versions of popular songs
- Personalise workouts by selecting your fitness goals
- Choose from short to long workouts to fit a variety of lifestyles
- Play cooperatively with or competitively against friends and family in 2-player local play with two sets of Joy-Con controllers or by sharing a pair.
- Play at home on the TV or on-the-go in Tabletop mode
- Tracks your progress by estimating BMI and calories burned to help encourage healthy habits
The game will arrive both digitally and physically, exclusively on Switch on 21st December in Europe and 4th January in North America.
Will you be bopping and boxing to the beat? Let us know your thoughts on this one in the comments.