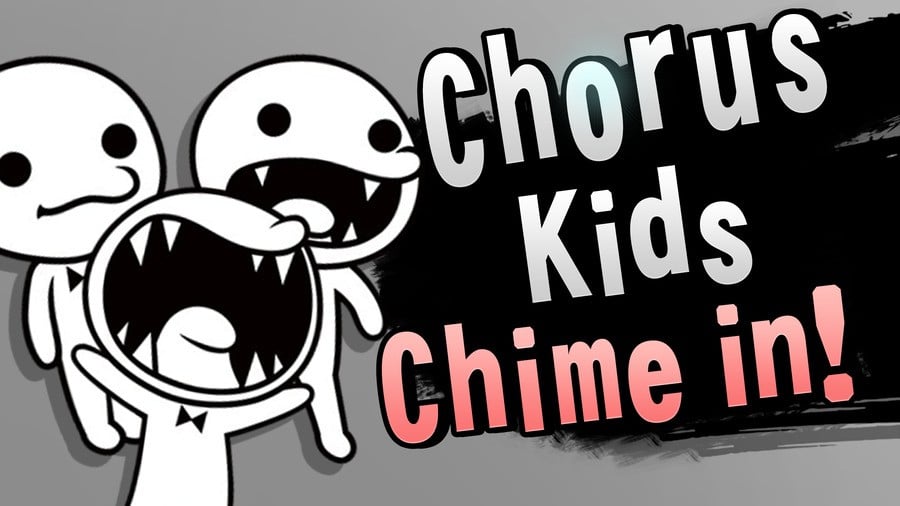 The news it out - Super Smash Bros. Ultimate will feature every single character that has ever been present in the franchise before. It's an amazing fact, and will no doubt make for an amazing character roster to choose from, but will it end there? Well, if this IMDb listing is anything to go by, perhaps not.
As you can see in the image below - and you can even check here if you don't believe us - the site's Super Smash Bros. Ultimate page lists Daniel Alegria as a voice actor for 'The Chorus Men'. Referred to as The Chorus Kids in western releases, these characters are from the series Rhythm Heaven, often seen contorting their faces into terrifying shapes to sing notes to the beat.
Rumours have circulated around the inclusion of the Chorus Kids, or at least a character or two from the Rhythm Heaven franchise, for quite some time. Months before the release of Super Smash Bros. for Wii U and 3DS, leaks were shared online that hinted at the characters' inclusion, but they never made it to the final roster. Whether these leaks were false, or whether the characters were removed last minute for development reasons is unclear, but perhaps we'll finally get to see them this time around.
Of course, we'll have to wait for any official announcements that the game will indeed feature more characters - never mind The Chorus Kids specifically, who could just as easily be an Assist Trophy - before knowing all of this for certain. The idea of a three-in-one character does present some interesting food for thought, though: would they play like the Ice Climbers but with three people to monitor instead of two? Could the idea of rhythm-based attacks be implemented, with accurate button presses dealing more damage? Who knows...
Would you like to see The Chorus Kids in Super Smash Bros. Ultimate? Who else would you like to see make the cut, perhaps as DLC? Let us know with a comment or two below.
[source m.imdb.com]