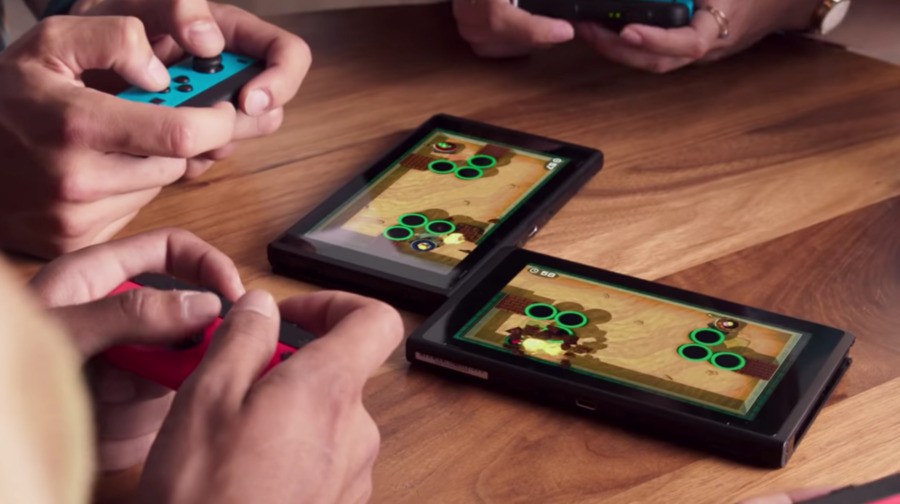 Just over a month ago we reported on a new multi-screen patent filed by Nintendo which seemed to make use of two separate screens, running on two separate devices, with information and displays being shared between them seamlessly. After closer inspection of the recent Super Mario Party trailer, it appears that this technology is about to be put into use.
In the image above (which you can see in action in this new game trailer) you can see two Switch consoles being used to play the same game, effectively allowing both systems to display different areas of the same environment. It also seems that you can move the two consoles around to affect the gameplay, creating different paths for characters to pass from screen to screen.
The recently filed patent certainly seems to show the foundations of this idea, with objects being shown to move from screen to screen and even a demonstration of the two touchscreens linking up. The Mario Party franchise does seem like the perfect fit to put this kind of gameplay into action, with fun, fresh ways to enjoy mini-game style activities, but this could potentially open up yet another avenue for the Switch in the years to come.
First we had the idea of a portable console being docked to display on the TV, then we had the wonderful creativity of Nintendo Labo, and now this, too. Just how many things will the Switch be capable of in the future?
Are you excited to see some new ways to play with your Switch? Will you be trying out Super Mario Party when it launches this October? As ever, let us know down below.