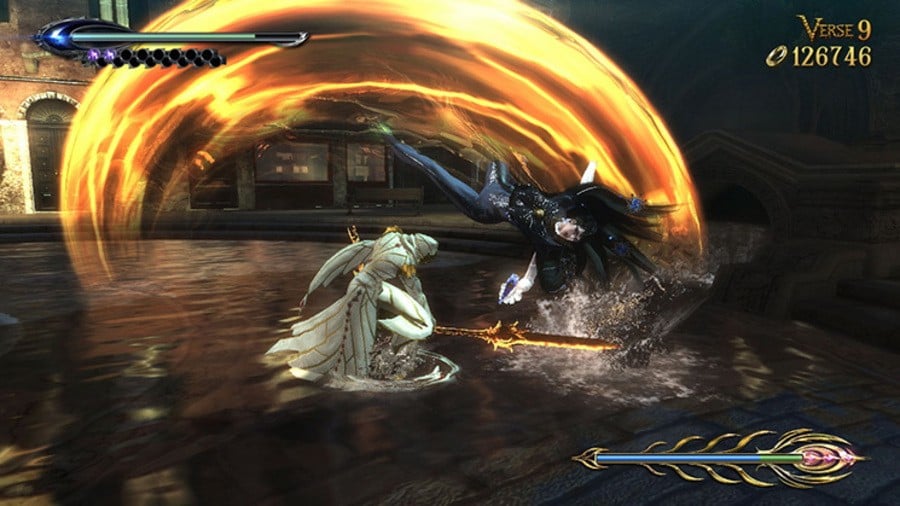 Bayonetta 2 is all about its combos. If you really want to master the combat system, you're going to have to learn a few of these, and fast.
There are a few different combo types as well: ground, air, and unique combos that you can only pull off with a particular weapon. It's worth noting that you can perform all of the default ground and air combos with any weapon type in the game though – so prioritise learning them first.
We want to help you learn all of the combos in the game, so we've created a list of them below. You can use this as a resource while playing so pop it in your bookmarks and refer back to it. Enjoy!
Ground Combos
| | | | | | | |
| --- | --- | --- | --- | --- | --- | --- |
| Punch | Kick | Punch | | | | |
| Punch | Delay | Punch | | | | |
| Punch | Delay | Kick | | | | |
| Punch | Punch | Kick | Punch | | | |
| Punch | Punch | Kick | Kick | Kick | | |
| Punch | Punch | Kick | Kick | Delay | Punch | |
| Punch | Punch | Kick | Kick | Delay | Kick | |
| Punch | Punch | Kick | Delay | Kick | | |
| Punch | Punch | Delay | Punch | | | |
| Punch | Punch | Delay | Kick | | | |
| Punch | Punch | Punch | Kick | Kick | Kick | |
| Punch | Punch | Punch | Kick | Punch | | |
| Punch | Punch | Punch | Kick | Kick | Delay | Punch |
| Punch | Punch | Punch | Delay | Punch | | |
| Punch | Punch | Punch | Delay | Kick | | |
| Punch | Punch | Punch | Punch | Kick | | |
| Punch | Punch | Punch | Punch | Punch | | |
| Punch | Punch | Punch | Punch | Punch | Kick | |
| Punch | Punch | Punch | Punch | Delay | Punch | |
| Kick | Kick | Kick | | | | |
| Kick | Kick | Delay | Punch | | | |
| Kick | Delay | Punch | | | | |
Air Combos
| | | | | | |
| --- | --- | --- | --- | --- | --- |
| Punch | Punch | Kick | Punch | | |
| Punch | Punch | Punch | Kick | Punch | |
| Punch | Punch | Punch | Kick | Kick | Kick |
| Punch | Punch | Punch | Delay | Kick | |
| Punch | Punch | Punch | Punch | Kick | |
| Punch | Punch | Punch | Punch | Punch | |
| Punch | Punch | Punch | Punch | Punch | Kick |
Onyx Roses Weapon Combos
Shuraba Weapon Combos
| | | | | | | |
| --- | --- | --- | --- | --- | --- | --- |
| Hold Punch | | | | | | |
| Punch | Punch | Delay | Punch | Punch | Punch | |
| Punch | Punch | Delay | Punch | Punch | Delay | Punch |
| Hold Targeting Button | | | | | | |
| Hold Targeting Button | Punch / Kick | | | | | |
Kulshedra Weapon Combos
| | | | | |
| --- | --- | --- | --- | --- |
| Hold Punch | | | | |
| Punch | Punch | Delay | Punch | |
| Hold Punch | Punch | Punch | Punch | Punch |
| Stiletto | Punch | | | |
| Lock On | Punch | | | |
Durga Weapon Combos
| | | | | |
| --- | --- | --- | --- | --- |
| Hold Punch | | | | |
| Hold Kick | | | | |
| Punch | Punch | Delay | Punch | |
| Punch | Punch | Punch | | |
| Kick | Kick | Kick | | |
| Punch | Punch | Punch | Punch | Punch |
| Kick | Kick | Kick | Kick | Kick |
Lt. Col. Kilgore Weapon Combos
| | | | |
| --- | --- | --- | --- |
| Punch | Punch | Punch | |
| Kick | Kick | Kick | |
| Punch | Punch | Delay | Punch |
| Kick | Kick | Delay | Kick |
| Stiletto | Punch | | |
| Stiletto | Kick | | |
Odette Weapon Combos
| | | | | | |
| --- | --- | --- | --- | --- | --- |
| Hold Kick | | | | | |
| Kick | Kick | Kick | Kick | | |
| Punch | Kick | Kick | Kick | Kick | Kick |
Sai Fung Weapon Combos
Bazillions Weapon Combos
Pillow Talk Weapon Combos
Hold Punch
Punch
Punch
Delay
Punch
Punch
Punch
Punch
Punch
Delay
Punch
Punch
Delay
Punch

Hold Targeting Button
Hold Targeting Button
Punch / Kick
Rodin Weapon Combos