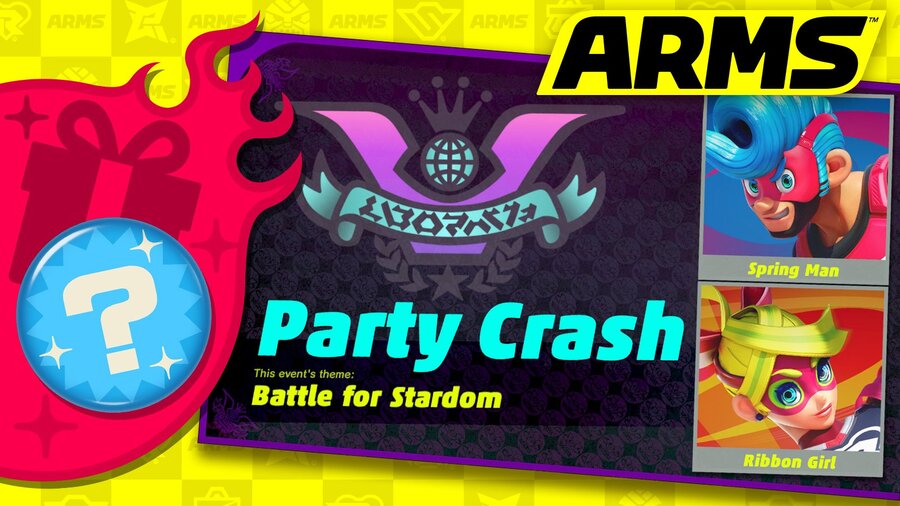 Last week brought us ARMS version 4.0, which added a new fighter, stage, ARMS options and assorted other bits and bobs. Another key addition was the functionality for 'Party Crash', timed Party mode events that have a Splatfest feel to them.
The first one starts today (22nd November) at 7am Pacific / 10am Eastern /  3pm UK / 4pm CET and ends at 1am Pacific / 4am Eastern / 9am UK / 10am CET on 24th November. It looks like fun - you play party matches and modes to level up and earn better badges and currency, with boosts (in this case) if you play as Spring Man or Ribbon Girl. In fact, the whole thing has a schedule, so if you use one of those two characters with specific ARMS in each event window you'll get multipliers for experience points. In fact, it's a contest between the characters to see which earns the most points.
To promote this Nintendo of Europe and Japan have released News posts on the system; like the equivalent gift posts for The Legend of Zelda: Breath of the Wild, opening the game from within the article nets you a little something extra. In the case of this ARMS post it nabs you a new badge.
It's nice to see this feature roll out in another game, and we'll be jumping into the Party Crash to see what it's all about. There are plenty of lapsed ARMS players out there, so maybe this'll get us back into it.
So, will you be Team Spring Man or Team Ribbon Girl?