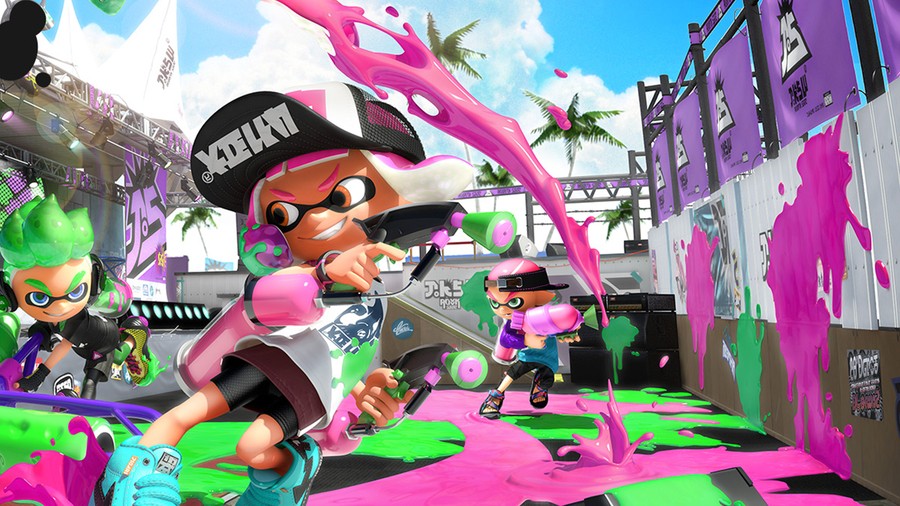 Unless you've been living in a cave for the past few months, you'll probably know that Splatoon 2 for Nintendo Switch is coming out on 21st July.
Two years have passed since the release of the original Splatoon, and two years have also passed in the game world, leading to an evolution in fashion trends and new styles of weapons and gear. Staying fresh really has never looked so good.
The Nintendo UK Store has lots of exciting Splatoon 2 themed goodies to preorder which you can't get anywhere else in the UK. Along with all that, there is also a Switch console bundle, new Splatoon amiibo and a Splatoon-themed Switch Pro Controller.
Be sure to preorder some items today to avoid disappointment later!
Nintendo Switch Splatoon 2 Console Bundle
This console features Neon Blue and Neon Red Joy-Con controllers and a pre-installed digital copy of Splatoon 2. The Nintendo Official UK Store offer an extended 2 year warranty on all Nintendo Switch consoles, which is nice.
Splatoon 2 Game Packs
Grab the game with an exclusive T-Shirt or a equally attractive cap, and you'll be the coolest squid on the block.
Splatoon 2 amiibo
There are 3 new amiibo which will take your Splatoon 2 experience to the next level. A neon purple Inkling squid leaping into the fray, a neon pink Inkling girl poised for action and a lovely lime green Inkling boy. Go on, you know you want all three.
Splatoon 2 Accessories
This Special Edition Splatoon 2 Nintendo Switch Pro Controller features a neon green left handle and a neon pink right handle, and has a splat design on the main façade. We have to say the Splatoon 2 case looks rather nice, too.
Splatoon 2 - More Cool Stuff
"Keep it Fresh" with these stylish Splatoon themed t-shirts and caps. You can even pick up a colourful inkling squid cushion to brighten up your sofa!
These are all the goodies which you can preorder on the Nintendo UK Store. Which lovely Splatoon 2 items do you plan to get?