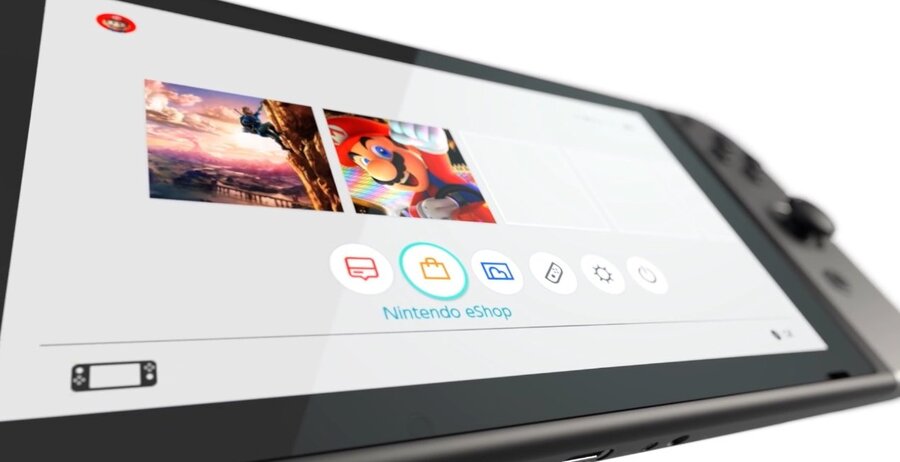 The Nintendo Switch is now settling into plenty of households, building up an interesting library of games in the process. The eShop adds plenty to the system's library, of course, and it's now time for us to revisit a list of what we think are the 'biggest' games still due on the store this year - you can check out our equivalent retail list here.
Encouragingly, it's not hard to find a lot of quality games as contenders, split into a list of 10 'main' games and another 10 honourable mentions. A number of intriguing titles miss out, in addition to a range of pleasing ports that are also on the way. Though not all publishers and developers have yet been able to get involved with the Switch, and while there are a few duds creeping through, there's also a lot to be excited about on the eShop.
In this list we've generally leaned towards exclusives where we can - timed and otherwise - along with other games we think can have the biggest impact. Some titles have missed out primarily because they're now falling under the retail category - these include promising games like Yooka-Laylee, Sine Mora EX and RiME. We're also leaving out anything confirmed for 2018 (Celeste was in our Spring list but is now due in January next year, for example), though admittedly a few in this list could slip from their 2017 targets (such is the nature of Indie development).
So, here are 20 games we think are worth looking out for on the Switch eShop.
This is the next title from Vblank Entertainment and a '16-bit' follow-up to the brilliant Retro City Rampage. Expect chaotic action, gorgeous retro-style visuals, and enough pop-culture gags to satisfy any child of the '90s. Also coming to the 3DS, we're looking forward to the mayhem this'll offer.
Image & Form is quite rightly regarded as a developer of sure-fire hits due to the quality it's delivered in recent years. Though SteamWorld Heist is excellent, the experienced studio's big break came before that with the 3DS release of SteamWorld Dig, a clever and engrossing title in which you dig, explore and gradually improve your abilities. It's an excellent formula, and the sequel promises to be bigger, bolder and have lots of new items and features. The developer recently pushed this back a little in order to add important finishing touches.
A rare beast in the modern age, this is a genuine exclusive for the Nintendo Switch, with no suggestion - so far - that it'll come to any other systems. Plenty enjoyed the style and quality of BIT.TRIP Presents: Runner 2 Future Legend of Rhythm Alien, so there's huge optimism that this will take that foundation and go further. As we learnt in our feature interview with Choice Provisions, the developer is keen to produce something special with this Switch title. We also enjoyed our recent time with an early demo at E3.
Wii U eShop aficionados with the taste for quirky and comedic games may have a soft spot for Stick it to the Man, an enjoyable romp from Zoink! Games. This game certainly follows the same style and approach to its writing, seemingly a follow-on or spin-off from that previous title. We're fans of this studio's output so are keen to see how this one turns out - we spoke to the studio's CEO and Creative Director about this game too.
Originally expected in March, the development team recently took to social media to confirm that it's resolving issues with online multiplayer before it launches; it's set to be 'console exclusive' to Switch, which means it may show up on PC in the future. This stylish fighting title draws inspiration from the Neo Geo Pocket era, aiming to deliver two-button controls but deep, involving mechanics.
A title that's been a huge on other consoles and PC, it's pleasing that Nintendo fans will be able to get in on the chaotic car football / soccer action in the Holiday season. As confirmed during E3 there'll be some exclusive customisations, and the online matches should be busy thanks to cross-platform support. Oh, and you'll be able to play it on the go.
The original earned a passionate fanbase on PC and then made its name on Sony and Microsoft consoles, so the good news is that Nintendo fans can get involved in the sequel. Beyond its stylish visuals it'll bring humour and challenging gameplay as you seek to break out of prison in imaginative ways.
Another title that's developed a passionate following elsewhere, this is a comedic and chaotic take on running a restaurant as you dash around to satisfy customer orders. On Switch it'll utilise HD Rumble and include all of the previously released DLC, while the system will be ideal for jumping into local co-op.
Developed by Raw Fury "specifically with the Nintendo Switch in mind", this is a stylish and intriguing Metroidvania that aims to produce intuitive controls for a touchscreen or gamepad controls alike. Its art style and mechanics are certainly eye-catching, and we're looking forward to seeing more of this one when it lands on the Switch eShop.
It's been a long wait for Nintendo gamers to get their hands on this hugely popular title, but the Switch should finally make it happen. This indie farming simulation role-playing game has captured hearts around the world, and Switch will be the first platform to get a new multiplayer mode when it launches.
---
Honourable Mentions
---
So there you have it, ten main titles and another ten 'honourable mentions' that we think highlight some of the best eShop games coming to Switch. Some games are unlucky to miss out and a number are due in early 2018, so there's plenty to look forward to on the store.
Let us know which games you're most looking forward to in the poll and comments below, and also remind us of anything blindingly obvious that we've missed!