While plenty went nuts over the NES Mini and the cycle begins anew with the upcoming SNES Mini, it's sometimes worth remembering that licensed (and unlicensed) clones of SEGA's old hardware have been around for years. Sometimes they're 'mini', occasionally they're chunky but offer plenty of games and functionality, and there's always a broad spectrum of quality.
AtGames hasn't always got its systems up to a high standard, but is making a big push for its updated range this year. It's now confirmed some US pricing and release dates for its range, all landing in September; yep, ahead of the SNES Mini / Classic Edition which is due on 29th September.
Let's break it down:
---
Sega Genesis Flashback ($79.99) - Out on 22nd September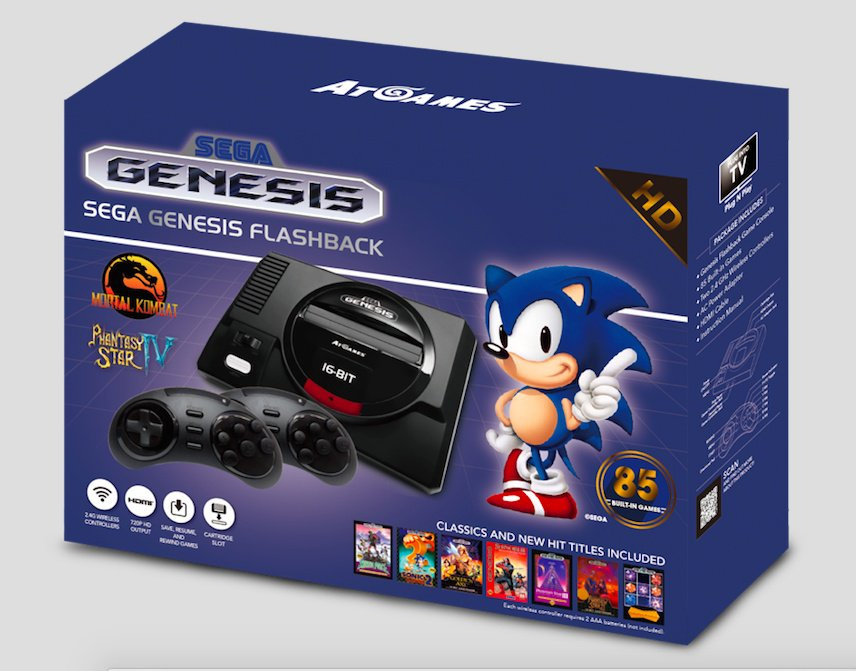 Actually arriving after the other SEGA offerings (below), this is arguably the premium product. This one has 85 games, support for original cartridges, wireless controllers and 720p HDMI output. It's even the subject of a flashy trailer.
Classic Game Console ($59.99) - Out on 1st September
A more conventional offering, with 81 pre-installed games, two wired controllers and ports for two more legacy pads. A bit more old-school with no boasting of a 720p output.
Ultimate Portable Game Player ($59.99) - Out on 1st September
This one has 85 games and an SD card slot to add more, and unlike previous iterations actually has save game support (for you Phantasy Star fans). It has a "high resolution 2.8" display" or can plug into your TV with a cable.
---
We'll likely try to check these out for review once they arrive; not all clone systems deliver quality emulation and clean images, but hopefully these will be up to the task. AtGames also has equivalent systems and releases for Atari on the way, too.
Are you tempted by alternatives like these, or will you stick with the scramble for a SNES Mini?