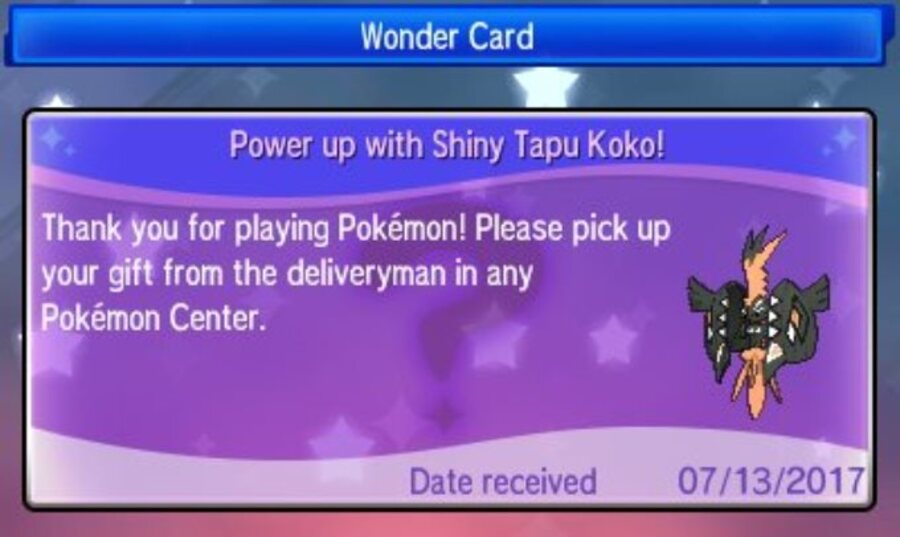 Though the conversation is increasingly shifting to the upcoming Pokémon Ultra Sun and Ultra Moon, the mysterious new core game additions to Generation 7, Pokémon Sun and Moon continues to roll on. The immensely successful pair of games broke many new records for the series and for Nintendo in general, so it comes as little surprise that the Pokémon Company continues to support the game with Global Missions and Mystery Gift distributions.
The latest Mystery Gift Pokémon is now available for all owners of Pokémon Sun and Moon, and it's a shiny variant of one of the four Island Guardians, Tapu Koko. This Tapu Koko comes at level 60 with Electric Surge as its ability, and has the moves Nature's Madness, Discharge, Agility, and Electro Ball. Though no date is given for when the distribution ends, it's likely only available for a few weeks, so make sure to grab it before the next Mystery Gift begins.
What do you think? Will you be nabbing this Pokémon? How do you think Ultra Sun and Ultra Moon will compare to their predecessors? Share your thoughts in the comments below.
[source twitter.com]