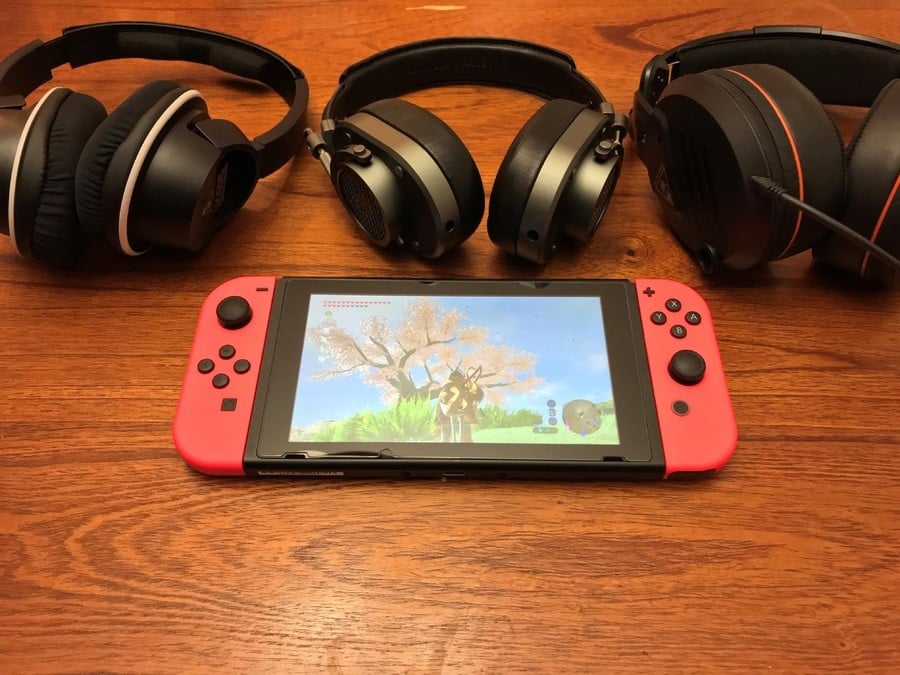 With the release of Nintendo Switch firmware 3.0, the big N removed the limits on how loud we can listen to our consoles on the go, so what better time to recommend some headphones than the present?
We've spent the last couple of months testing out a variety of headphones from manufacturers large and small and have picked out a few of our favourite sets for a variety of types. Regardless of the type of the gamer you are, we've found something for you. 
Unfortunately Nintendo hasn't seen fit to grace us with the ability to use wireless headphones with our consoles, so you're stuck either using these with portable mode only or by using the workaround we detailed a while back. Because Nintendo doesn't support bluetooth headphones, we've kept this list to wired headsets only. With that said, let's get right into it.
For the True Audiophile - Master and Dynamic MH40
The Nintendo Switch is the first of its kind, a console and a portable, meaning that it will be competing for space in your bag with a number of other devices, which is where the MH40 over-ear headphones from Master and Dynamic come in.
The MH40 headphones by Master and Dynamic aren't really designed for the Nintendo Switch. In fact, only one of the entries on this list are, but that by no means makes them lesser. The MH40 is for those that want the absolute best listening experience; not just for their Switch, but for all their devices.
If you're a style-conscious gamer, you're going to absolutely love these. The build quality of the MH40 is exquisite, featuring high-end materials. The entire body of the headphones is made of stainless steel, aluminum and leather. Their understated retro style means they'll fit in well whether you're at home on your couch or out and about.
The MH40 delivers sound unlike anything we've ever heard, and we've tested quite a few sets of headphones. When you put them on you'll notice details you didn't before in songs you've heard a million times over. The vocals in Mechanica's theme in ARMS come through much more clearly on this set than on anything we tested. Subtle sound effects will become apparent in games, too; it's like seeing TV in HD for the first time. The difference is incredibly clear and you'll wonder how you ever listened to games using anything less.
You do, however, have to be willing to pay for the privilege. At $399, the MH40s don't come cheap. This is a headset designed strictly for audiophiles. If you want something sleek and stylish and are absolutely uncompromising in your quest for the best audio quality your devices can deliver, these are the headphones for you.
For the Pro Streamer -Turtle Beach Elite Pro
Of all the headphones we tested, none were as comfortable as Turtle Beach's Elite Pro. This headset is clearly geared toward the competitive gaming crowd, and it shows. The overall style of the Elite Pro headset is an exercise in function over form. It's not going to win over any style enthusiasts, but it does what it's designed to do remarkably well.
Streamers and eSports competitors put in notoriously long hours, most of which are spent wearing some form of headset, either for listening to their teammates or interacting with their audience. For both of these purposes, there isn't a headset better than the Elite Pro. It's the absolute best pair of headphones for an aspiring pro or streamer.
Turtle Beach boasts of the quality of their ear cushions, which use a technology the company dubs Aerofit, and there's truth to those boasts. While Turtle Beach isn't talking about what materials are used in their earcups, whatever is in there kept our ears cool and comfortable, even as our gaming sessions stretched into the wee hours of the morning. Sound quality was clear, if a bit flat. Music didn't pop and details didn't register much better than on some mid-range headphones, but where it shines is in the clarity of our teammates voices. These headphones are clearly designed more for collaborating than for just listening to your favourite game's soundtrack.
The headband on the Elite Pro is also incredibly comfortable. Where most headsets will eventually cause some discomfort over time, we felt no such effect with these cans. These headphones are also aimed at the professional audience in price as well, clocking it at about $200. These are the most commonly used headsets in both esports tournaments the world over as well as for demos at shows such as E3 and PAX. If you want what the pros are using, then look no further.
For the Budget-Minded Gamer -Turtle Beach Ear Force Stealth 350VR
Turtle Beach's Ear Force Stealth 350VR are designed to be used with VR headsets, but are completely compatible with the Nintendo Switch as well. The Stealth 350VR has an internal battery that can be charged via an included micro USB cable. The headset can be used in passive mode, but it truly shines when you turn on the amp. Comfort-wise this headset is in the middle of the pack, it's not as comfortable as the Elite Pro, but it certainly isn't' uncomfortable by any means.
The ear cups are soft and supple, but don't offer the same cooling effect. As a result they can feel a bit warm when used for extended play sessions, but the Stealth 350VR excels at shutting out outside noises, giving you just the game audio. These headphones also offer a bass boost feature, allowing you to adjust the lows to your liking at the touch of a button. We didn't use this feature much as we felt the headphones were already quite well tuned for most of our gaming needs. When you want to focus solely on your game and shut the rest of the world out without breaking the bank you could do far worse than this pair of headphones.
Honourable Mention - Lucidsound LS20
Our own host-with-the-most, the one and only Alex Olney took a peek at the first-ever set of headphones claiming to be designed for the Switch and came away impressed, albeit with some misgivings. We'll let Alex speak for himself:
That does it for our favourite headphones. What are you using with your Switch, if anything? Will you be picking any of these up? Let us know in the comments below.