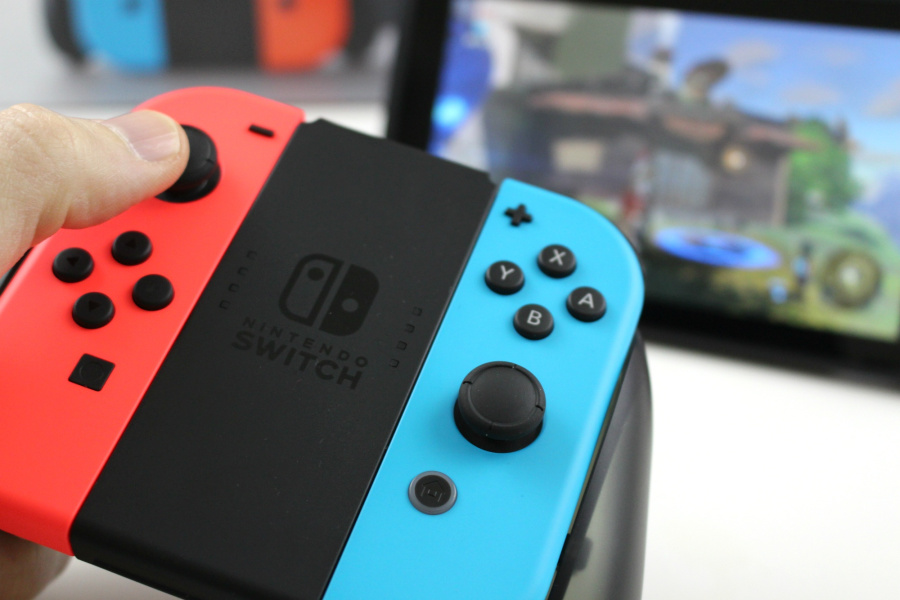 The Nintendo Switch launch hasn't been a flop. That might seem to be a peculiar standard to target, but let's consider the scenario before the system arrived. Counterbalancing excitement about the console and its concept, prior to launch, there were equally valid concerns that had fans of the company sweating. The price was higher than perhaps hoped, and at retail the launch line-up was slim, led by The Legend of Zelda: Breath of the Wild (also on Wii U) and 1-2-Switch. With no pack-in software, either, there were question marks - would eager fans spend out for a new system when its leading game is also on the previous system, and would any lapsed or new Nintendo fans be drawn in? Our emphasis was on optimism with realism, hoping that the worst case scenario wouldn't happen - that the system would arrive and go largely unloved.
The indicators out there, official and otherwise, point to a solid start for the Switch; arguably a strong first month. Nintendo made a point of highlighting that it was a record hardware launch for the company in territories such as North America and Europe, with Breath of the Wild also setting high points of its own. In various territories the system has sold out too, almost immediately in the US and more gradually in countries like the UK; restocks have often flown off shelves as fast as they've arrived. Multiple analysts have come out to declare it a good start, retail executives are giving it the big pitch, and production is reportedly being doubled for what is now the current financial year. In summary, Nintendo couldn't have hoped for much better.
So, what's driven this early success? From the perspective of eager 'buy everything day one' fans Breath of the Wild played a big part. Though there's nothing inherently wrong with the Wii U version - it's actually pleasingly up to scratch overall - for some there was certainly a desire to play the 'best' version, with the extra oomph of the Switch and its portability helping on that score.
Moving beyond that demographic, there does seem to be a broad general interest in the Switch. Its split from the Wii brand - conceptually and including all new controllers and so on - has been a benefit in terms of stepping away from the Wii U's struggles. From the time the original teaser trailer aired, too, there appears to have been a positive response to the concept from those that aren't typically considered die-hard fans - lapsed Nintendo gamers, or just broader gamers with an awareness of Nintendo brands. The hybrid nature of TV gaming that can also be played on the go, the smart Joy-Con and pack-in local multiplayer options - as an idea it seems to have found supporters, those that have already bought in or are looking closely and considering a purchase later on.
Nintendo has achieved this with a minimal release, too. Some called it a 'soft launch', and we've argued why it wasn't that, but you'd have to be pretty blinkered to suggest the Switch has been all singing and dancing at launch. The official PR spin was that Nintendo was focused on making an 'exceptional gaming console', which is fair enough, but what they were really saying - cutting through the fluff - was "we prioritised core features to hit this financial year". Unlike the 3DS launch the Switch didn't arrive without an eShop, for example - it ticked the boxes in terms of offering core games and a reasonable launch month of download games (even if it a slightly busier launch window would have been preferable).
Ultimately, however, the Switch is lacking a number of features considered key to any modern entertainment device, and we'll get to some specifics on that in a feature article later today. To summarise, though, the lack of YouTube, Netflix and other streaming options, and of course any sort of Virtual Console, has left it feeling undercooked. From Nintendo's point of view, however, it's been worth it - sales have been good, and press coverage has been generally positive outside of issues with disconnecting Joy-Con controllers and screen scratching hysteria. As mentioned earlier, analysts and retailers have been relatively pleased, and Nintendo's share value has been trending up. By getting a full month of new system sales out of the way, Nintendo will likely have decent figures to share when its financial year results go public later in April.
While it's easy to pick apart the Switch and focus on negatives, as that is the modus operandi of the internet at large, evidently there's been a pleasing start for the system. Those that want to shout Nintendoomed from the top of the nearest Skyscraper are having to pick up random manufacturing defects or criticise the lack of stock. That's preferable to the vibes that followed Wii U into early 2013, for example, when restocks started to sit on shelves unloved and developers started getting cold feet.
Nintendo, of course, can't relax and bask in glory - early momentum is only a positive if it's sustained, and while it waits for nervous big players in the third-party space (EA etc) to assess sales and jump in with more purpose, Nintendo will have to do a lot of the legwork. It'll milk Mario Kart 8 Deluxe for all it's worth in April, and then presumably ARMS and Splatoon 2 will have release dates that aren't too far away. It's not outwith the realm of possibility that Nintendo can target a big release every month, or close to it, supplemented by a small but hardy range of interesting third party games - Ultra Street Fighter II: The Final Challengers, The Elder Scrolls V: Skyrim, Disgaea 5 Complete et al - and some promising eShop titles. There's reason for optimism and excitement at some of the games ahead in the not-too-distant future.
The big question, then, is how good Switch will look in early July after its first post-launch quarter. The 3DS had a great start but then tanked so badly Nintendo had to rescue it - the vibes and numbers around Switch suggest that's not on the cards, but the big N will be well aware of the need to avoid such a dramatic and hasty decline.
We think there's cause for optimism right now, ultimately. In late March we did see Nintendo stay relatively quiet, opting to remind us how amazing Breath of the Wild is when short on ideas, but its next big push is likely reserved for nearer that Mario Kart release and when more stock is about to hit stores. With E3 looming in June, too, it wouldn't be surprising if a Direct broadcast comes in the next month to fill a gap and get out announcements (like release dates) that would otherwise be lost or forgotten in the madness of the LA expo.
When it comes to console generations, ultimately, they're a marathon and not a sprint - at least, in this case, Nintendo hasn't stumbled off the line; it's in the race.