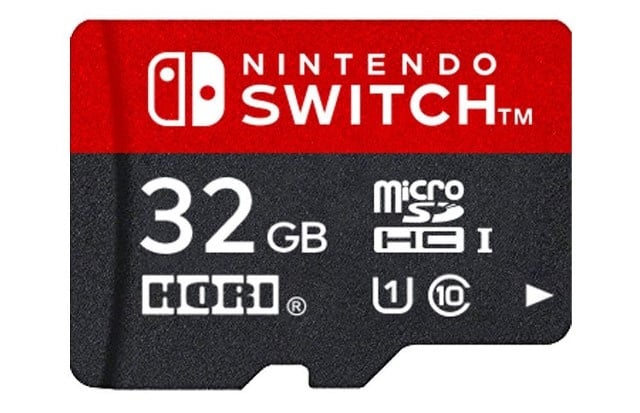 For some people having official and licensed merchandise is important, and Hori is going to ensure that Nintendo Switch owners will have officially branded Micro SD cards. Now, if your thought is "that's crazy, once you put it in the console you'll never look at it again", then we salute your savvy outlook on accessories.
In any case, branded Hori Micro SD cards on Amazon Japan do at least provide a bit of a benchmark on the quality of card you should look to pick up. It can be slightly baffling with SD cards at present as the Micro versions have two speed classes to worry about, making the choice that bit trickier.
Claiming that the branded cards are tested and approved by Nintendo, their specs are interesting; we'll copy them below and then break it down.
SDR 104 compatible UHS class I, speed class 10, reading 80 MB / s, writing 15 MB / s.
Not many people are likely to look at the read and write speeds on a card, to be fair, but going for Speed Class 10 is important. Most sensibly priced cards from recognised brands are now Speed 10, so don't be tempted to save a few bucks on slower speeds.
Interestingly, the UHS Class I in the Hori cards is actually the slower option; UHS is a relatively recent standard and relates more specifically to how quickly memory works in devices like cameras. UHS Class 3 is better, in this respect, especially in this era of recording 4K video. That said, the UHS Class clearly isn't particularly vital for the Switch, hence these licensed cards opting for the slower speed.
In any case, Class 10 is the way to go. We produced a Micro SD card guide a little while ago with all being Class 10, but they're a mix in terms of the UHS Speed.
It's unclear at the moment whether the Hori cards will come to the West, but at their current prices of 4480 Yen (16GB) / 6250 Yen (32GB), which is about $39 and $54 respectively, you can get far better value with other brands.
Update
The official Hori Japanese site has after tax prices of 2138 Yen (16GB) and 3758 Yen (32GB), which amounts to about $19 and $33, showing Amazon is yet to update placeholder prices. That's still quite pricey for the modest amount of memory in each, but not quite as overpriced as thought.
[source mcvuk.com]