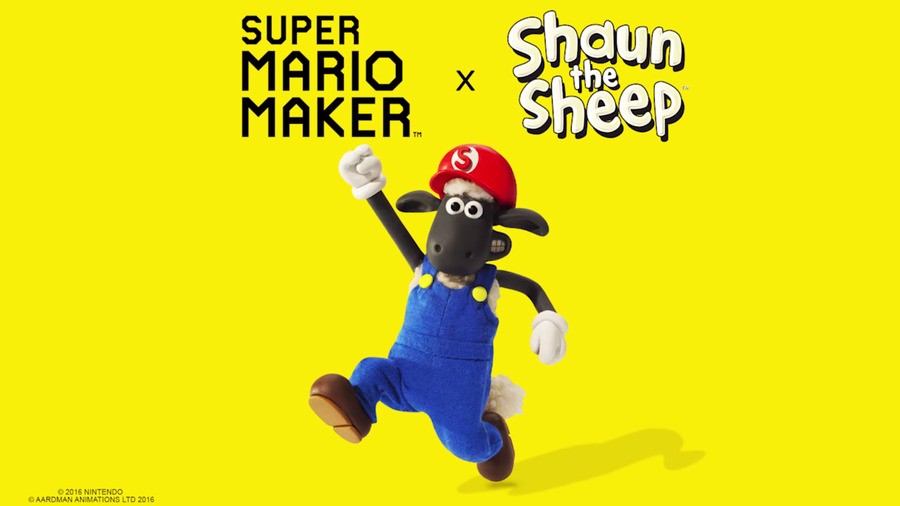 Aardman Animation's popular Shaun the Sheep character is coming to Super Mario Maker as a special costume.
The fluffy hero - who recently starred in one of Hideo Kojima's favourite movies of 2015 - comes with his own stage, entitled Shaun's Mossy Mole Mischief. Beating this course unlocks the costume itself.
The costume and course go live tomorrow, June 3rd.
The action takes place in a brand new Event Course called Shaun's Mossy Mole Mischief, inspired by Shaun's home, Mossy Bottom Farm, where Mario encounters mischievous Monty Moles, crazy contraptions and silly secrets. Once completed, the player unlocks a Shaun the Sheep costume that allows Mario to take on Shaun's appearance!

From head to hoof, the costume completely transforms our hero and gives him the woolly look of Shaun the Sheep. He's not guilty of pulling the wool over players' eyes however, and with a special pose hints at his true identity by remaining dressed in his iconic blue dungarees, red cap, brown shoes and white gloves.
Responsible for creating some of the world's best-loved and most recognisable characters, Aardman worked closely with Nintendo to carefully bring Shaun's Mossy Bottom Farm into the Mushroom Kingdom, and the final result presents players with un-bleat-able fun and frolics.

Never before has an Aardman character appeared in a Super Mario game, but the brand's most recent release Super Mario Maker – available exclusively on Wii U – breaks the traditional rules of gameplay, making it the perfect title to introduce something new and unexpected to delight fans.

Daniel Efergan, Digital Group Creative Director at Aardman said: "Having grown up in a generation of technology that, due to its nature of exposing its inner workings, allowed you to build and adjust your own games – it's what inspired me and many here in Aardman's interactive team to do what we do. Super Mario Maker harks back to that age, inspiring a new generation of happy creators. To have one of our icons hanging out with one of our idols, and for such an exceptional project, is a dream come true."