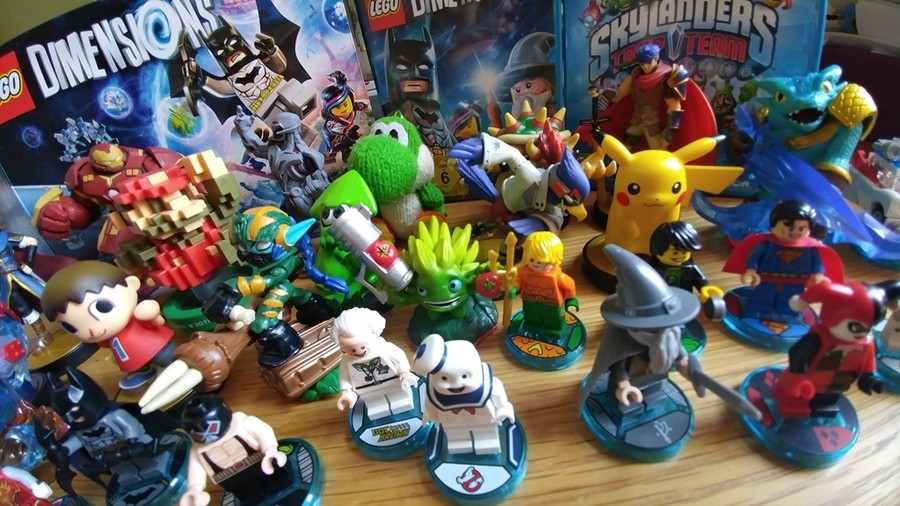 Disney may be one of the most powerful brands and wealthy corporations in the world, with numerous companies and divisions under its ownership, but it evidently won't tolerate a struggling product. While Nintendo will keep a system like the Wii U, for example, slowly ticking along until its natural demise in the market, products like Disney Infinity simply get canned, with the unfortunate loss of jobs and secondary livelihoods (figure manufacturers and distributors, for example) that come with it.
Of course the reaction some like to have is to break out the wrecking ball with 'DOOMED' written on it and say that toys to life is dead, that its decline will be similar to that of the plastic instrument era that failed to revive itself with Guitar Hero Live and Rock Band 4. A calmer look, however, shows that toys to life is still relatively strong, but it had simply become overcrowded.
We've mentioned in reviews and in occasionally exasperated editorials that keeping up with toys to life brands is hugely - perhaps prohibitively - expensive. A Starter Pack in any of the 'main' series is a pricey investment, and then the games are reliant upon the player buying a heck of a lot of on-disc DLC at high prices - you're paying for a toy and gameplay, which is the justification. When Skylanders went big (and kicked off the toys to life craze) the novelty and collectability of the figures was a huge cash cow, like all new things that capture the public's imagination. Yet sales have stopped growing for the series, and Activision is starting to concede ground with more backwards compatibility and efforts to make the games themselves more diverse.
Disney was the first to challenge Skylanders, and in theory it had all of the tools it needed with Infinity. It had talented developers that did impressive work in making the games creative virtual toy-boxes, and it could call upon huge franchises. Marvel, Star Wars, Pirates of the Caribbean, along with lots more Disney movies. Despite this it made things tougher for everyone; it'd be relatively well-off consumers that would invest heavily in two toys to life ranges, but for most (who naturally have other interests chasing their disposable income) the arrival of a second brand meant a choice had to be made. The market was split, though both were fine initially.
What flipped the script in 2015 was LEGO Dimensions, which seems to have won the battle of the 2015 Holiday season in various territories. It's shiny and new, which helps its case, and may face a reckoning of its own should it maintain its hefty pricing on add-ons. Yet it has a stronger hand than its rivals - it's part of the ever-popular TT Games range of releases, so has an established fan base of gamers already. Oh, and LEGO is the biggest toy brand in the world, and not in silly marketing terms - it's the biggest in sales. The fact that the figures are actual LEGO toys that you build, which then come to life in the game, is charming to big kids like this adult and must be downright enchanting to small children. LEGO is the master brand in toys, and now it looks set to lead the toys to life space.
The reality is that the market was creaking a little with Disney Infinity and Skylanders duking it out, and LEGO broke the model down. With annual releases and expensive add-ons most will only fully commit to one toys to life series, and a fair number may commit to two. Three is one too many, evidently, and this writer always felt Disney Infinity could be the one to go. It's a pity, as the games always looked the most accomplished - the problem is the toys.
It's only one opinion, but they're arguably not as appealing as their rivals - to fit the visual style of the game they're bland, uninspired versions of iconic characters. When figures for Marvel and Star Wars only prompt a nonchalant shrug, something's gone wrong with the design. If you're going to sell over-priced plastic toys, they need to look great and appeal to the senses - while Skylanders figures are relatively impressive to look at and now come with moveable parts and swap options, Disney's range looked dull in comparison.
But what about amiibo, you may be saying, is it doomed if the market's not big enough? Put simply, no. Right now amiibo is in a good place - stock levels are much better than they used to be (not perfect, but improved), and Nintendo's range is also unique in how it works. It's not a range that begins with a starter pack, and the key is that figures continue to be used in small ways across multiple games. A figure you bought over a year ago may have a use in a game coming out in late 2016 - just look at the depth of this compatibility chart.
Nintendo sold nearly 25 million amiibo figures in the last financial year, but more tellingly it shipped 28.9 million amiibo card packs - momentum seems solid. Cards may evolve to become a key ingredient for amiibo, and we'd be astonished if the limited edition card we saw with Pokkén Tournament isn't a warm-up for a full-blown range with Pokémon Sun and Moon - collectible Pokémon cards that work in the games are an impressive prospect. That's the key with amiibo, they're collectibles but can also be used in quirky ways - they're not even toys to life any more thanks to the success of the Animal Crossing: Happy Home Designer cards. They're characters to life, bringing an extra edge to Nintendo's brand power; we expect the NX to have an NFC scanner just like the Wii U and New Nintendo 3DS, simply because amiibo is so important to the company.
LEGO Dimensions and Skylanders, so far, hold one space of conventional toys to life - games, and a range of toys that unlock content in those games. Like a lot of things Nintendo nowadays, amiibo is off in a different bubble. Its inherent approach is different, which is key to the range's brilliance - this writer keeps saying 'no more amiibo', then picks up a Marth to go with Fire Emblem Fates. Oh, and they look nice on a shelf, and do quirky things in games where you wouldn't expect them to work. The amiibo range has become a mini-platform of its own, with the only 'starter' cost of entry being that you're a Nintendo gamer with the relevant consoles.
That's not to say amiibo is immune from the challenges in the toys to life space, and competition is growing outside of the dedicated gaming arena. Some products tie smart device apps and games to real life toys, such as racing little cars using controls on a tablet. Yet Nintendo seems confident in the progress of amiibo sales, citing it as a profit-driver, while also having unexplored avenues and ideas to unleash on the world. Like, dare we say again, Pokémon cards.
Disney Infinity lost a tough battle when LEGO joined the party. As for amiibo, we wouldn't worry about it facing a bad end for a while yet.
Which toys to life brand would you say is your favourite and has given you the most enjoyment and value for money? (361 votes)
Disney Infinity

12%

Skylanders

6%

Lego Dimensions

5%

amiibo

77%
Please login to vote in this poll.
If Disney Infinity's cancellation is a sign of things to come, which brand do you think could be next for the chop? (371 votes)
Skylanders

70%

Lego Dimensions

24%

amiibo

6%
Please login to vote in this poll.