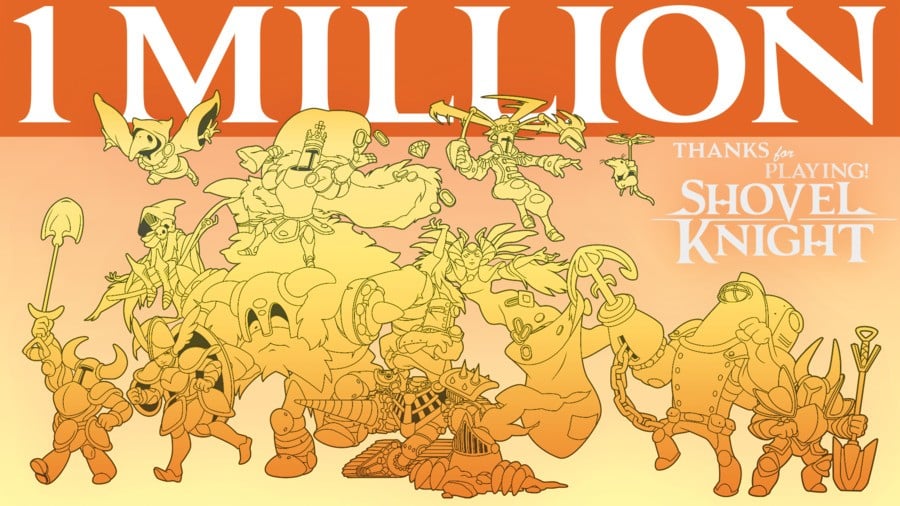 Shovel Knight is one of the finest download titles on the Wii U and 3DS, making such an impact across multiple systems that it's also had a physical retail release and its own amiibo. Since its release in 2014 it's won numerous Game of the Year awards, and Yacht Club Games has continued to produce free content in order to delight fans and deliver on its original crowdfunded stretch goals.
The studio has recently confirmed that overall sales have hit 1.2 million units, a fantastic number. Around a million of those are downloads, with the other 200,000 being physical retail sales on Wii U, 3DS, PS4 and PC. Nintendo systems have accounted for a substantial volume of those sales, well over half a million. Meanwhile about 180,000 of the amiibo have been sold.
There's a detailed blog post that we highly recommend giving a read, and the infographic below provides a handy visual summary.
To celebrate these results there will be two new 3DS HOME Themes coming soon, on 28th April in North America and 13th May in Europe.
First up is 'Shovel Knight Campfire Dream', which has The Requiem of Shield Knight as music.
Then there's 'Plague Knight's Theme', which has Flowers of Antimony (The Explodatorium) as music.
It's terrific to see such significant success for Shovel Knight, and with more content still to come. Let us know what you think of these sales results and the upcoming 3DS HOME Themes in the comments.
Further Reading:
[source yachtclubgames.com]