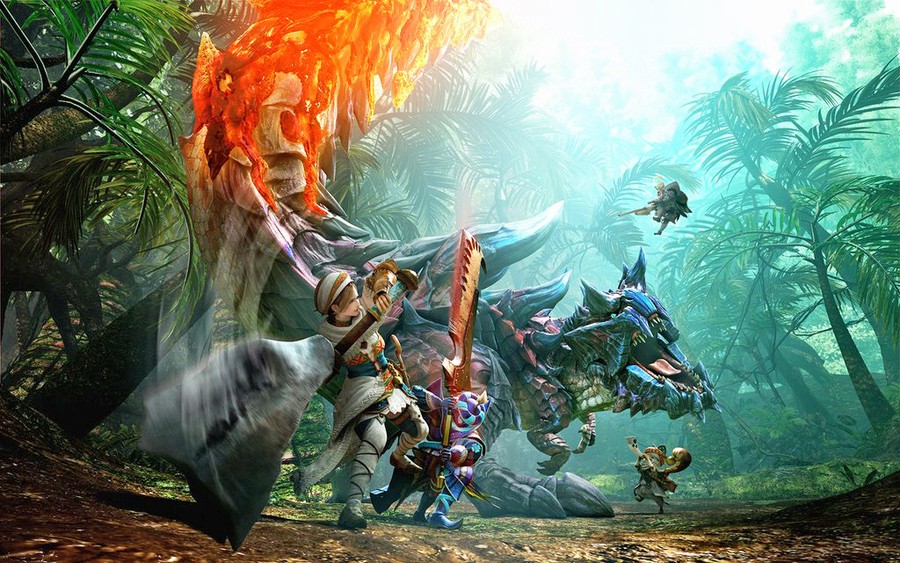 Monster Hunter Generations still only has a 'Summer' release window for the West, but Capcom and Nintendo are nevertheless already pushing out regular trailers to promote the potential 3DS behemoth. After the sales success of Monster Hunter 4 Ultimate in the West there's clearly hope that this iteration - which incorporates elements of nostalgia from franchise history - will provide a further breakthrough outside of Japan.
It's not a game that's all about nostalgia, however, and is actually one of the most bold and creative entries in some time. A key change is to combat, through multiple Hunter Styles, which add new moves and attack options that generally ramp up the action.
The latest game trailer showcases these, and demonstrates how much quicker and more dynamic the combat can be in the new entry. Check it out below.
Update:
Nintendo UK sent out a press release to promote this trailer which included some nice factoids about the game. These aren't 'new' as such, but you may not have known about all of these before now, copied below.
A roster of new, challenging monsters including the Fated Four, an elite group of powerful monsters posing a major threat to each of the game's four villages, plus some returning favourites.
Special Deviant Monsters such as the Deadqueen Rathian and Grimclaw Tigrex return with new traits and abilities to challenge the most seasoned of hunters.
21 different hunting locations which are a blend of both new and enhanced fan-favourites; including some never before seen in the west.
Collaboration content including special themed collaboration costumes and weapons for Hunters and Prowlers, based on popular series such as Fire Emblem and more.
Local and online co-op modes for up to four players to team up and hunt together as Hunters and Prowlers.
Collect tickets via StreetPass to access special Deviant monster quests. Players can also send and receive customisable Guild Cards via StreetPass.
Players with Monster Hunter 4 Ultimate save data on their Nintendo 3DS system will receive a bonus item pack that includes an exclusive Palico amour set, potions, in-game money and more, when they play Monster Hunter Generations on the same system.