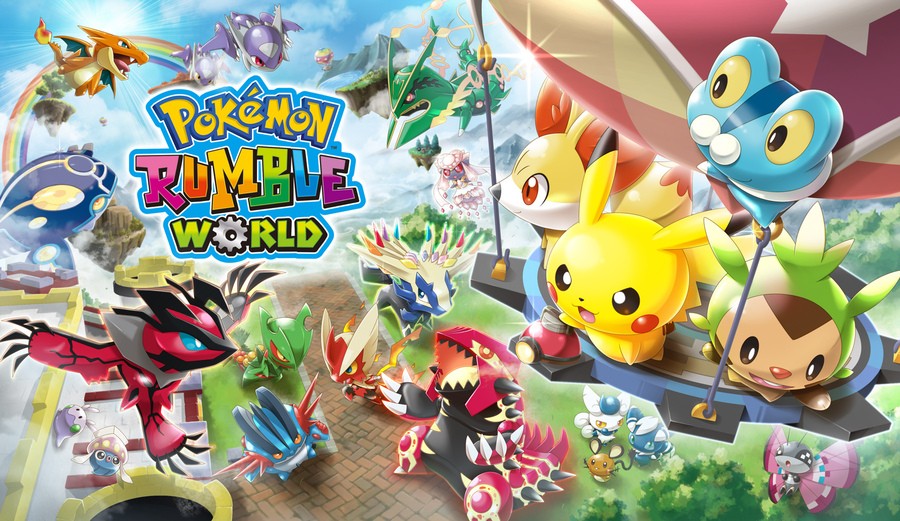 Pokémon Rumble World has been one of Nintendo's key free-to-play experiments on 3DS, and was recently reported by the company to be one of its most successful download offerings to date. Perhaps keen to capitalise on that success a remixed version was released as a budget retail title in Japan; that same version is now heading to Europe and Australia on 22nd January and 23rd January respectively.
As expected this retail version strips out all microtransactions and makes some adjustments to accommodate that change. It sounds workable, and the relevant excerpt from the press release is below.
The packaged version includes newly reconfigured features such as Poké Diamonds, the Poké Diamond Digger and VIP Cards, whilst removing the paid content component.
Poké Diamonds make your adventures more fun and help you along in your mission to discover Pokémon for the king. After completing the tutorial, visit the shop to receive your allotment of 3,000 Poké Diamonds. In addition, you will also be able to access the Poké Diamond Digger. The Poké Diamond Digger will provide you with 40 new Poké Diamonds every day. Once you obtain 3,000 Poké Diamonds and the Poké Diamond Digger, a special VIP Card feature will open up. There are two VIP Cards, the Balloon VIP Card and the Timing Stop VIP Card and they can be used to more easily voyage through the wonderful kingdom of Toy Pokémon, collecting more Pokémon for the king!
We rather enjoyed the free-to-play version in our review, praising the blend of accessible combat and decent connectivity features, even commenting that we managed to play for free and be perfectly happy with progress.
Whether this packaged version achieves any success at retail in the West will be interesting to see; we'll keep our eyes peeled for any North American release details.