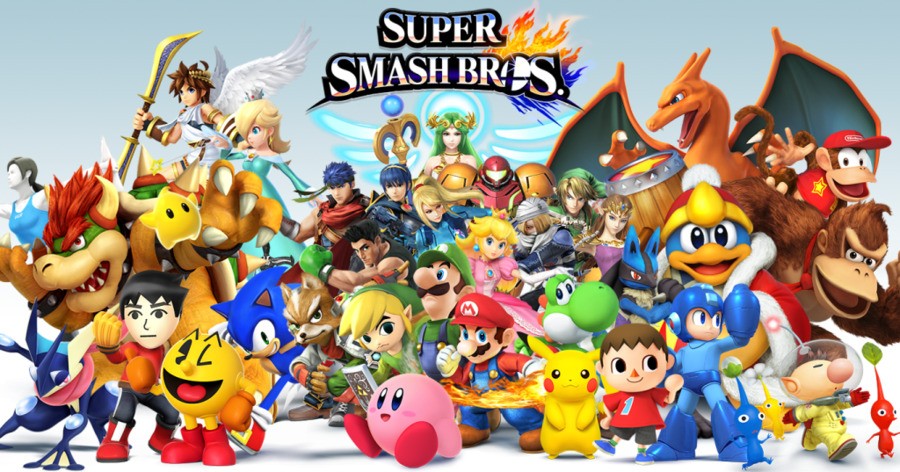 Super Smash Bros. for Wii U and Nintendo 3DS have now been out for over a year, and since launch we've seen numerous updates, tweaks and cast additions. Some of the new challengers have been expected arrivals, others have been surprises, and this gen's entries have certainly provided some of the biggest talking points and debates for Nintendo fans in 2015.
Of course, this constant evolution of the game can't last forever - Masahiro Sakurai and his team need to recharge their batteries and contemplate what's next - another Smash Bros. game, or something else entirely? For his part Sakurai-san regularly swings between committing to the series and looking elsewhere, but either way there's a finality to today's broadcast. It's not being branded as a Nintendo Direct, remember, but rather as the 'Final Video Presentation' for the games.
With that finality comes excitement, though, largely driven by potential additions to the roster. Cloud was recently announced, but more are expected - the Fighter Ballot drew huge interest among fans, and seeing the outcome of that and which other characters will make the cut will be a moment when the Nintendo corners of the internet explode.
As always before these presentations we're going to have a go at predicting what we'll see. A few data-mined details seem to have come out but actually reveal relatively few Cloud-related snippets; after the extensive pre-E3 leaks earlier in the year it seems that Sakurai-san and his team have learnt some lessons. All the better, too, as with uncertainty there's extra hype. Don't forget, too, that we'll be showing the stream with a live blog and chat when it goes down today at 2pm Pacific / 5pm Eastern / 10pm UK / 11pm CET; we hope you'll join us!
A Full Cast Reveal With Fighter Ballot Results
Well, this is obvious, but bear with us - we're going to try to think of who these cast members could be. There could be a couple of extra characters based on roster 'slots' supposedly spotted earlier in the year, and we can be confident that there'll be some surprises included in the presentation.
Before we give our tuppence worth, below is a humorous video that our Alex has done with some predictions he received from our YouTube subscribers; some are more realistic than others...
We still think that Shovel Knight is a reasonable bet; the game's amiibo - despite irritating delays in the UK, but let's not get off track - is bringing unique content to the eShop versions of the game, only strengthening the partnership Yacht Club Games has with Nintendo. That amiibo, naturally, opens up immediate scope and accessibility to the training functionality in the Smash Bros. games, and the character's own moveset could certainly be tweaked and adopted by Sakurai-san and his team. The pieces are all in place.
Beyond that, it's really all guess work. Fake leaks of Rayman earlier in the year were so convincing because, actually, it's a character with a brawling move-set that would fit Smash Bros. quite nicely. Then there are question marks over how much fan-demand has won through; the likes of King K. Rool often came up in polls for the Fighter Ballot, so they're all candidates. Some wonder whether Steve from Minecraft will make it, especially with the Wii U Edition of the game around the corner; we're not sure that'd be a great gameplay choice, but would certainly be smart from a commercial perspective.
Ultimately it'll be fascinating to see which characters arrive.
'Available to Download After This Broadcast...'
We'd bet good money, and imagine most would, that Cloud and any accompanying Final Fantasy-themed content will arrive today, probably after the broadcast concludes. It seems like the safest of safe bets.
The question, however, is whether more will also follow today. Yes, final announcements will surely come on new challengers and content, so the question is whether they'll be immediate arrivals or land at a later date. The evidence that this content could come later is actually found in the efforts of the data miners mentioned earlier in this article; they were digging around in the files from the most recent game update, and evidently didn't find much. The leaks earlier in the year came from the development team pre-loading and prepping too much. As a result extra characters and content - assuming they're coming - will likely be patched in at a future date, though one that's hopefully not too far away.
Of course, it's not impossible that more content beyond Cloud could be available right after the broadcast, but our instinct tells us that adding content to the store and dropping another potential update would cause too much server meltdown. It would make sense for Cloud and his accompanying goodies to go on sale today, and other announcements to follow soon, perhaps for the Christmas Eve / 24th December Nintendo Download Update, for the optimists among us.
Some Heartfelt Words on the Games and Satoru Iwata
One of the defining and most difficult moments of the year, for Nintendo fans and gamers in general, was the passing of Satoru Iwata. As Sakurai-san worked with the former Nintendo President extensively in his early days at HAL Laboratory and then in the many years that followed, we suspect there could be a mention of his former colleague.
We also suspect that Sakurai-san will talk a little about the process of producing these Wii U and 3DS entries. It's been a long road that began with daily Miiverse screenshots, the launches, various reveals and updates and now this Final Presentation. It's been well-documented that it's been a gruelling process both physically and mentally for the game creator, and we think it'd be a nice moment if Sakurai-san talked about the games, the fans and perhaps showed a sizzle reel to celebrate the titles.
Potential Virtual Console Surprises
We're really veering off into speculation and optimism now. It's notable that the original Super Smash Bros. is yet to arrive on the Wii U Virtual Console despite its release on the Wii equivalent, so now would be a good time to unveil it as an extra treat.
Of course, what many would prefer would be the entries that followed. For starters in the realism stakes, Super Smash Bros. Brawl, with Snake in the cast and the Subspace Emissary mode, has something to offer Smash fans looking for something different. With the range of Wii games that have made their way to the Wii U eShop it's certainly possible as a release, assuming updated agreements could be reached with the various license-holders - such as Konami - for all of the characters.
What many hardcore Smash Bros. fans would love the most is probably a Super Smash Bros. Melee arrival on the Wii U eShop. It seems like the longest shot, frankly, as the only GameCube title to see the light of day - so far - on Wii U has been The Legend of Zelda: The Wind Waker HD, a remake released at retail. Direct ports and Wii U Virtual Console releases simply haven't happened; are they even practical? It's safe to say, however, that announcing Melee as the first GameCube Virtual Console arrival on Wii U would be a mic drop moment.
A Word About the Future
We've mentioned this earlier in the article - Masahiro Sakurai and his team are due to move on to fresh projects; the question is whether that includes a Super Smash Bros. entry for the NX. Now, to be clear, we expect no announcement of the next entry, but we do think it's possible that Sakurai-san will talk, possibly cryptically, about the future.
The game creator has flip-flopped for the most part between talking of fresh horizons and projects and showing an almost maternal loyalty to the franchise, concerned over whether others would be able to match his high standards. It's not hard to find interview quotes or Famitsu article extracts that support either likelihood, so it'll be interesting to see whether, near the end of the broadcast, Sakurai-san addresses that aspect.
---
As always we want to know what you think will be revealed, and just how hyped you are. Let us know in the comments, and we hope to see you for live chat and coverage when our stream article launches an hour before the presentation; remember, Sakurai-san's presentation will begin at 2pm Pacific / 5pm Eastern / 10pm UK / 11pm CET.