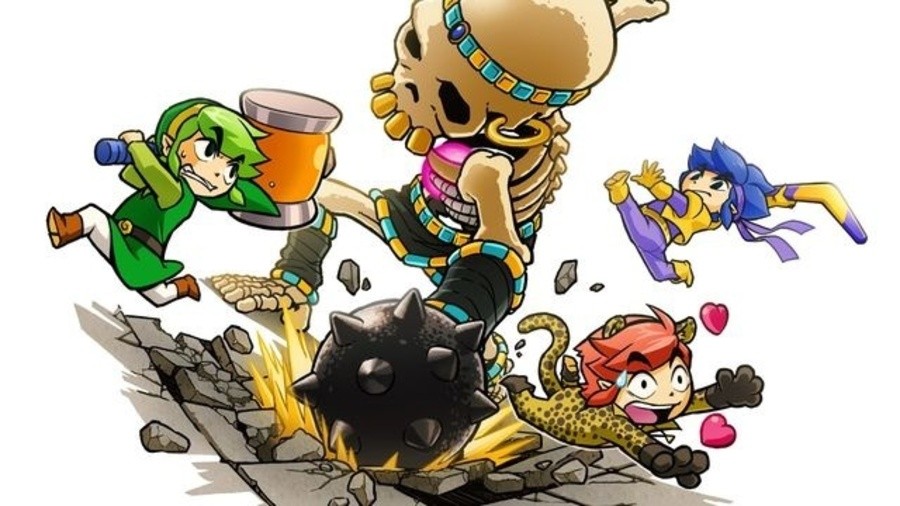 The latest UK chart results are out, with some new releases battling it out with long-established blockbusters. It's a mixed week from Nintendo's perspective, with some ever-green titles clinging on and a new release underperforming - arguably - a little.
The Legend of Zelda: Tri Force Heroes has made its début in 11th place in both the all-format and single-format charts, with two new releases on other systems and some long-established games ahead of it. That's a weaker performance than The Legend of Zelda: A Link Between Worlds enjoyed, with the predecessor making the top 10 despite launching in the same week as the Xbox One in 2013.
Beyond that Super Mario Maker is still hanging tough in 21st place in the all-format results (17th single-format), with Animal Crossing: Happy Home Designer dropping nine places down to 23rd place (19th single-format). After squeaking into the single-format top 40 last week, meanwhile, Mario Kart 8 moves up to 33rd place in the all-format results this time around, with that increase taking it to 27th in the single-format results.
In a potential blow for those hoping to see future Nintendo support for Guitar Hero Live and beyond, though, the Wii U version failed to make it into the single-format top 40, with the PS4 and Xbox One iterations driving it to 3rd in the all-format results. Just Dance 2016 had a modest result of 19th across all formats at launch, but amazingly it's still the Wii version leading the way for that one, taking 33rd in the single-format results. That's not a typo, as it's the last-gen iteration outperforming not only Wii U but also versions across rival systems.
Some interesting, weird and underwhelming results overall, all adjectives that are - at some points - perfectly suited to the UK game retail scene.
[source chart-track.co.uk]