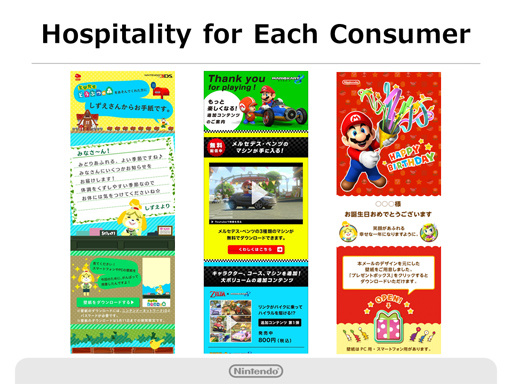 This week's investor briefing, in which Nintendo President Tatsumi Kimishima gave his first formal financial results presentation, was perceived as an opportunity to learn about some key short term products and long term company strategy. Details on the first Nintendo / DeNA smart device game - which has transpired to be more accurately considered as an 'app' - and the Club Nintendo replacement were anticipated, with both due rather soon. Well, we did learn about them, we just won't get to put them to the test until March 2016.
Let's kick off by acknowledging that the delays are, according to Kimishima-san, quite deliberate; well, in the case of Miitomo, at least. The communication app will also be heavily tied into our My Nintendo accounts, which will be delivered under the Nintendo Account banner. It seems a bit silly to have revealed the Club Nintendo successor and in the process introduced two terms to confuse people, but then we should remember that the presentation was targeted primarily at investors, not eager fans. Ultimately we'll all have 'My Nintendo' accounts, and 'Nintendo Account' will be the name of the service driving it all; think of it as a variation on Nintendo Network and Nintendo Network ID.
The delay of Miitomo has its roots in avoiding a clash with the busy gaming shopping season, according to Kimishima-san, but is also undoubtedly to accommodate the rather complex Club Nintendo successor. There has been talk, which is believable, that the latter service has proven to be rather challenging to finalise for Nintendo and DeNA. When you look at what My Nintendo will deliver that's hardly a surprise.
A key feature, which will surely involve a lot of infrastructure work internally and in partnership with other companies, is the ability to login with various accounts. We'll have the option of using our Nintendo Network ID, Facebook, Twitter or Google+ details. That's a big departure from how the Nintendo Network ID works, for example, and it's logical that working with other companies to integrate their systems can take time and throw up unexpected obstacles.
That's a great idea to implement, though, as it's all about convenience. Not many will instinctively remember their Nintendo Network ID login credentials as they're rarely required, but we suspect plenty remember their Google, Facebook or Twitter details more readily. The fact that the overall Nintendo Account system will also formalise the ability to browse and buy games online - which are then downloaded remotely to the Wii U or 3DS in question - is great; though this has been an option in North America for a little while, fully expanding the service globally and within a broader setup is definitely smart.
As we outlined separately, there's a lot about My Nintendo that seems hugely encouraging. The prospect of save data in the cloud, physical and virtual rewards (including game-specific DLC) based not only on purchases but also on play time, tying together our data from consoles and smart device apps - all of that sounds like the modern, fully connected service Nintendo needs. Both this and Miitomo seem designed to integrate Nintendo into our daily lives in a meaningful way, which is a vital step.
Should both of these products deliver then Nintendo will rightfully be able to claim that it's offering a leading reward and social system for its customers, too. Sony and Xbox One operate paid services such as PlayStation Plus and on-board system messaging, of course, but the My Account option from Nintendo seems to be particularly rewarding - in theory. There's no indication of any cost for the loyalty program, while Miitomo will be free to initially download, so Nintendo is ensuring that plenty should be tempted by the option to simply try out freebies. Fusing its social smart device app with a broader account system that links into dedicated platforms ultimately sounds like a clever strategy to attract more consumers towards Nintendo's consoles.
With all of this in mind, and the potential of what's been revealed, we're inclined to suggest that a delay is worth stomaching this time around. The strategy of releasing the new loyalty program with Miitomo is sensible, and the complexities of the former are best given time to ensure a smooth launch. Frankly, it wouldn't surprise us if a pre-launch drop of information on both of these services coincides with a reveal for NX in early 2016; after all, these products will likely be closely aligned.
Game delays this year on Wii U, particularly, have been hurtful to that system, yet delays to the Nintendo Account system and Miitomo are arguably less problematic. These are products and services that'll influence how we interact with Nintendo in the long term, so waiting a little longer right now is a sacrifice worth making.
[source nintendo.co.jp]