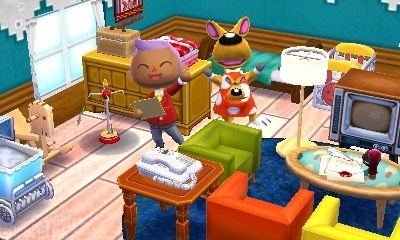 Earlier today we reported that GAME sent a letter of apology and £10 of store credit to those affected by issues of multiple Super Mario Maker pre-order payments. That was a reasonable goodwill gesture, though it seems to be a day of UK retailers going out of their way to apologise to customers that have been let down.
The Nintendo Official UK Store has been late this week with physical copies of Animal Crossing: Happy Home Designer; the game is out today but copies (including amiibo cards) were despatched too late to arrive for launch. Somewhat remarkably the store's response has been to provide customers with a download copy of the game, in addition to the physical copy still on the way; on top of doubling up on copies there's also a code for a free pack of amiibo cards, though those wanting free postage from the store will need to use the code with an order of over £20.
Your humble writer received the following email and can confirm that both codes worked as expected.
Thank you for pre-ordering Animal Crossing: Happy Home Designer with the Nintendo Official UK Store.

Regrettably there has been a delay in the dispatch of your order which means this is unlikely to be arriving with you today.

We fully appreciate that this must be very disappointing; as a gesture of goodwill we would like to provide you with a code to allow you to download the game from the Nintendo eShop so you begin creating stylish new homes for your Animal Crossing friends as soon as possible.

The physical product will be on the way today if not already, keep an eye out for the dispatch notification email for further details.

Your download code is: XXXXXXXXXXXXXXXXXXX

As an additional gesture you can redeem the code below at the Nintendo Official UK store for a free pack of the Animal Crossing amiibo cards, just add them to your basket then enter the code at checkout.

Your amiibo card code is: XXXXXXXXXXXX
It's a generous move to provide an extra copy due to the physical delivery being delayed - possibly - into next week; as goodwill gestures go we haven't seen many better than that.
Has your order with the UK store been delayed, and have you received this email? Let us know in the comments.