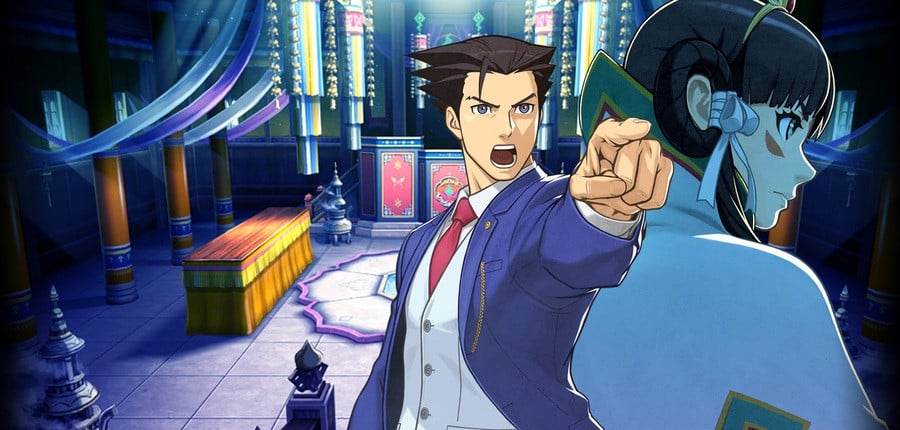 As some of you are likely aware, Capcom has confirmed that Phoenix Wright: Ace Attorney 6 will eventually be making its way to the West. The quirky game centered around legal battles will be starring not only Phoenix Wright, but also Apollo Justice. There's lots to look forward to about this game and while there's still no word on when we can expect to receive it, a recent issue of Famitsu revealed a whole slew of new details surrounding the gameplay and the setting.
Thanks to Siliconera, these details have been translated into English and are as follows:
Phoenix's story will take place in the Kurain Kingdom, while Apollo's story will be set in Japan
Most citizens of the Kurain Kingdom follow the Kurain Religion, which is primarily centered around spirits and mediums
The Kurain Supreme Court is located inside the Jinn Temple, where proceedings are ruled by the "Divine Message of the Spirits"
Gaspen Payne is back and has been an undefeated prosecutor in the Kurain Kingdom ever since being chased out of the Japanese legal world
Leyfa Padma Kurain is princess medium of the kingdom and has the power to see a victim's last moments prior to death
She'll be known as the "Oracle of Spirits" and will use her powers in court to project her visions of a victim's death onto the "Water Mirror" in the middle of the courtroom
Whatever appears on the mirror cannot be disputed and will be taken as absolute fact
Phoenix will be fighting an uphill battle and will have to find contradictions in the visions to disprove what is depicted
What do you think? Will you be picking this up whenever it launches? What do you think of the mystic angle to Phoenix's storyline? Share your thoughts in the comments below.
[source siliconera.com]