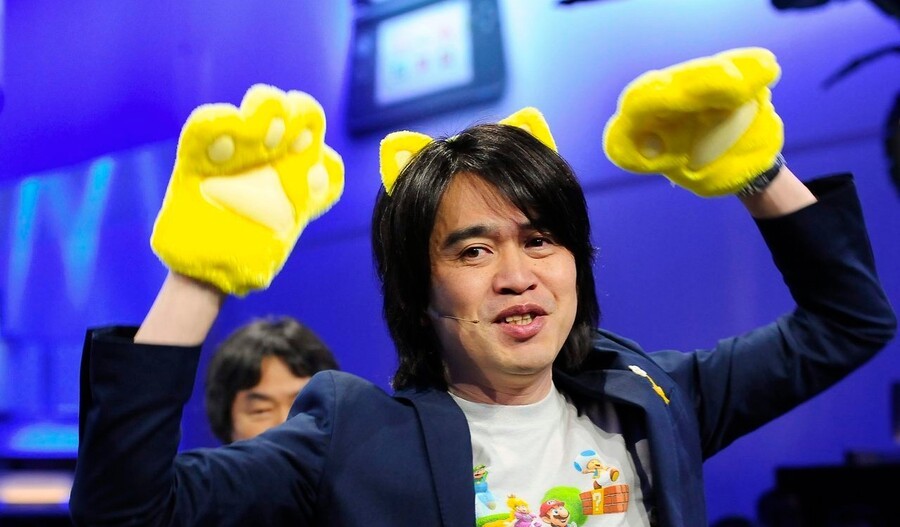 While this week's big news is certainly the appointment of Tatsumi Kimishima as Nintendo's new president, it was the changes taking place behind the scenes which will have piqued the interest of seasoned fans. Nintendo has fused together two of its most famous internal development teams - EAD (Entertainment Analysis & Development Division) and SPD (Software Planning & Development Division) - into a single group, known as the Entertainment Planning & Development Division.
As well as this pretty drastic change, Shinya Takahashi, Yoshiaki Koizumi and Katsuya Eguchi have all been placed in senior roles with the new team, while Shigeru Miyamoto - now given the title of "Creative Fellow" - appears to be taking something of a back seat when it comes to development, instead forming part of the three-man core leadership team - alongside Kimishima and "Technical Fellow" Genyo Takeda - which will lead the company into a brave new world that includes fresh hardware and smartphone development.
There's a lot going on at Nintendo right now, and we're not just talking about new presidents. The company is hard at work on its next home console, dubbed NX, which may end up replacing both the Wii U and 3DS, centralising Nintendo's previously separate domestic and handheld businesses. This in itself is an incredibly noteworthy event, certainly without precedent in Nintendo's history. It has always been a champion in the portable gaming arena, and to relinquish that role by creating a unified platform is quite a bold move - but one which could, if handled correctly, change the way we play games forever.
By making two of its most talented development studios combine into a single team, the Nintendo of the future should be a leaner, more responsive operation. The benefits of obvious - rather than two different studios working on different projects away from one another, the revised Entertainment Planning & Development Division will pool Nintendo's considerable resources and skills. Whether or not this will result in a faster production cycle or a larger selection of games remains to be seen, but it should ensure that the already high quality of Nintendo's first-party output increases. It has all of its key talent in a one place, which can only bode well for future releases.
That's not all, though - the newly-created Platform Technology Development Division will support the development and production of Nintendo's next console, taking a consolidated approach which will handle every element of the mysterious new platform, including "hardware, OS, development environment and network". Alongside this is the Business Development Division, which will look to leverage Nintendo's IP in new and creative ways as well as supporting its evolving smartphone business, which is being handled in partnership with DeNA.
Nintendo's game-changing move into mobile is another big shift that could have long-lasting effects on both the company and its business. Despite the dim view some gamers have of smartphone titles, the market is staggering in size - certainly much larger than the one currently catered for by the 3DS. An established talent of Nintendo's stature entering such a market is sure to cause shock-waves, and if the company can maintain quality while opening up new revenue streams through free-to-start titles like the recently-released Pokémon Shuffle, Nintendo could achieve a level of commercial success that is unmatched, even by its lofty standards.
This is clearly a momentous moment in Nintendo's long history, and one which we perhaps won't fully appreciate until we look back on it in a few years. Not only are we leaving the Iwata era - a period which saw the company rise majestically from third-place to first in the domestic hardware sector, only to drop unceremoniously back down again - into a new phase in which new boss Kimishima could end up being little more than a stop-gap, introduced to steady the ship before handing the reigns over to someone younger and more dynamic. This time next year we could well have an exciting new Nintendo console, a burgeoning smartphone business and perhaps even a new president - but the starting point for such incredible change is arguably now. While Iwata's tragic passing was clearly something that Nintendo couldn't have anticipated that far in advance, the changes to its internal structure will almost certainly have been months in the planning, and those at the helm are clearly considering what kind of company Nintendo needs to be in next few years. By streamlining internal teams and promoting exciting new talent like Takahashi and Koizumi, that would appear to be a leaner, younger one.