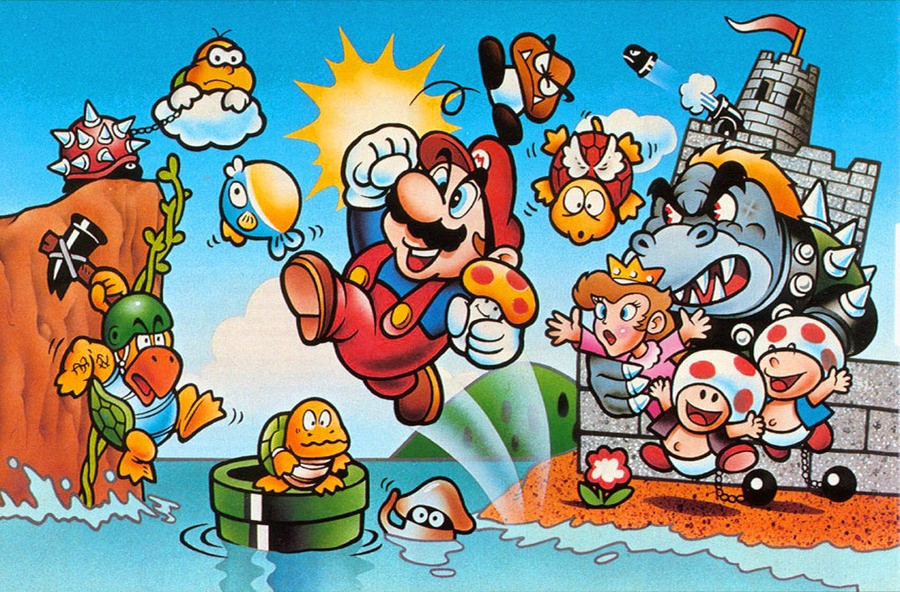 In the past month a lot of focus has been on the 30th Anniversary for Super Mario, a major landmark joined by the release of Super Mario Maker on Wii U. There have been plenty of interviews and events, but it can be interesting to look back at previous anniversaries to see what was different or, more likely, rather the same.
That's the rationale for Shmuplations, which has posted a translation of an interview from Nintendo Online Monthly in which Shigeru Miyamoto spoke a lot about Mario to celebrate the franchises' 20th Anniversary in 2005.
First of all, there's an interesting anecdote that shows how the success of Super Mario Bros. was pivotal in the fortunes of the NES. For context - the original Famicom launched in 1983, and came to North America in its NES form in 1985 after various delays and issues localising the hardware. While Super Mario Bros. was a launch game in NA, it was actually developed as a swansong for the cartridge technology, with Nintendo shifting focus to the Japan-only Famicom Disk System. Of course, the huge success of the NES and Super Mario Bros. system brought cartridges back onto the agenda very quickly.
When we were first making Super Mario Brothers, the staff at Nintendo were saying "What? Another Mario game?" He had appeared in a lot of different games before that, you see. It had been 2 years since the Famicom was first released, and we were trying to transition to the Famicom Disk System. Super Mario Bros. was actually going to be the final game that we developed for both cart and disk before switching to Disk System development entirely. This is true. (laughs)
Further along in the interview Miyamoto-san also shared some insights for those interested in getting into game creation. Though a decade on development tools are more readily available and easy to use than ever before, much of what he said is still relevant today.
Games are created via technology, so naturally you'll want to equip yourself with some technical skills. In truth, there's no such job as "game creator" per se. There's programming, sound, graphics, and so forth… you must become proficient at one of these.

Also, although you should of course play games, it's absolutely critical that you do other things too. You need to know what people find fun and interesting in life generally. And to do that, you've got to try a lot of things yourself. Sports, music, anything is ok, just so long as you expand your own horizons.
I think it's also important to have many friends, and have people you can talk with. Most people, by the time they get to college, know the kind of people they like to be with and are inclined to hang out with them all the time, but I think it's important to actively seek people outside of your own circle and experience, so you can see more of the world. Being able to focus in and really get absorbed in the things you love is also important.
Finally, the following answers give a lovely insight into Miyamoto-san's home life and passion for music, both vital in helping him relax away from work.
...However, in the final 2-3 months before a development is complete, life does get crazy. I was very involved in the Mario 64 DS production (the design specs, as well as the finishing touches), and I worked late many nights—I even outlasted many of the younger employees sometimes! But no matter how busy I am, I always rest on the weekends. As you'd expect, since getting married I make a point to spend time with my family. I relax with them, and we have a tri-color sheltie that I take on walks. In the last 5 years I've had fun tooling around in my garden and doing DIY projects around the house, too. Bluegrass music is another hobby of mine, and I also play guitar in my free time.
...It's (Bluegrass) something of a niche genre, but originally it was an Irish form of music that was developed in America. It features guitar and banjo, mandolin, fiddle. The chord structures from song to song are very similar, so it's easy for people to get together and jam. I go to bluegress festivals, where musicians gather at a camp and anyone can play together. Over 100 people will get into a circle and everyone jams together. It's one of the absolute highlights of my life.

...I was in a bluegrass band in college, and although I've had blank periods, I've been playing for about 30 years now. The technology of bluegrass music hasn't changed a bit… using my hands for music and game design helps keep me young too. If I can just keep doing these two things, I'll never get senile!
Let us know what you think of these quotes from Miyamoto-san a decade on, and be sure to check out the full interview at the link below. The following video, meanwhile, gives you a taster of Miyamoto-san's guitar playing from when he met a couple of Nintendo Life's team just recently.
[source shmuplations.com]