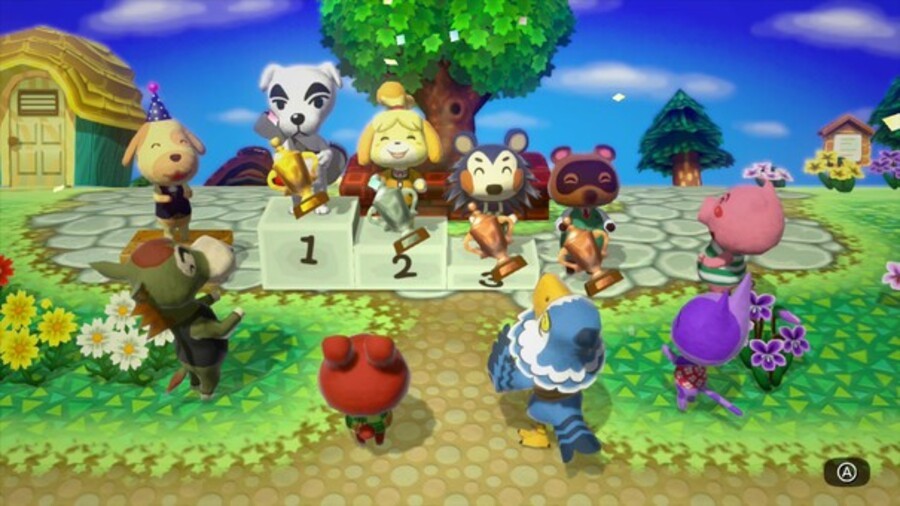 In the general trend of E3 delivering Nintendo franchises in unexpected forms, Animal Crossing amiibo Festival on Wii U joined the previously announced Animal Crossing: Happy Home Designer as an unexpected update to the series.
Aya Kyogoku, the series director, has been speaking to US Gamer about the upcoming releases. After its somewhat limited showing on the Nintendo Treehouse, and the revelation that the mode on show is only playable with the relevant amiibo figures, Kyogoku-san discussed amiibo Festival in a little more detail. Comparisons at E3 were inevitably made with other Nintendo board-game series like Mario Party, though amiibo Festival has a more relaxed feel designed to incorporate familiar Animal Crossing events.
One of the main tenets of Mario Party is that you're playing a board game and in between those board game moves, you play a mini-game and compete, and that's a focus. For Animal Crossing, the focus is actually playing the board game within the village of Animal Crossing, so it's not really focused on the mini games.

If you look at where Joan comes in and you are able to purchase turnips, that's an element that was very prominent in the original Animal Crossing series and that also happens here. So you purchase on Sunday, and you have between Monday's turn and Saturday's turn to sell those turnips to gain money that will help you win the board game. There are a lot of elements that were very popular and significant in Animal Crossing that now act as a very unique characteristic here in the board game. I think that's a major difference between this and Mario Party.
Tackling the question of amiibo compatibility and support, it was emphasized again that these games will come bundled with amiibo, while Happy Home Designer doesn't need the cards to be playable. Nevertheless, Kyogoku-san reiterated the Treehouse statements that amiibo Festival on Wii U will have additional modes beyond the core board game, some of which utilise the cards.
Yes, Amiibo Festival will be including other games that you can play specifically with Amiibo cards. Actually, in the board game itself, you'll see houses of specific animals. Using an Amiibo card, you can actually get your favorite animals to live on that board with you. So beyond just having your favorite animal live there, if you have had a chance to design a home for them in Happy Home Designer, that home that you designed, the way it looks will actually be built in the board game. So that's another way that we've linked Amiibo Festival and Happy Home Designer through the use of Amiibo cards.
Of course, some of the dissent around these games - especially amiibo Festival as a result of a desire for a full Wii U AC title - is focused on how they're moving away from the core series gameplay. Kyogoku-san is clear that they're considered spin-offs, however, and don't necessarily represent what'll come next in the series.
I see these as spin-offs, and by focusing on one aspect of the game, we are able to expand the freedom you have in that. So, for example, in Happy Home Designer, it's not that we just took the home designing aspect of Animal Crossing and New Leaf and just made a game out of it, but through having access to all of the furniture, being able to manipulate it with a touch-screen, it's increased the freedom you have within that aspect of Animal Crossing.
As we continue to develop the series, I think it will depend at that time on what hardware or system is available, what type of game play will be fun at that time. We will have an open and free mind to really think about what would be best. As far as Happy Home Designer and Amiibo Festival, these are different approaches that we took, but it doesn't necessarily dictate the direction that the Animal Crossing series will be going forward. This is just another set of experiences that we will be able to dip into as we try to evolve and think of great ideas that work for the times for whatever title comes out in the series. One thing that won't change is the idea of communication that through the game play of Animal Crossing, we can encourage communicating across players. That's something that we will always hold as important as we build Animal Crossing around it.
It's certainly worth checking out the full interview at the link below; in the meantime let us know what you think. Are you a fan of these concepts, warming up to them, or are you still turned off by the upcoming Wii U and 3DS releases?
[source usgamer.net]