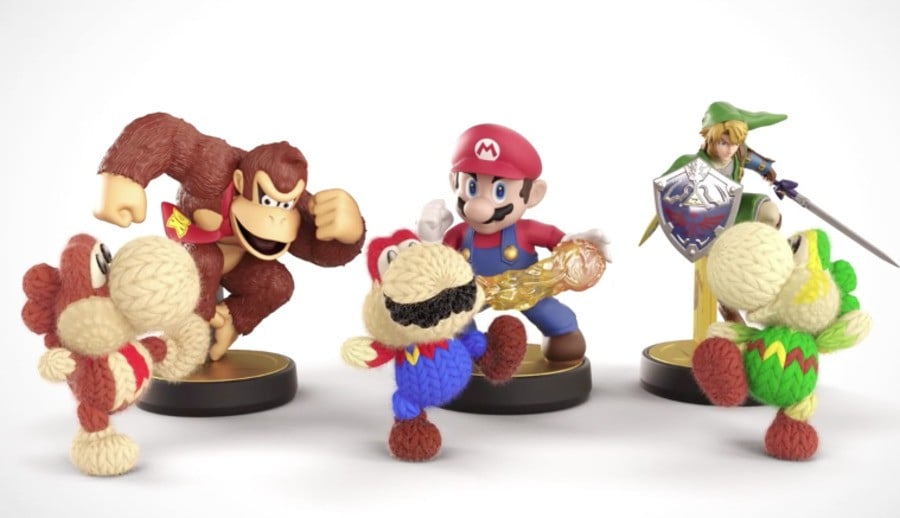 Yoshi's Woolly World is only a month away from its European launch, which takes place on the 26th June. As we said in our preview yesterday, when you throw in the stunning visuals, quirky and charming design and a lovely soundtrack, it becomes apparent that Woolly World is the real deal - a game crafted with care and skill. It's accessible while also tricky, simple and clever, and can also be fast or measured.
One thing the game also really excels at is supporting amiibo. Simply tapping a Yarn Yoshi amiibo or regular Yoshi amiibo to your Wii U GamePad will allow you to play solo with Double Yoshi – two Yoshis on screen!
As if all that wasn't enough, Yoshi's Woolly World will also encourage you to tap one of over 40 compatible amiibo to your Wii U GamePad, too. Upon doing so Yoshi will transform in-game to assume the patterns of your favourite Nintendo characters.
It turns out that seeing a woolly Mario-themed Yoshi is actually too cute for words, so without further ado let us take a look at Nintendo's charming CGI trailer which will give you a taste of what to expect when you whip out your amiibo in this upcoming game.