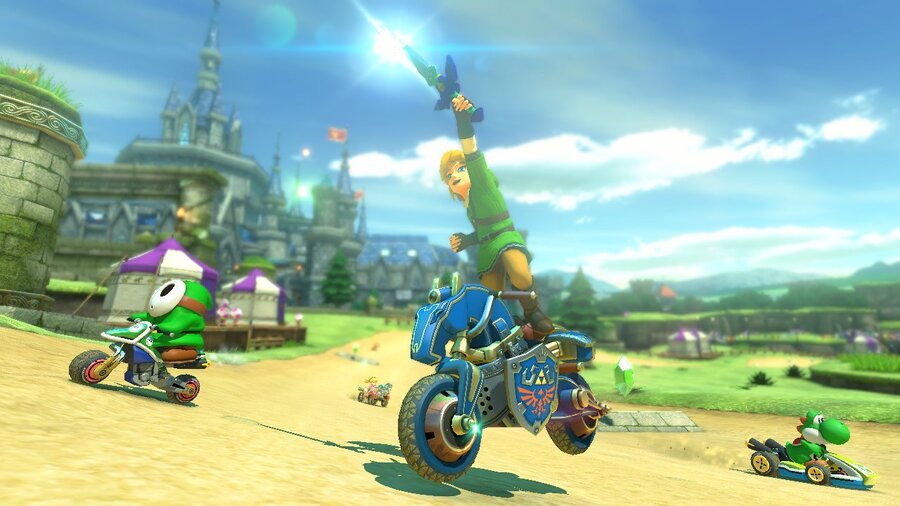 Nintendo has released its financial results for the past year, which brought stronger profits than expected despite sales being down; the results are testament to a leaner, meaner Nintendo.
It's predicting more profits in the coming year, though the 3DS family in particular is expected to decline. Yet in its section outlining basic plans for the coming year Nintendo notably places DLC for Mario Kart 8 and Super Smash Bros. right at the top of its focus. This section also highlights a "gaming application for smart devices", clearly referencing the current partnership with DeNA.
For "Nintendo 3DS" and "Wii U," in addition to maintaining the performance of already-released titles with strong sales potential, new titles will continue to be introduced in order to further expand the installed bases. Specifically, by sequentially introducing additional download content for blockbuster titles such as "Mario Kart 8" and "Super Smash Bros. for Nintendo 3DS/Wii U," we aim to keep these titles played more actively. For "Nintendo 3DS," the exclusive "New Nintendo 3DS/New Nintendo 3DS XL" title "Xenoblade Chronicles 3D," and other first party titles such as "Rhythm Tengoku (temp.)" and "New Fire Emblem Game (temp.)" will be released. In addition, a number of key titles from third party publishers are scheduled for release. For "Wii U," in addition to titles such as "Splatoon" and "Yoshi's Woolly World," "Mario Maker (temp.)" which offers a new taste to the 2D Mario series will be released this year marking the 30th year since the launch of the original "Super Mario Bros." game.
Meanwhile, for "amiibo," which was launched last year, new "amiibo" cards and yarn-knitted "amiibo" will be added to the "amiibo" lineup. We aim to stimulate demand for "amiibo" by expanding compatible software titles and by releasing the Nintendo 3DS NFC Reader/Writer accessory for Nintendo 3DS, Nintendo 3DS XL and Nintendo 2DS.

In addition, a new source of revenue is expected from a gaming application for smart devices which will be released this year.
The mention of Xenoblade Chronicles 3D suggests this may have been written as the financial year ended at the end of March, though the prominent reference to "sequentially introducing" DLC for games like the two Wii U blockbusters certainly emphasizes the importance of this content. We know that Smash Bros. extras are scheduled to be introduced in the remainder of the year, yet as we've said previously we'd be very surprised if Nintendo doesn't also capitalise further on the positive reaction to the kart racer's DLC.
Does the idea of more DLC for these games - as its evidently important in Nintendo's plans, fill you with confidence for the coming year? Let us know.
[source nintendo.co.jp]