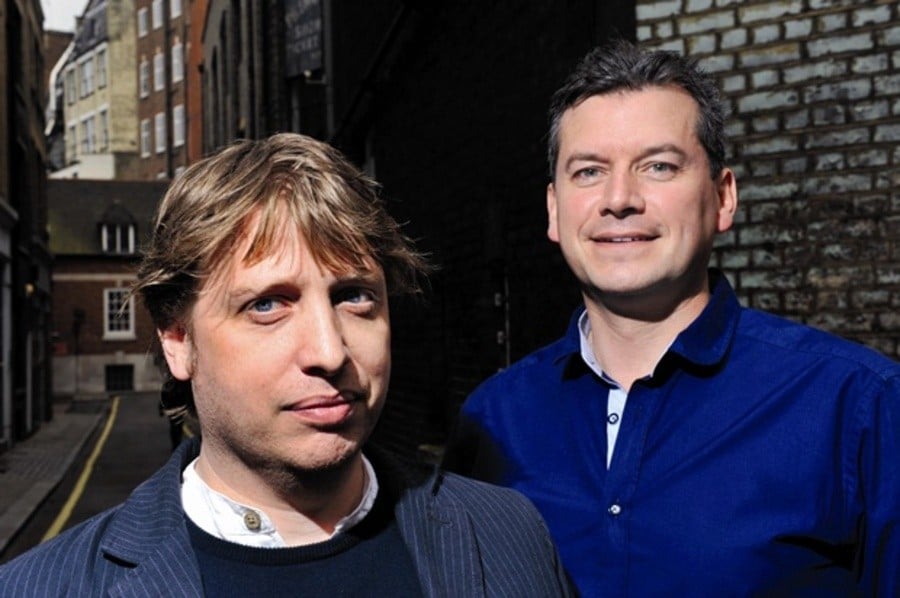 Just in case the news relating to Playtonic's début didn't get the Rare fans among you excited enough, we've got a little update on what another group of famous ex-Rare developers have been up to since leaving the legendary UK studio - and it's probably not what you were expecting.
Preciousbluedot is a company which creates apps for the financial services sector, and was established in 2010 by Mark Betteridge and Lee Musgrave. If you know your Rare history then both of those names should have triggered a huge surge of interest - Betteridge joined the Twycross-based developer in the very early days to work on titles like Snake, Rattle 'n' Roll, Cobra Triangle, Battletoads and Killer Instinct, and prior to leaving the company was employed as its Creative Director. Lee Musgrave worked on titles like Jet Force Gemini, Mickey's Speedway USA and Diddy Kong Racing, as well as the aborted Donkey Kong Racing.
Since setting up the firm, the duo have attracted other Rare alumni, including Brendan Gunn (Donkey Kong Country series) and Nic Makin (Perfect Dark Zero and Kameo). As if to make the connection even more obvious, Preciousbluedot's offices are just a short walk from the tiny Ashby-de-la-Zouch shop above which Rare founders Tim and Chris Stamper set up Ashby Computers & Graphics - the firm would morph into Ultimate Play the Game and eventually Rare.
Betteridge and Musgrave have tried to keep a low profile since leaving Rare, but gave an interview last year to Money Marketing (you'll have to forgive us for missing it back then, but that site understandably isn't in our bookmarks folder). The chat gives an insight into why the pair decided to move away from gaming, and how they are applying their knowledge and talent to a totally different type of design - as Betteridge explains:
In the professional world you will suffer a Bloomberg terminal, even though it is horrid to use, because it is your job. As soon as you go to the general public, it has to be intuitive and engaging. That is in our background from gaming.
According to Musgrave, Preciousbluedot's skill is taking what is normally a quite stale and confusion set of data and turning it into something more "intuitive" and "relevant" for the general public - and the company is using its game design skill to achieve this:
The real impact of computers and fixed units disappearing and tablets becoming all you have is not really felt yet. Your phone or tablet will become your phone, wallet and PC all in one.
The big thing will be making the information financial services give us through those apps more relevant. Making the data more intuitive and more relevant to them will be huge.
Betteridge elaborates:
Lists of numbers do not mean much to people. The power of compound interest is so much clearer when it is illustrated.

It is difficult to envisage, even for a technical person. The way to make it understandable is to present it in a way people can understand using technology.

Some of the tools around planning are quite clunky. There are a lot of pieces of software that have been developed on PCs around different parts of the chain, some concerning tax planning, some regarding inheritance and so on. They are all disparate pieces of software. Overhauling that in a graphical way would be useful to a lot of people. If you could make things connected, see where you come from and where you're going to, people will enjoy it. Also, practically it makes the processes much easier to manage.
The company's biggest project to date has been with investment firm Seven Investment Management, helping to create its 7IMagine application for Android and iOS. In the promotional video below, the app is likened to "playing a game" and no secret is made of the fact that it was designed by people with games design experience:
According to Musgrave, pensions are the next thing that need changing, and he hopes that Preciousbluedot can work in this sector to help people "visualise" their pensions:
Pensions are ripe for an overhaul. People don't see their pension as their second biggest asset, or work out the benefit of having it. The house is different because it is tangible. Helping people visualise their pension would make people more conscious of it.
While none of this is directly related to gaming, it's nonetheless interesting to see how a team of veteran designers can apply the things they have learned from video games to totally different sector.
[source moneymarketing.co.uk]