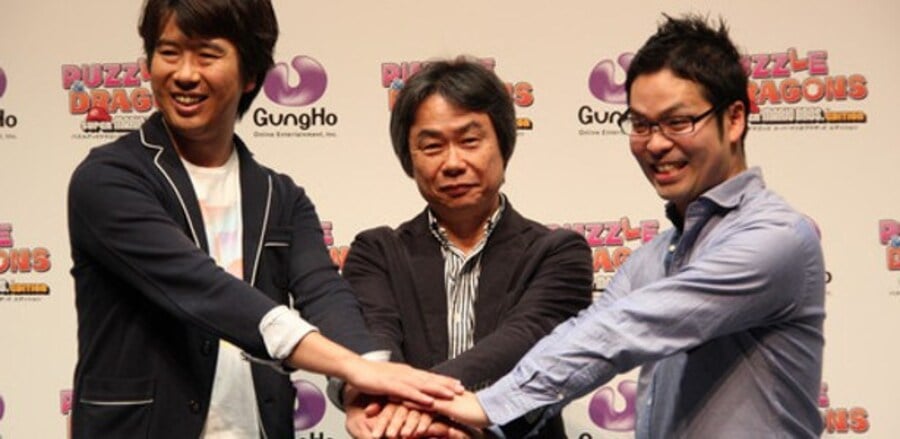 YouTube recently released a presser in anticipation of its 10th anniversary. Listed in acknowledgement of the milestone were several "top 10's", including the top 10 most viewed video game videos, as ranked by watch time:
Minecraft
Grand Theft Auto (series)
League of Legends
Call of Duty (series)
FIFA (series)
Garry's Mod
The Sims (series)
Five Nights at Freddy's (series)
Puzzle & Dragons
Dota 2
As Kotaku Editor in Chief Stephen Totilo said himself in his report, "...Puzzle & Dragons? Not a bad game, but people are watching lots of that?"
It turns out, people are definitely watching Puzzle & Dragons. They are buying it, playing it, watching it, and basically consuming it at a rate very few games have historically ever seen. And with the new 3DS release of Puzzle & Dragons: Super Mario Bros. Edition in Japan and a double pack in the West, Mario might count himself lucky to be a part of the Puzzle & Dragons action, not the other way around.
Humble Beginnings
In a 2013 interview with PocketGamer.biz, Puzzle & Dragons developer Tomotaka Motoyoshi spoke about the company GungHo's origins:
Moyoyoshi: 4 people just started (it)…then the team became 20 people. We are just looking at Japan, Korea, and USA with those 20 people right now.

PG: I think people would be…surprised that the most popular game in the world is made with just 20 people. Do you have to get bigger, or is 20 the right size?

Moyoyoshi: (Laughter), Yeah, we need to expand with people. We're already short on people."
Expand it most certainly did: As outlined in a profile by celebritynetworth.com, Puzzle & Dragons creator Taizo Son was reportedly worth an estimated $95 million dollars in 2012. By the end of 2013, his net worth had grown to an exponential $3 billion, and his team to over 300 in number. The article says the following:
The game was initially released on the iPhone Operating System in February 2012 and then on Android in September 2012. Since being released, 13 million people in Japan alone have downloaded THE PAID VERSION of Puzzle and Dragons. That means 10% of Japan's entire population (which includes infants and the elderly who probably don't own smartphones) have downloaded and spent money on the game.
Today, developer GungHo is listed among the most powerful mobile and tech companies in the world, and Puzzle & Dragons still battles in the Apple App Store as one of the most profitable mobile games ever released. And to the growing few who are still unenlightened, that stark fact begs the question:
What the heck is Puzzle & Dragons?
Monster In My Pocket
Puzzle & Dragons is a match-three puzzler, dungeon-crawler RPG. With qualifiers like that, it's easy to imagine how this free-to-play title could become so addictive.
In the mobile versions of the game, players slide their fingers to rearrange the coloured shapes at the bottom of the screen. This in turn creates drop down matches, ala Tetris Attack. Matches of three or more disappear, new colours fall from the top, and any resulting combos usher about a dopamine rush to the head. Instead of simply ending the fun there, however, the length (and colour) of the combos combine to form the strength of a new attack, which is levelled at wandering monsters concurrently displayed at the top of the screen.
The game's economy is centred on getting new monsters of various stat types, which in turn can be used to better fight on, or be fused together to create a single, more powerful monster. These many different creatures are found in "eggs" dropped throughout the game, but crucially are also bought through "magic stones", which are purchased with real world money.
This basic formula is the coup d'etat which has wrangled the mobile marketplace over to GungHo. Its gotta-catch-them all, level-up formula may sound familiar to those who still solely game on the 3DS. But it's worth mentioning much of the refined yet baroque elements that have inspired titles like Pokemon Shuffle owe much to, of all people, producer Daisuke Yamamoto's wife.
In an article by Tech Crunch, Yamamoto explained how the overall design was honed in and polished by suggestions carried down by his wife to the team of four, which included tips as nuanced as making the stones larger; She remarked that women often have long fingernails and had trouble moving the action, which is the type of input that turned what may have been a dime-a-dozen app into a universally engaging experience.
In 2013, when asked by Official Nintendo Magazine which non-Nintendo game he had been playing lately, Shigeru Miyamoto had this to say:
There's a video game in Japan called Puzzle & Dragons? That's a game that I've sat down simply as a consumer and played.
Calling Nintendo
The difference in distance between Tokyo and Kyoto, GungHo and Nintendo's respective home bases, is only about 5½ hours.
For two days in 2013, their distance was an appreciably larger gap than the two's net worth. GungHo was valued at $18 billion dollars, which at the time was worth more than all of Nintendo.
"I want to top Nintendo's sales by the time I retire," Chief Executive Officer Kazuki Morishita said in an interview.
Of course, the biggest obstacle facing quick rising mobile titles is not so much their meteoric impact, but long term sustainability. GungHo's stock has levelled out in the following years as it continues to stress an interest in not total monetary maximization, but qualitative growth.
Interestingly, GungHo has called out other mobile rivals in the media, including recent Nintendo business partner DeNA. From the Tech Crunch article:
We're pretty much not in favour of platforms like [DeNA's] Mobage and GREE. DeNA and GREE are IT companies. They are not gaming companies. All they focus on is how much revenue they will have. But for us, we're a gaming company. We emphasize game creatives. If all Japanese gaming companies started to focus on the creative side, it would be a really good move for the entire industry.
The company has not yet found its next mammoth hit, but has taken an interest in indie games, purchased makers of No More Hereos Grasshopper Manufacture, and now has finally seen the fruits of its collaboration with Nintendo released to the world in the form of Puzzle & Dragons: Super Mario Bros. Edition.
Puzzle & Dragons' spin off with Super Mario, regardless of the final quality of the 3DS title, is the fascinating product of two companies askew yet on diverging tracks: a mobile games company seeking to achieve diversity, and a console company looking to remain relevant in the face of mobile games.
Strangely enough, it was by the intuition of GungHo - not Nintendo - that the idea for the crossover even started. In fact, Morishita even told a tale of how his hands shook when showing the prototype to Miyamoto. From a 4Gamer interview:
Morishita: We contacted Nintendo with New Year's 2014 greetings as we reported that Puzzle & Dragons Z had sold one million copies. We said, "we'd like to do more Puzzle & Dragons spin-offs" to president Iwata and Mr. Miyamoto. From there on, we tried to create the Mario version in-house at GungHo as we thought, "wouldn't it be better to show Nintendo?" Then discussions with Nintendo progressed again.
Yamamoto: We showed a prototype to Nintendo several months after contacting them for the first time.

Morishita: From there, we rebuilt the game anew by combining the action of Puzzle & Dragons and the world and stages of Super Mario Bros.
It's possible that strange crossover titles like these are a sign that Nintendo has become a play thing of the rich, wherein a drifting Mario is stamped onto the flavour of the year's newest hot title. Another take might interpret the game as only a notable cash-grab by Nintendo to brand its still valuable self onto a hot trend, similar to titles like Dance Dance Revolution Mario Mix or Fortune Street.
But in that strange overlap between Puzzle & Dragons' immense, global popularity and Nintendo's new marketplace position marked by unclarity, there lies but only one easy to read message: Don't ever be surprised by what Mario might do next.