Disney Infinity 3.0 has been announced and features play-sets and characters from every Star Wars movie, alongside improved cross-franchise compatibility and play-sets for Inside Out and Marvel.
With a strong announcement from Lego Dimensions and expected news on the next Skylanders game, this is an impressive response from Disney that focuses not only on their franchises but also offers better player choice at retail.
Disney Infinity 3.0 has three Star Wars play-sets supported by offerings for Inside Out and Marvel. Each of the Star Wars Play Sets offers a different experience:
The Star Wars: Twilight of the Republic (Episodes I-III) set takes place in the height of the Jedi's powers, where players will use the Force and Lightsabers alongside Ahsoka Tano, Anakin Skywalker, Obi-Wan Kenobi, Yoda and Darth Maul.
The Star Wars: Rise Against the Empire (Episodes IV-VI) takes players on galaxy-spanning missions with Luke Skywalker, Princess Leia Organa, Han Solo, Chewbacca and Darth Vader, piloting X-wing fighters or the Millennium Falcon to fight stormtroopers, or exploring land-based missions on planets like Tatooine, Hoth, and Endor.
Episode VII has few details revealed at the moment so as not to spoil the film. In actual fact there were no concrete details apart from its inclusion this Winter.
A nice new feature this year is that you can use all of the Star Wars characters in any of the Star Wars playsets. This improves on the Marvel playsets that enabled some characters to cross over.
Disney Infinity 3.0 will also add new Toy Box Hub feature to categorise games into genres like platformer, racing, and farming simulation games. This will make it easier to find a certain type of game. Two new multi-player Toy Box Expansion Games are also included, action-adventure gameplay in Toy Box Takeover and kart racing in Toy Box Speedway.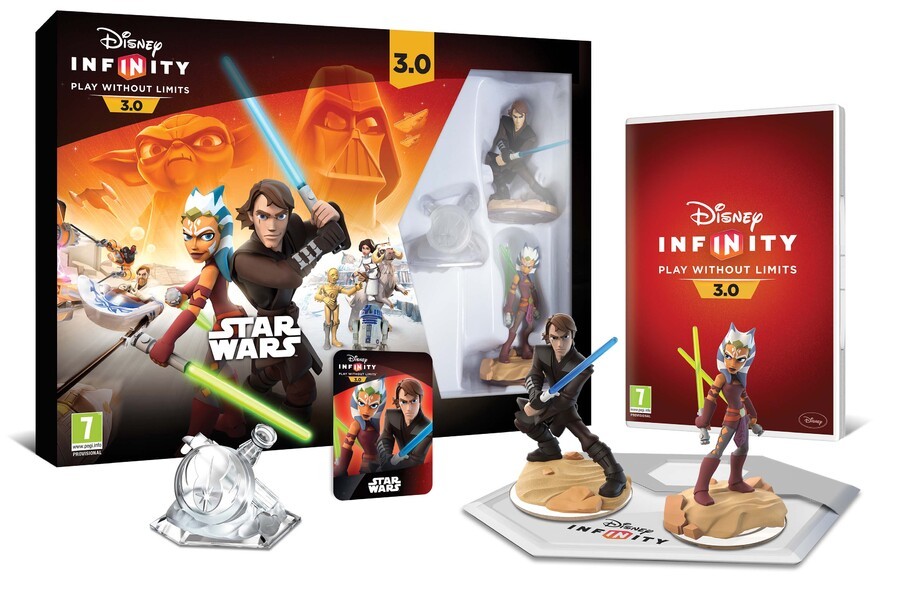 The Disney Infinity 3.0 Star Wars Starter Pack will include:
Disney Infinity Base
Disney Infinity 3.0 video game software,
Star Wars: Twilight of the Republic Play Set
Ahsoka Tano and Anakin Skywalker character figures, and a web code card that unlocks content for PC and mobile devices.
Perhaps my favourite change this year (Star Wars not withholding) is that players who already have Disney Infinity 1.0 or 2.0 can purchase the Disney Infinity 3.0 Video Game Disc on its own and use the base they already own. This is another big step forward for the franchise as it avoids consumers having to purchase the complete starter pack again to play Disney Infinity 3.0.
It's also a nice touch for Wii players who have upgraded to the Wii U but still have their Wii Infinity Base. They can simply buy the 3.0 disc and to get playing the new playsets.
As expected, all figures and Power Discs from the previous editions of Disney Infinity will be compatible in the enhanced Toy Box and, for the first time, Power Discs will be sold in labelled franchise-specific packs of four. This suggests that Disney is dropping the wallet bashing blind pack approach of last year in favour of enabling consumers to choose which Power Discs they purchase.
Along with the announcement comes a trailer and set of screen shots, this (along with retail and magazine cover images) reveal the following characters:
Star Wars - Anakin Skywalker (Clone Wars)
Star Wars - Ahsoka (Clone Wars)
Star Wars - Obi Wan Kenobi (Clone Wars)
Star Wars - Yoda
Star Wars - C3PO
Star Wars - R2D2
Star Wars - Darth Vader
Star Wars - Princess Leia
Star Wars - Darth Maul
Star Wars - Chewbacca
Star Wars - Han Solo
Star Wars - Luke Skywalker
Inside Out - Disgust
Inside Out - Sadness
Inside Out - Fear
Inside Out - Anger
Inside Out - Joy
Disney - Mickey Mouse (Classic)
Disney - Minnie Mouse (Classic)
Disney - Olaf (Frozen)
Disney - Mulan (Mulan)
Disney - Sam Flynn (Tron: Legacy)
Disney - Quorra (Tron: Legacy)
Marvel - Hulkbuster Iron Man
Marvel - Ultron
There is a lot to take in here but on first impressions this offers a more comprehensive Star Wars experience than some expected and with features that give consumers more choice over how they play. Of course then there's Marvel and Inside Out to get our heads around as well.
Disney Infinity 3.0 will be available in the Autumn and is being developed by Avalanche Software in partnership with Ninja Theory, Sumo Digital, Studio Gobo and United Front Games. It will be available for the PlayStation 4 and PlayStation 3, Xbox One, Xbox 360, Wii U, PC and iOS/Android devices.