We're in the midst of changing times for Nintendo, perhaps of a turbulent nature, and the sands are shifting in multiple ways. In the past couple of months we've seen Nintendo partner up with DeNA to move towards bringing its core IPs to smart devices, bringing a resultant boom in share prices, while Nintendo was essentially forced - with public perception in mind - to confirm that its next gaming hardware (codenamed 'NX') will be revealed in 2016. Club Nintendo is being shuttered to be replaced by a cross-platform (Wii U, 3DS, smart devices) membership programme implemented with DeNA's expertise, and all of this is on top of the usual Nintendo priorities - games, Wii U, 3DS (and New Nintendo 3DS), amiibo and more.
It's perhaps easy, with so much to think about, to look past the steady shift in some Nintendo policies that we've seen in recent weeks, in particular. In this case we're referring to DLC and microtransactions, which are not only becoming more relevant and vital to Nintendo's business - which is no surprise - but slightly more worrying.
Let's consider some key reveals from the most recent Nintendo Direct, kicking off with those for Super Smash Bros. on Wii U and 3DS. The high-profile news is that Mewtwo will arrive this month, free to those (from 15th April) that splashed out on both versions and registered them on Club Nintendo, and on sale to everyone else from 29th April. The pricing is interesting, as it's $3.99 / €3.99 / £3.59 for one version, or $4.99 / €4.99 / £4.59 for both. Considering the game itself is typically $60 and has 49 characters by default (including unlockables, while Mii Fighters add to the number), that's a fair chunk of change for one extra character that has previously featured in Super Smash Bros. Melee on GameCube. Also considering the fact that the process for buying both is to simply give you a download code for the second game, it would have been rather Nintendo-like to simply include both at the lower rate, but instead it's capitalising on demand. $1 isn't much extra, yes, but it's a reminder that Nintendo is not above prioritising extra cash over a modest gesture.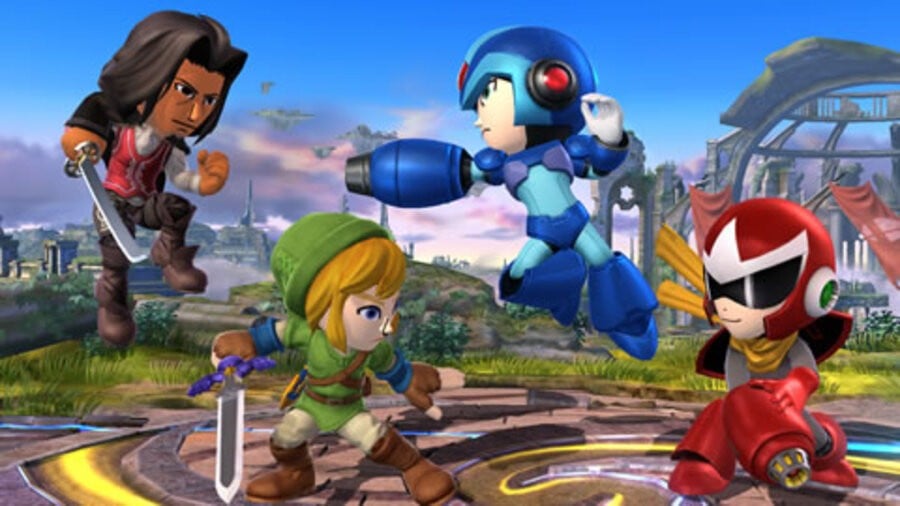 Ultimately, our issue is less with the pricing of Mewtwo, however, and more with the varied character outfit DLC. At less than a dollar each it may seem frivolous to grab some extra Mii outfits, as limited and restrictive as they are; you can buy a pack for one platform at $6.00 / €6.32 / £5.52, or pay $9.20 / €9.52 / £8.72 for both. To focus on value again, nearly a sixth - or fifth depending on your territory - of the recommended retail price of the game for eight superficial costumes.
Our question here is simple - if it's Capcom, Ubisoft or EA releasing outfits or entirely cosmetic extras in one of their major releases, is the reaction different to how we perceive Nintendo's offering? We regularly see these aforementioned companies slammed for cheap extras like this, yet Nintendo's jumping right in with the same basic concept. Let's also observe that goofy outfits are unlockable as free DLC in Capcom's Monster Hunter 4 Ultimate, even if we are trolled with some ludicrously tough quests to access some of those goodies.
Then we have Animal Crossing: Happy Home Designer, a particularly surprising reveal in the most recent Nintendo Direct. When the company discussed amiibo cards earlier in the year we envisioned them as a great way to supplement stock of existing figure ranges, an affordable option to access more amiibo features in games. In the rather vague reveal for Happy Home Designer, however, they emerged as a tool to unlock challenges in this 3DS game - we can only imagine, at this stage, that the game will be free-to-play, or perhaps can be bought with an initial set of cards. Scanning cards for a simplistic game of decorating houses and watching characters walk around is cute, though just how much of a game that really represents is interesting. We're big fans of Animal Crossing: New Leaf, but are still scratching our heads with this spin-off.
Nintendo has been considering free-to-play Animal Crossing for some time, but it'll be interesting to see how the balance of this card-driven game works out. Will one card randomise a character's demands each time or be fixed? How many cards are needed to really make the experience tick? On the initial tease it looks like a fairly underwhelming app, and is counter - in this writer's view - to comments made by Satoru Iwata way back in late 2012; he stated that the prospect of paying money for items to influence and change the core gameplay is "unwholesome". Even though we're not directly - it seems - buying 'items' with amiibo cards in this new app, the principle feels relevant. We need to see much more of Happy Home Designer, but on first impressions it seems setup to flog amiibo cards to us, and we're unsure of how the balancing will play out.
Microtransactions are the key current experiment on 3DS, overall, with Pokemon Shuffle leading the way recently. You can certainly beat the game without spending much - or anything at all - though it certainly deploys some monetisation that's downright sneaky; the worst value proposition it makes is to exchange a jewel for just five moves when you fail a level. Pokemon Rumble World is next up and seems to have a similar overall approach - we'll see how it pans out, and whether it comes down on the right side of providing fair and decent value in exchange for occasional payment. With these games the gamer is in control, of course, but the fact is that this model is designed to try and blend fun with manipulation, and the balance of fairness is difficult to find; Shuffle, aside from some iffy moments, arguably has a decent level of balance.
These are interesting times, though, with these upcoming releases bringing varying degrees of suspicion. On the flipside we've had examples where DLC value is excellent - Hyrule Warriors has some standalone costumes that were original pre-order bonuses, yes, but the main packs and season pass offer a lot of content. Mario Kart 8, meanwhile, is a shining light for DLC value - the season pass for the first two packs essentially adds another 50% of content in tracks, along with some characters and vehicles. Both of these titles enhance the experience with DLC, on top of an original product that serves up enough content to justify the retail pricing. Similar positive arguments - and counter-arguments - can be made about amiibo, which provide collectible toys and features across multiple games.
So we have some contradictions kicking in, which are perhaps inevitable as Nintendo experiments further. We'd suggest, however, that we should all consider how the most recent reveals of free-to-play and DLC - such as those Smash Bros. extras - would be viewed as produced by Nintendo's rivals. If there's an argument that costume packs and manipulative microtransactions are a blight on modern gaming, the big N's upcoming exploits should be judged on the same score. When it comes to Super Smash Bros., in particular, we think there's an argument that what we have is somewhat "unwholesome" profiteering, rather than an attempt to maintain interest and sales while expanding games in meaningful ways. Mario Kart 8 and Smash Bros. DLC are very much opposite sides of the coin.
Ultimately, though, it's down to gamers to vote with their wallets. Perhaps DLC that seems questionable to some will be downloaded by hundreds of thousands or even millions of gamers, or there's the possibility that it'll flop and, as a result, prompt Nintendo into a re-think. The power is ultimately with the players, and it should be recognised that minor DLC in the form of costumes, along with microtransactions as a whole, wouldn't be so visible if they weren't a successful way of making money.
As we've said previously, DLC and products like amiibo are important for Nintendo in keeping fans happy, especially with a modest trickle of new releases on Wii U and 3DS. Quite whether all of the planned DLC, microtransactions and free-to-play ideas play into the 'Nintendo way' is up for debate.
Perhaps times, and the definition of "unwholesome", have changed.