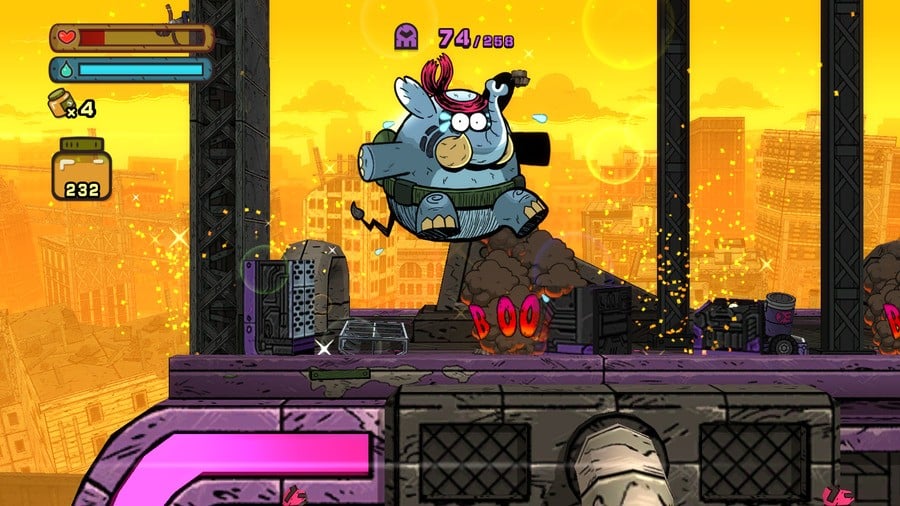 It's fair to say, the recent announcement of TEMBO THE BADASS ELEPHANT for every digital platform but the eShop has outraged Nintendo fans. When the SEGA and Game Freak collaboration was teased last week, we even alluded to the idea that Nintendo systems were in with a chance of receiving this latest title given the close connections with the two parties involved. Unfortunately – at least for now – the commando elephant will not be making an appearance on either of Nintendo's digital platforms.
In an interview with Game Reactor, the director and character designer at Game Freak, James Turner, has explained how mock-up concept art led to the choice of platforms the title was to be released on:
When I was writing the presentation documents for this game, I drew a mockup poster, and I put the Steam, PlayStation, and Xbox logos at the bottom. It seemed to fit, and it happened to stick that way. We thought about other hardware during development, but our hands were pretty full with those three platforms!
When quizzed about a potential version of the game for 3DS, Turner stated the information was confidential at this point in time, but mentioned how much Game Freak enjoyed developing Harmo Knight for the system:
Information on the potential for other platforms is classified. Right now our main mission is deployment on PC, PS4, and Xbox One. Please look forward to Tembo, it's going to be great!

We had a lot of fun making [Harmo Knight] and I'm very happy with how it turned out. It's really fun! Everyone reading this; check it out on the 3DS eShop, if you get the groove of it I guarantee you'll have a great time. Those last few secret stages are super hard. Remember to take a break from time to time and rest your thumbs.
So there you have it; the apparent reason as to why Game Freak's TEMBO THE BADASS ELEPHANT has not been announced for Nintendo platforms. Fingers crossed we see an eventual release of this digital offering on the eShop in the near future, but for now it's a long shot.
If you haven't already seen it, take a look at the game's official trailer below, and let us know if you think Game Freak's reasoning is acceptable.
[source gamereactor.eu]