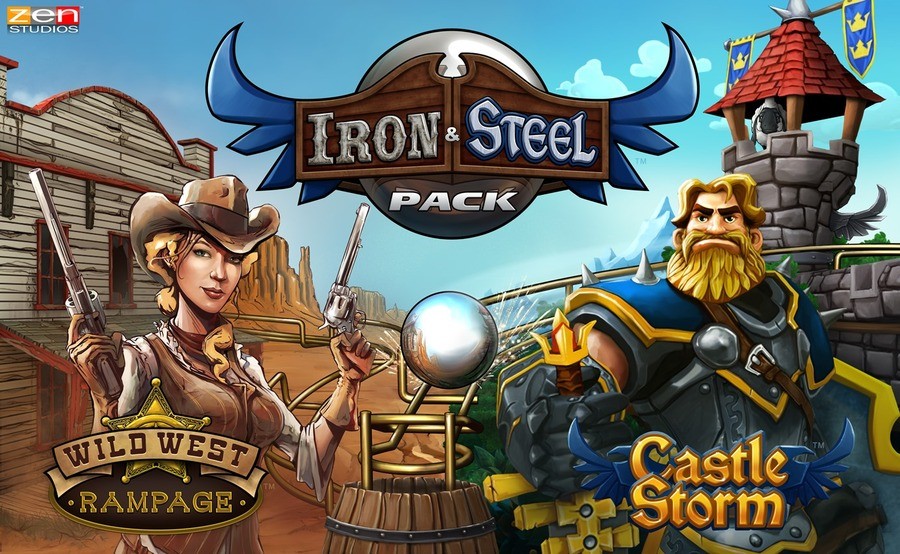 Zen Pinball 2 is the main pinball experience on Wii U; it's already host to a massive collection of pinball tables, but it looks like a couple more are set to join the list in the near future.
Announced via the official Zen Studios Blog, the Iron & Steel Pack has been confirmed to be added into the game. The pack will bring two new tables, Wild West Rampage - a table obviously themed around the Wild West - and CastleStorm, Zen Studios' tower defence / real time strategy game. The two tables are set to arrive on all other platforms on 25th or 26th of February, but unfortunately there's no official date for Wii U at the time of writing. The post does confirm the tables are coming to Wii U, however, so they hopefully probably won't be too far behind. Here's the full press release:
Sparks (and bullets) fly in the Iron & Steel Pack, bringing two new original tables, CastleStorm and Wild West Rampage, to Zen's pinball platforms!

In CastleStorm pinball, players will team up once again with the heroic knight Sir Gareth as he returns to protect the Kingdom from the relentless hordes of vicious Vikings and their raging leader, Chief Ramhorn. The table features single and multiball game modes set within a Viking stronghold, an enormous fire breathing dragon, an armored troll, and even a charming donkey!

YEEEEHAAAW! The Wild West Rampage table stars Cindy, a bold bounty hunter who arrives in the western town of Rackton Point with a bone to pick with the town's crooked Sheriff Evans. Cindy has her sights aimed on defeating his men and ruining their crooked plans to control the town, but it definitely won't be easy to loosen Evans' stranglehold. Hit the trail and experience an exciting Western-inspired playfield complete with a rolling 3D steam engine, swinging saloon doors, a six-shooter ball locker, and duels with members of Sheriff Evans' posse!
We certainly can't complain about more pinball tables, though it is disappointing they're being delayed on Wii U; we'll keep you updated when a release date is confirmed.
[source blog.zenstudios.com]