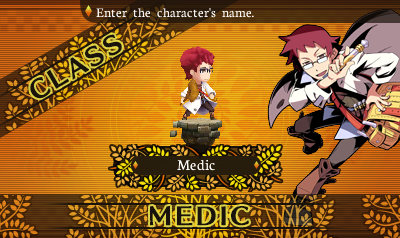 Atlus has released another new trailer for the upcoming Etrian Mystery Dungeon - it highlights the Medic class and the various ways it will fit into the team dynamic in the new dungeon crawler. The medic uses their healing and resurrection abilities to ensure that the party stays healthy through every dangerous situation, of course; though this class is primarily meant for support that doesn't mean that they can't hold their own in a fight, but don't plan on having a medic decimate a group of enemies.
The Medic can team up with the previously featured classes of the Protector and the Runemaster. The Protector serves as the muscle while the Runemaster acts as the spellcaster for the group; these three archetypes are used together to tackle the wealth of dungeons and enemies standing in your path.
This title is a mash up of Atlus' Etrian Odyssey series with the randomly generated Mystery Dungeon style of gameplay, landing in North America on 7th April, with European details yet to be announced. Are you excited about this one?