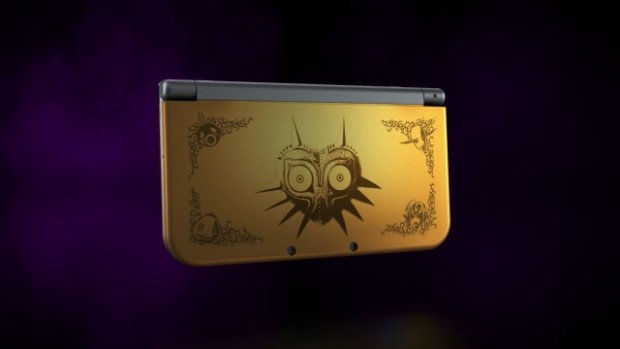 Nintendo's got a lot of tough balancing to do right now with its finances - not only does it have its annual research and development costs, but it's also moving into the health field with Quality of Life and is about to complete the worldwide roll-out of new hardware with the New Nintendo 3DS. It's safe to say that the company always has some development for future hardware and game technology in the works, yet its planned expansion with a new 'pillar' to its business and even fresh products like amiibo means that it's got plenty on its agenda.
Yet the company is heading towards solid profits for the year, including an operating profit, all with sales going down. How is it doing this? Clever business practices, primarily, as even with a weak yen helping to bump up the company's expected profits come the end of March, it's nevertheless turned its ship around so that as a business it's on steady ground. While sifting through its most recent financial results a number of trends emerge that suggest a key fact - Nintendo's management is doing a sterling job of streamlining its business to ensure financial stability and shareholder happiness, but the numbers also suggest that we'll need to stay used to limited stock on special hardware, amiibo and limited editions of any type.
To start off, take a look at the table from Nintendo's investor relations website, below, which shows comparable results for the first three quarters of the last five years. It's the top four fields we care about, particularly Net sales and Operating income, which show overall sales for the period and the profit made from the core business of producing and selling goods. Even allowing for the fact Q4 will likely bring a decent bump courtesy of the New Nintendo 3DS and some key releases, it's the trends and gaps that are enlightening.
In a period when Nintendo sales were at their lowest - by quite a distance - in the last five years, it nevertheless recorded its highest operating income profit (the only profit, actually) since 2010/2011. Bear in mind that Net income can be affected by factors such as exchange rates and accounting practices, so these top two fields show that Nintendo's achieved some impressive streamlining within its business. This can be seen in some other areas, too.
At the start of this article we highlighted that Nintendo is - without any doubt - currently heavily investing in research towards new products, and that's an area where expenses have crept up every year for the past four years. Advertising expenses are different, however, and have gone through peaks and troughs - April 1st to December 31st last year was a dip, as Nintendo spent less on advertising than in the equivalent period for any of the previous four years; the figures are below.
2011/2012 (Q3) - 62,866 million yen (approx $528 million)
2012/2013 (Q3) - 49,070 million yen (approx $412 million)
2013/2014 (Q3) - 57,586 million yen (approx $483 million)
2014/2015 (Q3) - 44,070 million yen (approx $370 million)
Even accounting for an inevitable jump by the end of the financial year with advertising for the New Nintendo 3DS and major releases, the first three quarters still included the launches of games like Mario Kart 8, Super Smash Bros. for Wii U / Nintendo 3DS, Pokémon Omega Ruby & Alpha Sapphire and the amiibo range, among many others in 2014. That gives some context to many observations that Nintendo's advertising wasn't exactly flooding the airwaves.
Finally, we've seen Nintendo claw back its Inventory levels - a key target for any business is to keep inventory on the books down to a minimum; in others words, only manufacture what will sell. As the numbers for inventory value below show this is another area where Nintendo has managed to streamline itself.
As of March 31st 2012 - 78,446 million yen (approx $659 million)
As of March 31st 2013 - 178,722 million yen (approx $1500 million)
As of March 31st 2014 - 160,801 million yen (approx $1350 million)
As of 31st December 2014 - 95,511 million yen (approx $802 million)
This is less cut-and-dried than the other categories, as Inventory is actually an asset - they contribute to the overall assets of a company. When inventory creeps too high, however, it's an indication that you've produced a lot of goods (ie manufactured a lot of consoles at a cost) that aren't selling as expected. The three months leading up to that highest figure in 2013 were a grim period for Wii U, for example; sales had dipped badly after launch and took some time to recover. It was a product launch that failed to take off, and it highlights how much it's struggled that some models have probably been bouncing around retailer stock rooms for months and perhaps 1-2 years without selling; recent fire-sales of the 8GB models point to that scenario in the UK, at least.
As you can see, however, Nintendo's managed to reduce its overall inventory quite drastically in the past year, which could be due to improved Wii U fortunes and a scaling back of manufacturing of the original 3DS and XL. Naturally we've also seen products like amiibo and limited edition games / the GameCube Controller Adapter sell-out rapidly rather than exceed demand.
Elements of these numbers can point to the inevitable swings in businesses, but there are certainly indications that Nintendo's tightened its belt to successfully turn lowered sales into improved financial profits. In the past 18-24 months, as gamers, we've seen a trend of more 'sure things' from Nintendo, such as offering new hardware iterations on the strong 3DS while only producing one special Wii U system - or Wind Waker-themed GamePad, to be accurate. Limited editions have been fiendishly hard to buy (with the unfortunate flipside of attracting scalpers) and while the best-known amiibo figures (Mario, Yoshi etc) are easy to find, some more niche or less mainstream characters have been distributed in limited quantities. For Nintendo it's smart - sell everything you produce. For fans it can lead to some frustration.
Then there's the New Nintendo 3DS. Europe, the smaller (for Nintendo) of the Western markets, gets the same models as Japan, which were given an advanced small-scale run in Australia and New Zealand. North America only gets the XL, however, citing the marketplace as dictating that decision. Perhaps, and we acknowledge this is merely an educated guess, it's more about managing distribution and manufacturing costs - produce the systems steadily and release the small model in North America once there's a surplus, likewise with the NA-only red XL for PAL territories and Japan. If each territory eventually receives the systems they're missing, perhaps in late 2015, we wouldn't be surprised.
Nintendo's making more money with less sales, which is important to keep it steady while it works towards producing products that will take it back to the top and 'Nintendo-like' profits. Less TV ads and limited stock options on shelves are likely part of the price we have to pay as a result.
[source nintendo.co.jp]