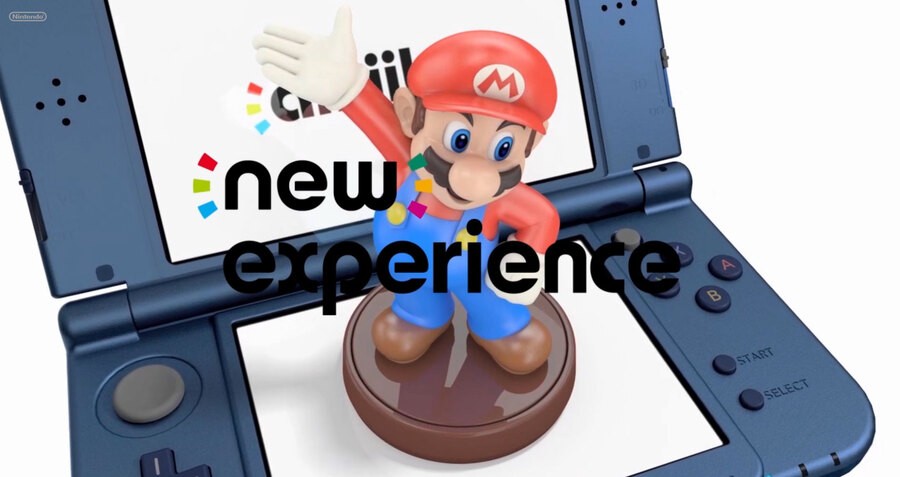 Today Nintendo provided a pretty meaty update for Super Smash Bros. for Nintendo 3DS, which adds some rather neat data sharing options that'll no doubt see thousands of Mii characters and funny images ping around the internet for our viewing pleasure. Beyond those additions of data swapping and Miiverse posts there was also another change that, for now, will be limited to the New Nintendo 3DS - a separate NFC reader will eventually arrive to support standard 3DS models. We're referring, of course, to amiibo support.
Let's start by summarising the implementation of this amiibo support in the portable Smash Bros., which is a pretty solid effort that delivers what any reasonable gamer would expect - in hindsight we should have expected little else from the conscientious Masahiro Sakurai. No shortcuts are in place, and thankfully this allows full sharing of amiibo data between the portable and Wii U version; we had feared possible shenanigans with toys not seamlessly switching between the games, but this was clearly unfounded.
Pleasingly the menus and integration of the toys matches across the board - scanning a toy in the 3DS amiibo menu brings up the same customisation options as on the home console; for example you can change special moves and feed equipment to your beloved mascot. The menus and process when playing matches - and therefore saving progress - also match up, meaning that you can receive gifts on one system and decide to redeem them on another. Matches with amiibo are limited to four-player fights on the 3DS, naturally, but aside from that scanning these little buddies into Smash mode still does the job.
For multiple members of the Nintendo Life team this brought a sense of realisation, rejuvenated interest in customising our amiibo figures and, to be blunt, reminded us we could play Smash Bros. on the 3DS. After exhausting plenty of quality equipment resources in the Wii U version it's a nice moment when you cast your gaze over the accumulated overload of equipment in the 3DS and feed your amiibo silly, all to transform it into an even deadlier fighting machine. It also brings back to mind what what we just recently suggested in another article, too - that the New Nintendo 3DS and other key factors point to Nintendo's hardware future.
In that article we wrote about the blurring lines and shrinking gap between the portable and Wii U space, and Nintendo's clear objective of unifying experiences - albeit in baby-steps. The Super Smash Bros. titles are the most cohesive first-party match-ups - across Wii U and 3DS to date - and the ability to alternate and share amiibo progress is just part of that. It's another example of some welcome joined-up thinking from Nintendo, as this amiibo functionality is instinctive to use and right on the money. It seems natural - whether away from the TV and GamePad or simply with the goal of using equipment on the portable version - to grab an amiibo and tap it on the New system's touchscreen. Also, let's not forget that for those that don't have a Wii U but plan to pick up a New Nintendo 3DS, this will bring the toy range's most substantial features to a new audience.
While the New Nintendo 3DS may only have a lifespan of 18 months to 2-3 years, depending on progress with sales and 'next-gen' hardware, it can certainly continue to push forward with NFC and teach Nintendo vital lessons. In Japan Suica cards - NFC cards used on public transport and for storing funds - and other brands can already be used to pay for eShop games on the New 3DS, just as is the case on Wii U. On the subject of cards, meanwhile, it's been suggested that rare or discontinued amiibo could eventually be released in card form, which would allow unfortunate collectors to at least enjoy special features in games in the near future.
In fact, that idea seems like an increasing necessity. As Code Name S.T.E.A.M. and Xenoblade Chronicles 3D will only support the relatively rare Fire Emblem and Shulk amiibo figures, respectively, we could conceivably have a scenario where it's too difficult to make the most of these games. Xenoblade Chronicles 3D will use StreetPass for a similar function to the Shulk amiibo, yes, but readily available - and cheaper - NFC cards could be a useful solution and also an easy product for Nintendo to sell.
When the Wii U first emerged the NFC chip in the GamePad seemed like an afterthought that would be largely underutilised, yet sales success for amiibo - Nintendo's first substantial use of the technology - has brought the range to the core of its branding. The New Nintendo 3DS logo shares the same pattern as the toy range, and it seems that the figures will feature relatively prominently across both platforms in the coming months and years.
In terms of setting the precedent for potential long-term plans the early appearance of amiibo support on the New Nintendo 3DS shows that the toys, and the converging of our portable and home console gaming experiences, could be a hint at Nintendo gaming experiences still to come.