The snappily-titled Ace Combat Assault Horizon Legacy+ isn't far away, hitting 3DS on 13th February - that's a big day for the portable, with the New Nintendo 3DS, The Legend of Zelda: Majora's Mask 3D and Monster Hunter 4 Ultimate all arriving on that day. As we outlined in our first impressions, this Bandai Namco title will certainly be one to consider for those that want some fast-paced action, as it provides an improved version of the original.
One of the enhancements is the use of amiibo - the NFC figurines unlock plane skins, and though these can be found and unlocked in-game the toys provide a handy shortcut. Each amiibo / skin is tied to a specific plane, too, and supported characters include Donkey Kong, Zelda, Captain Falcon, Samus, Mario, Bowser and Pac-Man.
Bandai Namco has sent out a whole load of screens showing these off, and as they look good enough to feature in high-octane and cheesy '80s movies, we thought we'd share them.
Enjoy!
---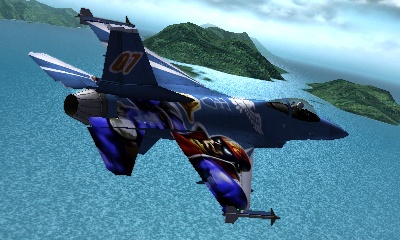 ---
Are you planning to pick this up on 13th February? Let us know.