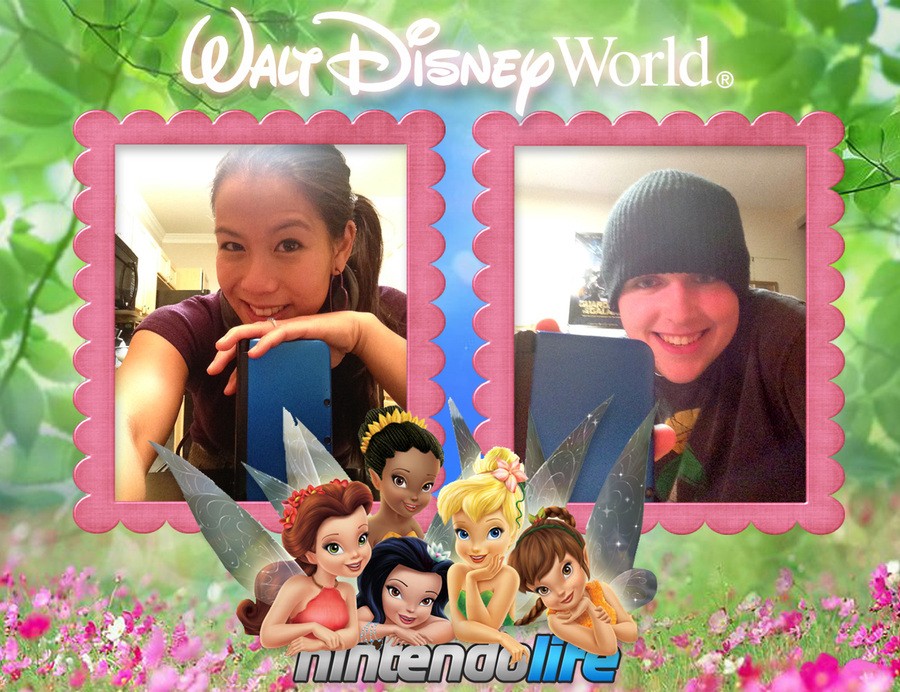 The Nintendo 3DS is a wonderful handheld console that really comes into its own when you are on the move. That's the idea that young Joey Visco from Ohio had when he took his shiny blue 3DS XL with him to the 'magical' Disney World Resort in Orlando, Florida during a family vacation in January this year. Due to the hurried rushing around on arrival day he didn't get a chance to leave his beloved portable gaming device in the safety of his hotel room, so he figured he would take it out with him to grab a few StreetPass hits.
Wearied from a day of light-hearted romps throughout the resort, Joey and his family had a well-earned rest at the Mexican Pavilion at Epcot. While the family recounted the tales of the day's events over nachos and guacamole, contemplating the experiences to come in the week ahead, Joey had not anticipated the disaster that was to befall him. Upon returning back to the hotel room after dinner, Joey excitedly emptied his backpack to check out his StreetPasses when he realised his misfortune. He realised his beloved 3DS and the collection of games which he brought with him to play on the trip were absent without leave.
A wave of panic struck young Joey - could this be foul play by a light-fingered Jack Sparrow roaming around the resort? Joey cast his mind back to the restaurant, it was bustling with people who could have picked it up – for better or for worse. It was raining that night and the 3DS could innocently have fallen out of his backpack when he pulled his jacket out from under it. He simply couldn't have noticed amidst the cacophony of hungry diners.
Joey hoped against hope that the 3DS might show up in the lost and found office, but by the end of the week it never materialised, so Joey's original optimism turned to crushing disappointment. Perhaps his beloved 3DS XL with his games, saves and StreetPass history would forever be lost to the ages.
Two weeks passed and all hope that Joey would see his 3DS again had faded into the aether, but fate had a different plan in mind, and one evening in late January an email appeared in Joey's inbox which would reignite his hope once again.
Enter Gaby Cuan, a Florida resident who had visited the Disney resort on the same day as Joey. After a fun but exhausting day navigating the magical world of fun she too needed a quick bite to eat and stumbled across a presumably unloved 3DS just laying in the shadows of the Mexican Pavilion. Just who did this abandoned device belong to, and were they aware it was missing? As Gaby was running short on time before she had to leave the resort, she simply powered up the 3DS, saw it was registered on the Nintendo Network and took it home with her assuming it would be a simple matter to track the owner's information with that.
Unfortunately life is never quite that simple, and when she called Nintendo customer support they were unable to help without knowledge of the email address. The only option for kind-hearted Gaby was to scour the internet for evidence of the 3DS' registered username and hope for the best. Fortunately Lady Luck was smiling that day and the first result in Google was this very website. Yes, Joey was an avid Nintendo Life reader. Gaby excitedly contacted us, fuelled by the hope of returning the long-treasured possession to its rightful owner.
Introductions were quickly made via Nintendo Life, and the case of the missing 3DS XL was finally solved. Gaby kindly mailed it from Florida to its home - and an enormously grateful owner over one thousand miles away.
So how did Joey react? In his own words - "I was pretty shocked when I got your email. At that point I figured it would never turn up, so seeing it found was absolutely insane.".
We asked Gaby on her philosophy on human kindness and she said the following - "I guess most people would have kept it, but probably it also depends in which country you are. I lived recently in New Zealand and was amazed how people are so kind and honest over there. I witnessed how lost iPhones, wallets, IDs, and skiing gear were all returned to their owners. It really made an impact on what I think about people and the world.".
Joey gratefully said in return - "I have to say it does give me a good deal of faith in others. I was previously resigned to the assumption that someone had stolen it! So seeing a complete stranger go through the trouble of hunting me down to return it truly means a lot.".
"I'd like to thank Gaby for all the effort she put into finding me and returning it. I'm completely serious when I say it means a lot to me."
So that is the story of the missing 3DS that, somewhat against the odds, found its way back to its owner. It's a reminder that good deeds still happen, and that you should always register your Nintendo Network ID to your 3DS on your Nintendo Life account. You never know when it might come in handy.